"Dude! Your blaster is too overpowered!" – my friend Erik shouted as he scampered away, hit by a torrent of gellets from my brand-new Surge XL gel blaster. "You're well overdue for an upgrade, man…get yourself a better gun!", I taunted him right before shooting him again as his hand poked out from behind his cover.
I had been eyeing this beast of a blaster for months and finally got my hands on it last week. I won't lie – it feels a lot more capable than any of the other Orbeez guns I had tried in the past.
While I'd definitely recommend getting this gun, I'm sure that you'd like to know more about it before making the purchase. Having used it for a while now, I have decided to come up with a comprehensive review and detailed instructions for the Gel Blaster Surge XL, explaining the features and sharing my experience of its performance and design, along with its pros and cons.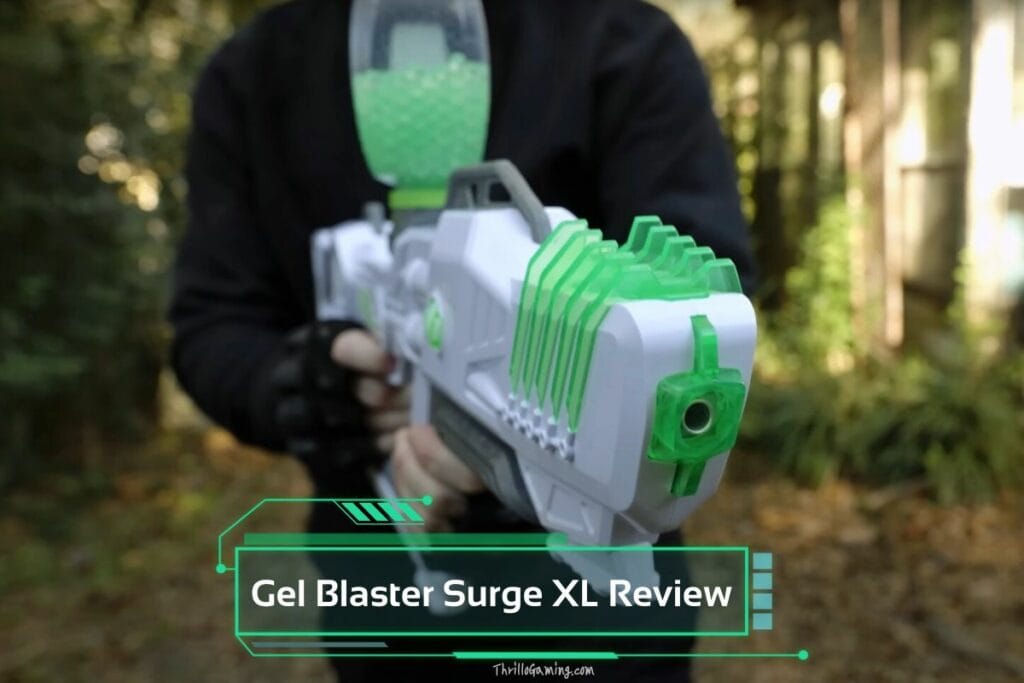 ThrilloGaming Verdict
The Surge XL stands out as the pinnacle of the "Surge" series blasters, boasting impressive accuracy and unmatched power. Crafted by the renowned brand Gel Blaster, this model sets itself apart with an extended shooting range, a heightened muzzle velocity, and an unparalleled firing rate of gel balls, surpassing all previous models.
But that's not all that makes it exceptional! The manufacturer ensures safety by including a pair of protective eyewear in the package and encouraging to wear them during the game. Drawing from my firsthand experience, I can confidently attest that the Surge XL is one of the best gel blaster guns that guarantees thrilling entertainment whether enjoyed with friends or family members.
PROS
With a muzzle velocity of 170 to 250 FPS, this blaster is very powerful and can give you a competitive advantage.
You may adjust the muzzle velocity and set a lower FPS if needed.
The unique three-shot burst fire mode helps conserve ammo while firing in short but rapid bursts.
I loved the ergonomic design of this blaster – it's pretty comfortable to carry and use for adults.
The high fire rate allows you to provide excellent suppressive fire and increases the likelihood of eliminating the opponents before they take you out.
With an effective range of 150 feet, this blaster is perfect for arenas of any size.
CONS
While I personally have no issues with its design, it might be a bit too bulky for younger players. In that case, I highly recommend the Gen 3 Surge Pistol.
The top-fed hopper makes it a bit challenging to aim accurately.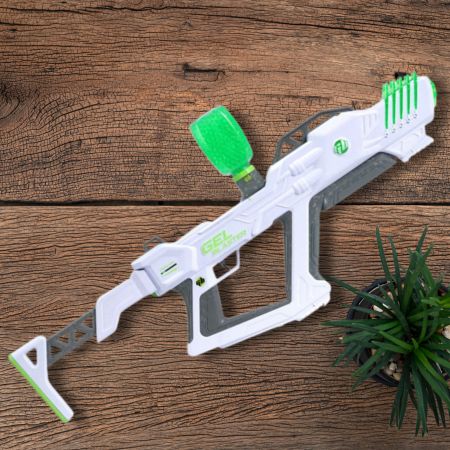 Gel Blaster Surge XL Rating
Coverage And Accuracy: 5/5
Shooting Power: 5/5
Design And Build Quality: 4.6/5
Ease Of Use: 4.9/5
Value For Money: 5/5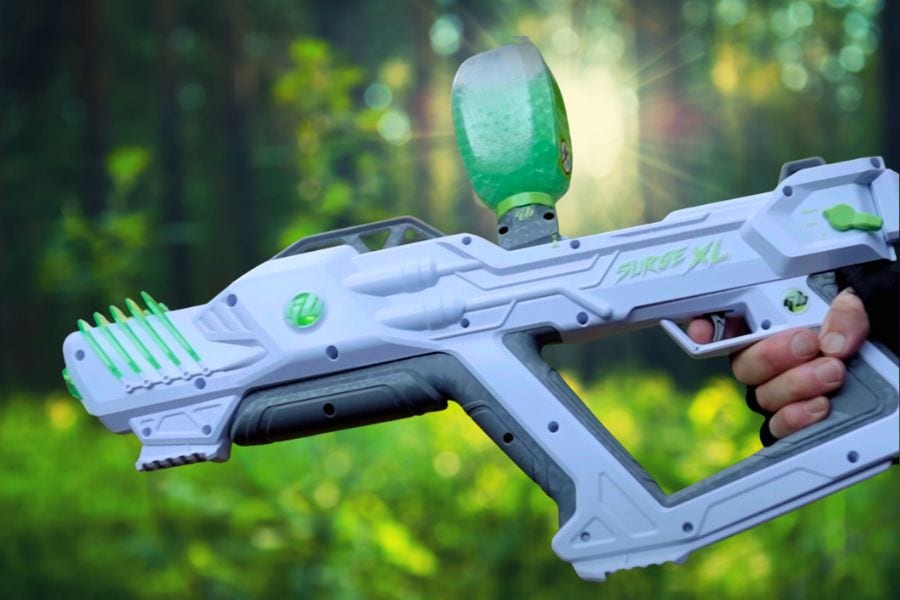 The Key Features Of Surge XL
Supersized Dominance: The Gel Blaster Surge XL is not just another blaster – it's designed to establish dominance on the battlefield. With its impressive size and power, it stands out as the ultimate choice for players seeking unparalleled performance and authority on the gaming field.
Impressive Range: Leave your opponents stunned as you accurately hit targets from up to 150 feet away. Its remarkable range ensures that you can engage with and eliminate opponents from a distance, making you a superman on the battlefield!
250 FPS Blasting Speed: When it comes to competitive play, speed matters. This gun ramps up the intensity with a shooting speed of 250 feet per second. This high velocity not only ensures you hit your targets swiftly but also gives you a significant advantage in the game.
Adaptable Blasting Modes: Versatility is key in gel blaster battles. This gun lets you adapt to various situations with its 3 distinct blasting modes. Choose single shots for precision targeting, opt for triple burst to maximize impact, or unleash rapid-fire full auto mode for intense suppressive fire and close-quarter combat.
Adjustable FPS: Not every battle is the same, and not every player wants the same intensity. The Surge XL caters to different playstyles and experience levels with its adjustable FPS feature. Lower the velocity from 250 to 170 FPS to match the skill level of younger players or to create a more balanced gameplay environment.
Extended Playtime: With a built-in battery that provides an impressive 4 hours of gameplay on just a 45-minute charge, it ensures you spend more time in the action and less time waiting. The LED battery gauge keeps you informed about the battery level, and the USB-C charging cable gets you back into the game quickly.
Ready-to-Play Kit: The Surge blaster includes all the essentials for an epic battle right out of the box. Along with the gun itself, you'll receive a detachable buttstock for enhanced stability, a pre-loaded 1000 gellet hopper for sustained firing, a USB-C cable for rapid charging, a velocity adjustment tool for fine-tuning, a shoulder strap for convenience, adjustable safety glasses for protection, and a substantial pack of 10,000 Gellets to keep you armed and ready. This comprehensive kit ensures you're fully equipped for an unforgettable gaming experience.
Innovations In Design: What Sets Surge XL Apart?
There's no way you can ever fail to recognize a Surge XL or mistake it for a different toy gun– thanks to its distinctive appearance. The large toy gun looks like it came straight out of a sci-fi movie, thanks to its futuristic design and colorful fins.
However, the best thing about its design is its amazing ergonomics. The square frame surrounding the trigger allows me to get a comfortable and firm grip as I rain down gel balls on my targets. The stock is retractable, so you can extend or retract it as needed.
I have no complaints about the material and build quality. Made of high-quality plastic, it feels pretty sturdy and durable, as you'd expect, considering it comes from one of the top brands out there.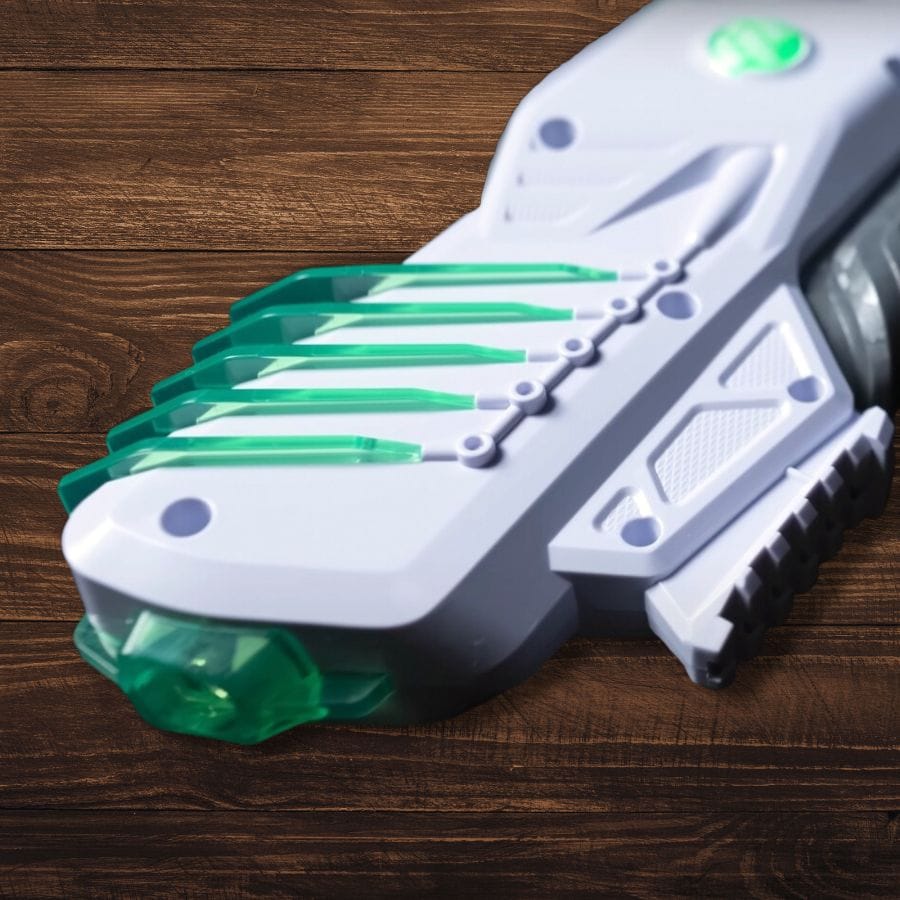 Unrivalled Performance: Examining Gel Blaster Surge XL
Hey there! I played with the Gel Blaster Surge XL continuously for weeks, and let me tell you, it's a beast in terms of performance. Remember when Erik mentioned how overpowered it was? Well, he wasn't kidding. Let me break down its incredible features for you and share my personal experience with it.
Powerful Shooting Speed
First off, let's talk about power. It is hands down one of the most powerful gel blaster guns on the market. With a muzzle velocity of 250 FPS, this thing packs a serious punch. It's so powerful that it even considered as one of the best Orbeez guns in terms of performance.
Now, I know some people might find 250 FPS a bit too intense, but don't worry, this blaster has got you covered. It comes with a velocity adjustment dial, allowing you to lower the muzzle velocity to 170 FPS if you feel it's unsafe or too painful.
Fast Firing Rate
But power is just the beginning. The Gel Blaster Surge XL also boasts an impressive rate of fire. In fully automatic mode, it can shoot up to 12 rounds per second (RPS). Trust me when I say, that's blazing fast! It's one of the fastest gelly guns out there, giving you a serious advantage in any battle. Your opponents won't know what hit them.
Long Shooting Range
If you enjoy playing as a sniper and providing support from a distance, it is perfect for you. It has an effective range up to 150 feet, turned out really impressive during my test. With this kind of range, you can take out your opponents before they even get close enough to you. It's all about that tactical advantage, my friend.
High Hopper Capacity
Now, let's talk about convenience. Gel Blaster has really thought about the players here. They've equipped the Surge XL with an extra-large hopper. This bad boy can hold around 1000 gellets, which means you won't have to worry about refilling as often. It's a game-changer, allowing you to stay in the action for longer without any interruptions.
Reasonable Accuracy
Accuracy is another area where this gel blaster shines. Despite its high muzzle velocity, it remains surprisingly accurate even at a distance. Sure, you might face a slight challenge aiming down the sight due to the hopper's placement, but honestly, it is designed for hip firing, and it excels in that department. You'll be hitting your targets with precision.
Low Ammo Wastage
Now, here's the thing. The Surge XL blaster is so powerful and has such a high fire rate that ammo wastage can be a concern, especially in full-auto mode. But hey, that's the tradeoff you make for that incredible firepower.
The good news is, Gel Blaster has a solution for that. They've included a three-fire burst mode, which offers a perfect balance between a high burst fire rate and managing ammo consumption effectively. It's the sweet spot between unleashing rapid shots and making your ammo count.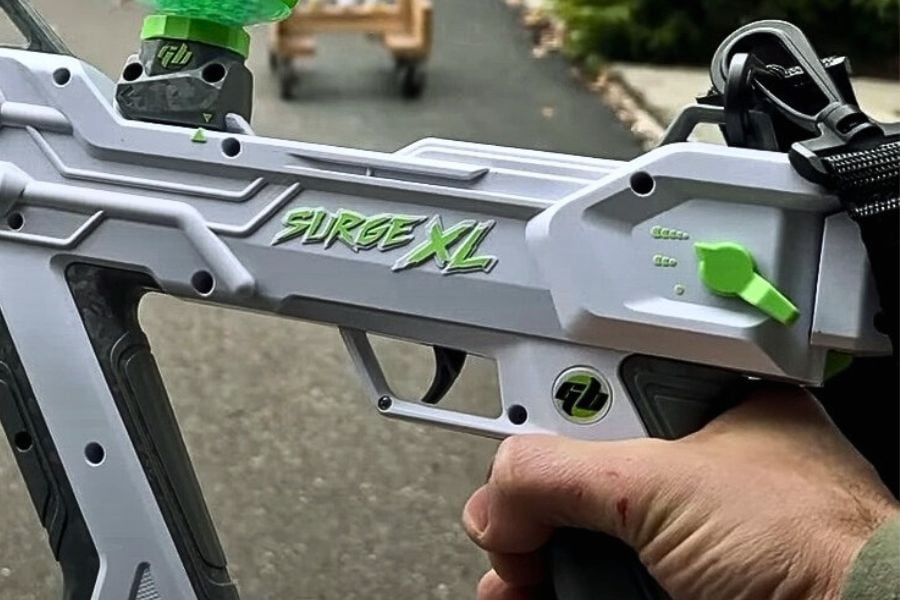 Customizing Shooting Modes on Gel Blaster Surge XL
As you can see, this gel blaster model offers three different shooting modes for you to choose from. Located near the righthand side on the above picture, you can adjust the switch in 3 different modes. Let's take a closer look at each mode and what it does:
Semi-Automatic: Similar to real semi-automatic firearms, this mode requires you to press the trigger for each individual shot. Once a gellet is fired, the blaster automatically loads the next one into the barrel. It gives you precise control over your shots.
Full Automatic: If you're familiar with gaming, you'll understand how the full-auto mode works. When you hold down the trigger, the blaster continuously fires a stream of gellets. I personally use this mode sparingly, mainly in intense competitions or when I'm facing tough odds.
Three-Shot Burst Fire: Among the numerous gel blaster guns I've tested, only the Surge XL and Starfire XL offer this unique firing mode. In this mode, each time you pull the trigger, it shoots a quick burst of three gellets. It's a great option for rapid and controlled firing.
Power Up: Battery And Charging Facility
The Gel Blaster Surge XL runs on a powerful 2000 mAH rechargeable battery that provides up to four hours of non-stop fun. But here's the exciting part: this Orbeez gun comes equipped with a USB-C fast charging system.
This means that when the battery runs low, I can quickly recharge it using the USB-C cable. It's not only super convenient, but it also gets the blaster back in action in no time. So, I never have to wait too long to get back into the game if the battery runs out.
If you haven't used a gel blaster before, here is detailed guide for charging one.
Making Every Penny Count: Is It Value For Money?
The Gel Blaster Surge XL is available around a price of $89.99 in major stores such as supermarket, Amazon, Walmart, Target, etc. At first glance, spending 90 dollars may seem a bit costly, but when compared to other popular blasters that come with a heftier price tag, it proves to be a true gem in terms of both performance and affordability.
Without a doubt, I can confidently say that purchasing this blaster gun was a decision I do not regret. It has truly exceeded my expectations and has proven to be worth every penny. The exceptional performance it offers, the versatility of its functions, and the carefully designed features all contribute to delivering an outstanding value for the money spent.
Here is nice video guide to all those features of this toy gun:
Specifications
| | |
| --- | --- |
| Brand | Gel Blaster |
| Model | Surge XL |
| Color | White, Grey, Green |
| Maximum Range | 150 feet |
| Muzzle Velocity | 170-250 FPS |
| Rate of Fire | 12 RPS |
| Shooting Modes | Single Shot, Triple Burst, Full Auto |
| Charging Cable | USB-C |
| Included Gellets | 10,000 (dry) + 1000 (ready to use) |
| Additional Features | Removable Buttstock, Shoulder Strap, Velocity Barrel Tool, Safety Glass |
How Did I Test Surge XL Blaster?
When I got my hands on the Surge XL gel blaster and I couldn't wait to put it through its paces. Testing this toy gun was an absolute thrill, and let me walk you through my experience step by step.
Step 1: Unboxing and Initial Impressions
I was like a kid on Christmas morning as I unboxed the Surge XL. The excitement was real! Inside the box, I found the blaster along with a bunch of cool accessories – a shoulder strap, safety glasses, a hopper, and a massive pack of more than 10,000 gel beads. It was quite the package, and I couldn't wait to see what this gem could do.
Step 2: Checking the Charge
First things first, I checked the battery. To my pleasant surprise, the gel gun came fully charged. It's pretty straightforward to charge too – just plug in the USB-C charger into the port at the bottom of the blaster. While it charged, I kept an eye on the battery indicator lights on top. When all the lights stayed solid green, I knew it was time to roll.
Step 3: Ready for Action with Pre-Hydrated Gel Balls
One of the coolest things about the Surge XL, especially the Supersized model I had, was that it came with over 1000 pre-hydrated gel balls right in the hopper. No waiting around for hours for them to expand! I made sure to strain out excess water before loading them into the hopper, just to keep things clean and tidy.
Step 4: Trying Different Modes and Speeds
With the hopper loaded and everything ready, I powered on the gel blaster gun. The three different shooting modes caught my attention. I started with the single-shot mode to get a feel for the accuracy. Then, I switched to the three-shot burst mode, which quickly became my favorite. It's a great balance between speed and conserving ammo, perfect for intense battles.
But wait, there's more! The Surge XL allows you to adjust the shooting speed using a knob. I began rotating the knob to change the muzzle velocity from 170 FPS to 250 FPS, then checked it on my chronograph. It was awesome to see the speed matching the rated values.
Rotating the knob moves the 'Power' indicator, as shown in the picture below.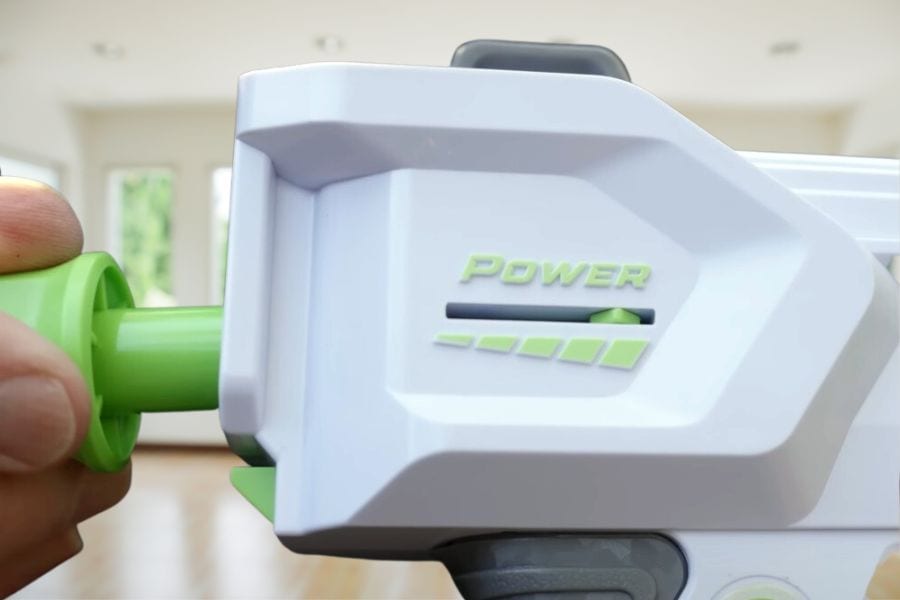 Also Read: How To Use A Gel Blaster?
Should You Buy Gel Blaster Surge XL?
My overall satisfaction with the Gel Blaster Surge XL is undeniable. It has far exceeded my expectations, delivering outstanding performance that has truly impressed me. Equipped with this powerful blaster on the playground, I feel invincible as I unleash a relentless barrage of gellets upon my friends. It is truly fun to play with!
Ultimately, this blaster gun has proven to be an exceptional choice, demonstrating its superiority both in performance and aesthetic appeal. If, for any reason, it doesn't align with your personal preferences or specific requirements, I encourage you to explore the alternatives available.
The Best Alternatives To Surge XL
Gel Blaster Starfire XL: It is pretty much the same as Starfire XL, except it comes with a Starfire Activator and is violet instead of white. If you play in dark settings and would like to ramp up the fun with glow-in-the-dark gellets, this one is a good option.
UnlocX Modular Gel Blaster: This unique modular gun can be used in four different modes by attaching or detaching different components – pistol mode, blaster mode, rifle mode, and assault mode. This one has a muzzle velocity of 200 FPS and can shoot up to 11 balls per second.
Splatrball SRB1200: This Splat R Ball gun is quite powerful, shooting at 210 FPS and delivering up to 11 balls per second. It comes equipped with a large drum mag that holds around 1200 splat balls.
Frequently Asked Questions
What is Gel Blaster Surge XL?
The Surge XL stands out as the pinnacle of the "Surge" series gel blasters, boasting impressive accuracy and unmatched power. Crafted by the renowned brand Gel Blaster, this model sets itself apart with an extended shooting range, a heightened muzzle velocity, and an unparalleled firing rate of gel balls, surpassing all previous models.
Does gel blaster surge XL hurt?
With a shooting speed of up to 250 FPS, the Gel Blaster Surge XL can deliver quite a sting when it hits your skin or if you're nearby. To stay safe, it's important to wear protective glasses and cover yourself with full-length, long-sleeved clothing while playing with gel blasters. If necessary, you can also adjust the shooting speed of your gun to make it gentler. Besides, please follow those safety guidelines before playing with it.
Where can you play with Surge XL?
As long as your local rules allow it, you can enjoy playing with this toy gun in open spaces like your backyard or a park. However, it's crucial to avoid playing in public areas without permission. Stray gellets can accidentally hit people passing by and cause harm, especially if they hit someone in the eye. To ensure everyone's safety, consider booking a slot at a designated gel blaster arena or play at your home (backyard, garden, field, etc.) for a truly enjoyable and risk-free experience.
What type of gel balls can be used with Surge XL?
The Surge XL uses gel blaster ammo, also known as gellets, splat balls, or orbeez. These are tiny beads made of a superabsorbent polymer that expands when hydrated, causing the beads to achieve manifold their original size. The ammo provided by Gel Blaster is slightly hardened than ordinary Orbeez and has an average size of 7.5 mm in hydrated state.
How long does gel blaster surge take to charge?
The blaster takes only about 45 minutes to be fully charged, and the battery holds enough charge for four hours of playtime.
Where can you buy gel blaster surge XL?
You can always look for it at nearby toy shops or Walmart, but it would be even more convenient to simply buy it online (links available above).
What accessories are compatible with Surge XL?
The Surge XL is already amazing, but you can make it even better by adding cool accessories. While sights and scopes may not work well with the top-fed hopper, you can attach a flashlight for playing in the dark or a sling to make it easier to carry. Gel Blaster also offers a Starfire Activator that lights up glow-in-the-dark gellets, adding an exciting touch to your battle games. Get creative and customize your blaster for an enhanced and thrilling experience!
What to do if it does not shoot?
If your Gel Blaster Surge suddenly stops shooting, don't worry! Troubleshoot to find the issue. First, check if the battery is working and charging correctly. If the battery is fine, examine the barrel for any gellet residue that may be blocking it. Sometimes, a damaged motor can cause the blaster to stop working, in which case you'll need professional repair or a replacement. Stay calm and follow these steps to get your blaster back in action!
| | |
| --- | --- |
| Review: | Gel Blaster Surge XL |
| Summary: | The Gel Blaster Surge XL delivers peak performance with its impressive accuracy, adjustable FPS, and rapid firing rate. Its ergonomic design and extended shooting range make it a standout choice for thrilling battles. Despite minor issues like bulkiness for younger players, its value for money is undeniable. |
| Author: | Tavish Archer |
| Rating: | 4.8 (out of 5) |