I can never forget the rush of excitement that surged through me the first time I gripped the SRB1200, my very own splatter ball gun. Erik nudged me teasingly, saying, "You've handled an Orbeez gun before, haven't you?"
I couldn't help but grin, giving the blaster a tap. "Sure, but this one's got a huge drum mag," I shot back. He knew how much I adored those drum magazines and their seemingly endless ammo.
With our splat guns locked and loaded, we dove headfirst into our pulse-quickening orby war. Using the SplatRBall SRB 1200 was an absolute blast, with its intense firepower and rapid firing rate making every moment a thrill.
But the real game-changer was that mammoth magazine, letting me unleash a deluge of gellets without ammo shortages. Now, in this review, I'm stoked to spill the beans on everything I've uncovered about the SRB1200 so far.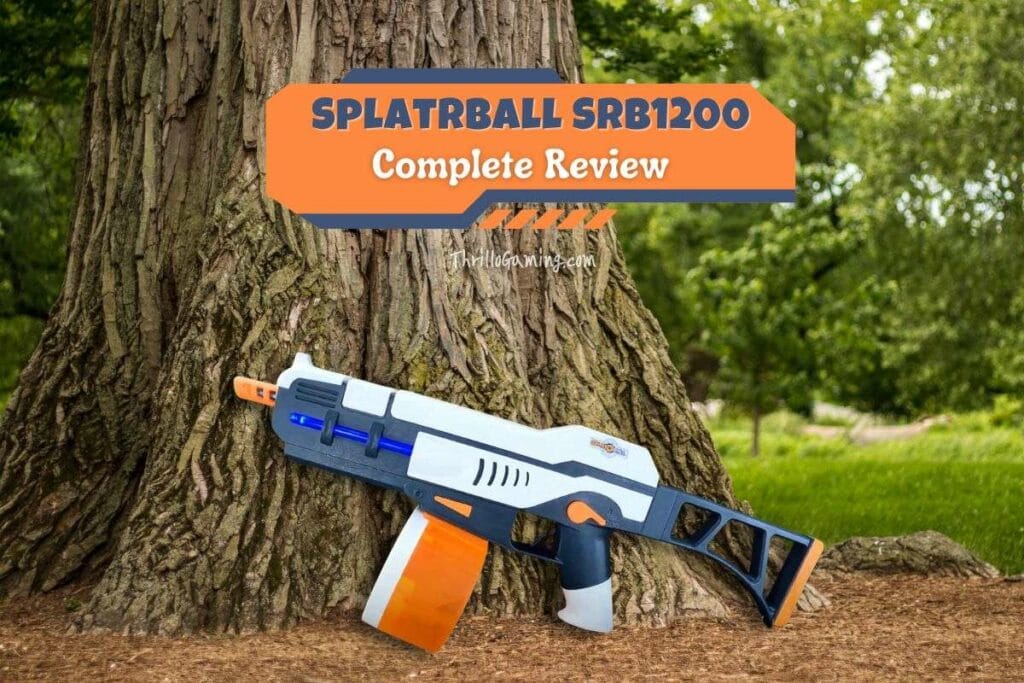 ThrilloGaming Verdict
SplatRBall's SRB1200 emerges as the ultimate power player in the realm of splatter ball guns, delivering an exhilarating gameplay experience that's worth every penny.
With its robust design, impressive firing rate, and remarkable accuracy, this splat gun sets a new standard for competitive gel ball battles. Its top-notch performance, durable build, and user-friendly features justify the investment.
SRB1200 Orbeez gun's seamless functionality and impressive ammo capacity ensure endless hours of non-stop action, making it a must-have for any serious player looking to dominate the backyard.
For gel ball aficionados like me craving the ultimate power play, Splat R Ball SRB 1200 blaster is the undisputed champ, delivering a gaming experience like no other.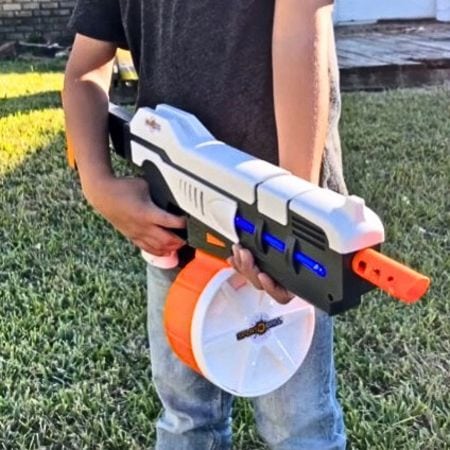 SplatRBall SRB1200 Rating
Coverage And Accuracy: 4.8/5
Shooting Power: 4.9/5
Design And Build Quality: 4.8/5
Ease Of Use: 4.6/5
Value For Money: 4.9/5
PROS
The large drum magazine is a huge perk, saving you the trouble of pausing for reloads.
At 11 balls per second, the firing rate is more than enough to make you a tough player on the field.
The 210 FPS muzzle velocity ensures decent range and accuracy.
During my testing, I found the splat gun to be very ergonomic due to the rubber padding at the rear end of the stock.
Made from high-quality ABS and nylon composite, the Orbeez gun is quite sturdy and durable.
The battery life is pretty good. After charging, I could shoot around 4800 gel balls (4 magazine reloads) before the battery drained out.
CONS
There's no semi-automatic shooting mode – you can only shoot in full-auto.
The Unique Design Of Splat R Ball SRB1200
The moment I laid my eyes on the SplatRBall SRB1200, the first thing that caught my eye was the strikingly large drum magazine. It's a standout feature not commonly found in other blasters, instantly setting it apart from the crowd. As I gripped the splat gun for the first time, it felt like I had stepped into the world of my favorite video games, handling one of those coveted drum mag SMGs.
In terms of design, the blaster's resemblance to an assault rifle was evident, giving it a sleek yet playful aesthetic with its stylish fusion of white and orange. The addition of the rubber pad at the end of the shoulder stock was a game-changer, providing a comfortable and secure grip that allowed me to maneuver with ease and precision during my intense gel ball battles.
Performance Booster: The True Capabilities Of SRB1200
Believe me, when I say, the SRB1200's performance left me utterly floored – it's surely one of the best splatter ball guns I've ever had the pleasure of wielding. Let me walk you through the sheer brilliance that is its performance.
Shooting Speed And Rate Of Fire
If you're craving a powerful splatter ball gun, the SRB1200 is an absolute game-changer. Packing a mighty 210 FPS muzzle velocity, it's your ticket to dominating any battlefield. I had a blast showering my pals with high-velocity water beads, leaving no doubt about its sheer power.
But wait, there's more! Beyond its impressive velocity, the gun's rapid-fire ability is pretty intense. I was thrilled to discover its capability to unleash up to 11 balls per second- a perfect choice for shooting games in the backyard (remember to wear the goggles).
The Firing Modes
Admittedly, this is one area where the Splat R Ball SRB 1200 falls slightly behind some of its top competitors. While its full-automatic mode is undeniably impressive, it misses out on offering a semi-automatic/single-shot firing option.
That being said, it's not a major setback; after all, full-auto is incredibly effective, enabling you to unleash a barrage of shots rapidly. However, having the option to switch to semi-automatic could have been handy for conserving ammo during those critical moments when supplies run low.
Shooting Range
Boasting an effective shooting range of up to 200 feet, the SRB1200 splat gun proves to be a perfect companion for long-distance games in the backyard, lawn, and playground. Rest assured, you'll have no trouble reaching your opponents even when they're within striking distance.
I vividly recall a capture-the-flag game where I turned the tables by picking off three opponents from nearly 100 feet away while they attempted to corner our flag-bearer.
Magazine Capacity
As I've highlighted, the large drum magazine is one of the standout features of this splat gun, having a capacity of approximately 1200 rounds of splatter balls, compared to the 400 rounds of SRB400. It doesn't sound like an ammo shortage to me, does it? ¯\_(ツ)_/¯
But here is the kicker! Very few of the other blasters I've tested can match the blaster's exceptional ammo capacity. It always ensured me to play without the frequent interruption of reloading, allowing me to stay focused on the thrill of the game.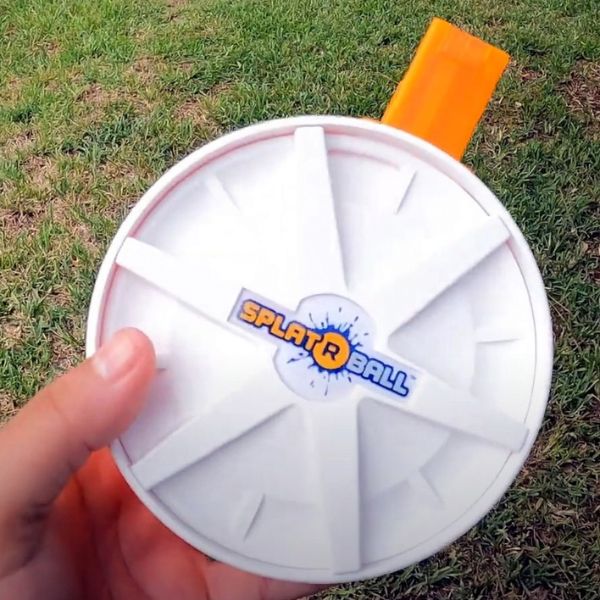 Shooting Accuracy
In my experience, the Splat R Ball SRB1200 stands out as one of the most precise splatterball guns I've ever had the pleasure of using. Its impressive muzzle velocity and effective range make hitting distant targets with pinpoint accuracy an absolute breeze.
But that's not all! The inclusion of iron sights further enhanced my aiming capabilities, setting the stage for me to claim the title of the sharpest shooter in the arena with the SplatRBall gun in my grasp.
Battery And Charging Facility
The Rechargeable 7.4V 1800mAh battery (similar to SRB400-SUB) is a solid performer, capable of fueling approximately 5000 shots (4500-4900 during my test) before needing a recharge. It's worth noting that 1800 mAh stands as the highest battery capacity available for an electric gel ball blaster, underlining the SRB1200's power.
However, charging this splat gun can pose a minor challenge. Unlike the latest gel blasters equipped with a convenient USB charging port on the body, this Orbeez gun follows a slightly more traditional approach.
You'll have to detach the battery from the gun, connect it to the charging cable, and proceed with the charging process separately. It's essential to keep the charging time within four hours, avoiding overnight charging as a precautionary measure.
Price And Value For Money
The Splatrball SRB1200 comes in at an astonishingly affordable price point, setting it well under $60. This budget-friendly tag makes it one of the most cost-effective options in the world of splat ball guns.
As far as value for money is concerned, the splatter gun is totally worth its price. It is undeniably a top-notch blaster, delivering an unmatched performance that exceeded my expectations.
Not to forget the thoughtful design elements like the rubber padding and iron sights, which further elevate its appeal, making the SRB 1200 Orbeez gun an ideal choice for competitive tournaments and those action-packed backyard battles with friends.
Should You Buy SplatRBall SRB1200 Gun?
The Splat R Ball SRB1200 gun is a must-have for any gel ball enthusiast seeking an extraordinary gaming experience. It isn't just a toy; it's a game-changer that adds a whole new dimension to your battles.
From the moment I first unleashed its power, I was hooked. With a firing rate that's nothing short of impressive and a muzzle velocity that ensures you dominate the field, this blaster is a good choice. The 200-foot shooting range and pinpoint accuracy make hitting targets a breeze, giving you an undeniable advantage in any gel blaster party.
Its sturdy build and long-lasting battery ensure that you can focus on the game without any interruptions. Plus, the user-friendly design and comfortable grip make wielding this beast a seamless and enjoyable experience.
In my opinion, the SRB1200 SplatRBall gun isn't just about winning; it's about embracing the thrill of the game like never before. So, if you're ready to take your gel ball battles to the next level, this is the blaster for you.
How Did I Test The SRB1200 Splatter Ball Gun?
As I delved into testing the SRB1200, I discovered that handling this water beads gun was a breeze. Let me take you through my journey and share an overview of how I navigated it.
1. Unboxing The SRB1200
Anticipation running high, I eagerly unboxed the SRB1200, greeted by not only the Orbeez gun itself but also a water-activated target, a charging cable, and a whopping 6000 dehydrated splat balls. I studied every component, and assembled the blaster within 20 minutes and placed the battery to charge up.
For beginners stepping into the splat gun realm, the water-activated target is an excellent way to hone aiming skills before plunging into gameplay with friends.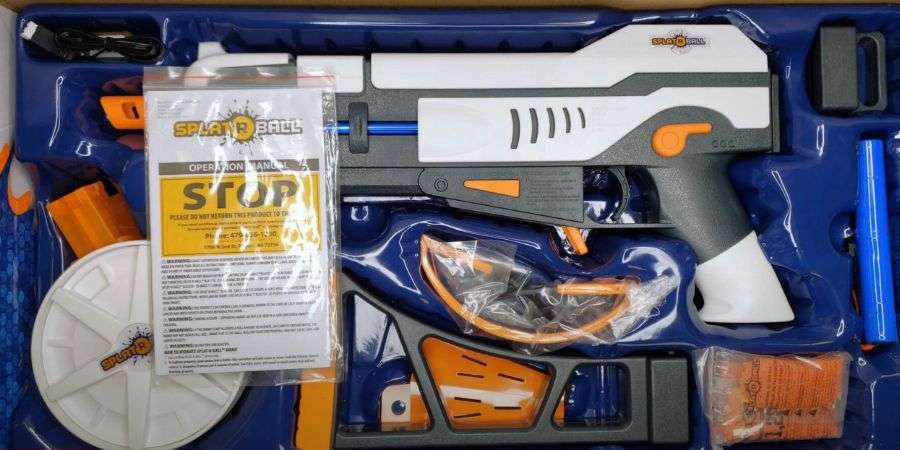 2. Hydrating The Ammo And Loading The Splat Gun
The dehydrated gel beads demanded about 4 hours of soaking to reach their optimal size. Placing them in a bowl and drenching them thoroughly, I waited for the beads to grow up.
Once ready, I detached the magazine from the Splat R Ball SRB1200, filled it with the hydrated beads, and securely reattached the fully loaded drum mag.
3. Inspection
After charging it fully, I started checking the functions of different knobs and switches. Spotting a small knob with two settings: full-automatic and safety, I quickly grasped that the SRB 1200 SplatRBall gun lacked a semi-automatic firing mode, unlike many of its competitors.
To prevent accidental firing, the knob must always be set to the safety switch when it isn't in use. Activating the Orbeez gun required a simple switch to the full-auto mode, ensuring a continuous stream of gel beads at a rapid 11 balls per second as long as the trigger remained pressed.
Next, I set up my chronograph and tested the muzzle velocity, which varied in the range of 172-208 FPS. The shooting distance was also impressive (168-203 feet) with a decent accuracy.
4. Time To Play
Armed and ready, the SRB1200 was set for action. I doused my friends with a torrent of splat balls, exploring various game modes and relishing every moment. However, a word to the wise – never forget to sport your safety glasses; when dealing with toy guns that fire actual projectiles, eye protection is an absolute must.
Frequently Asked Questions
Does the SplatRBall SRB1200 splat gun hurt?
Let me be honest with you – shooting at 210 FPS, the splat gun is bound to sting quite a bit if the gel balls strike bare skin at close range. This is why I always advise wearing full-length clothes when playing a splatter ball game. Ideally, players should also have a mutual understanding to avoid shooting anyone in sensitive areas such as the face or the neck.
What are the minimum age requirements to play with SplatRBall SRB1200?
The SRB1200 Orbeez gun comes with a recommended minimum age of 14 years, reflecting its powerful performance capabilities and stringent safety measures. While it's possible for children a few years younger to handle it, I strongly advise adult supervision to guarantee a safe and enjoyable gaming experience.
Where should you play with an SRB1200 splatter ball gun?
Nothing beats the fun of a thrilling splat ball game in a dedicated area designed for such exciting battles – just play in your backyard. However, a large outdoor area such as a lawn or a playground should work just as fine. My friends and I mostly play in one of our backyards, occasionally visiting an arena on special occasions.
How long does the SRB1200 take to charge?
Unfortunately, this splat gun doesn't feature USB fast charging. It would take you around four hours to power up the battery fully. However, I didn't find this too inconvenient since the splat balls need to be soaked for around the same duration. Since you can't use the gun without readying the balls anyway, you can simply charge up the battery in the meantime.
Where can you buy SplatRBall SRB1200?
Personally, I buy most of my blasters from Amazon, and the splatter ball gun was no exception. However, you could also get it from one of the several other reliable online stores or check at a nearby toy shop if you prefer to purchase from a physical location.
What to do if the SRB1200 splat gun is not working?
A dead battery is the most common reason why a splat gun might stop working. Try charging the battery and see if it works. However, if the battery appears to be alright, you'll have to troubleshoot in other ways.

Check the inside of the barrel – residues from splat balls can often result in a gunky blockage that stops the Orbeez gun from shooting. However, it could also be due to other, more complex issues like wiring problems or a damaged motor, in which case you may have to get the component replaced or repaired professionally.
Top Alternatives To SRB1200 Splat Gun
Surge XL: With a muzzle velocity of 170 to 250 FPS (adjustable) and a range of 150 feet, Gel Blaster Surge XL is also a powerful blaster like the SRB1200 Splat R Ball gun. Its unique design not only lends it a futuristic look but also gives it amazing ergonomics.
Starfire XL: Yet another top-notch gel blaster, the Starfire XL is almost the same as the Surge XL in terms of overall design and performance. However, the white is replaced by violet, and this blaster comes with an additional feature – a special attachment to illuminate glow-in-the-dark gellets.
UnlocX 4-in-1 Blaster: If you're on the hunt for a blaster that would make your friends envy you, the UnlocX's modular blaster might be exactly what you need. The modular design allows you to switch between different gun modes by attaching or removing different components.
| | |
| --- | --- |
| Review: | SplatRBall SRB1200 Splatter Ball Gun |
| Summary: | The SplatRball SRB1200 is an powerful splatter ball gun, boasting an outstanding firing rate, impressive accuracy, and a large drum magazine. It's well-built, easy to use, and offers excellent value for its price. Despite the absence of a semi-automatic firing mode, it delivers a thrilling gameplay experience, making it a must-have for gel ball enthusiasts. |
| Author: | Tavish Archer |
| Rating: | 4.8 (out of 5) |