Hey there, gel blaster fans!
Today, I'm super excited to talk about the awesome UnlocX 4-in-1 Modular Gel Blaster. As a game instructor at different arenas and a total toy gun nerd, I've tried lots of gel blasters. But let me tell you, this one from UnlocX is seriously cool!
What makes it so special? Well, it's got four different modes you can switch between! Yep, four in one, unlike any other Orbeez guns available on the market!
Before buying it, I had some fun trying it out with my friends in their backyards, and I gotta say, I fell in love with it! In my opinion, it is one of the best gel ball blasters ever!
So, read the full review, where I'll break down all the reasons why the UnlocX Modular Gel Blaster gun rocks! It's gonna be a blast, pun intended!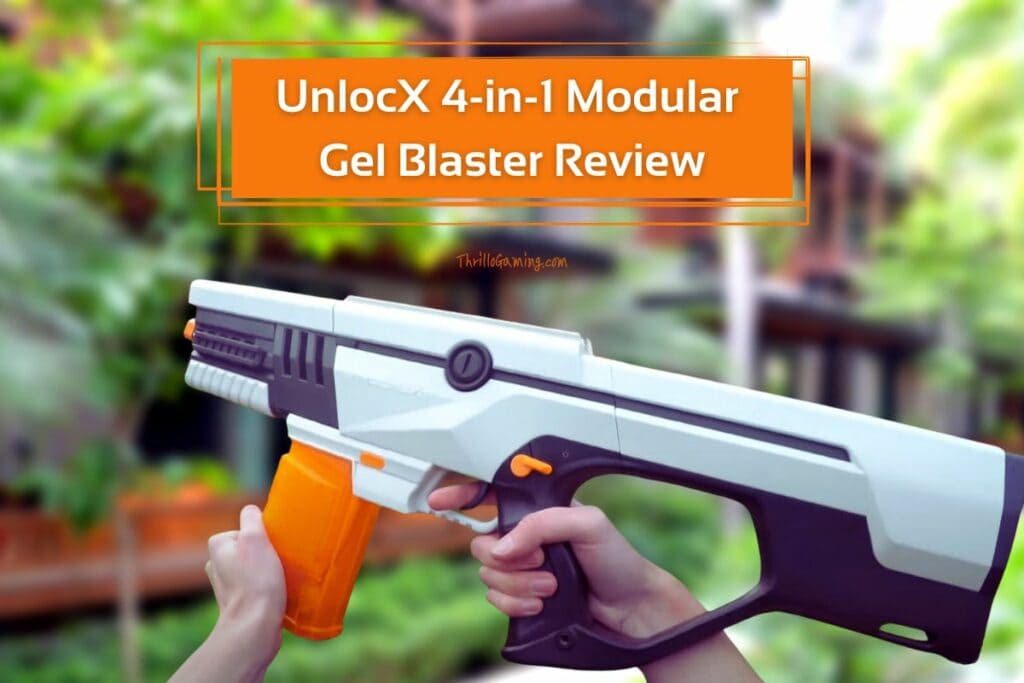 ThrilloGaming Verdict
The 4-in-1 gel blaster is an awesome high-end Orbeez gun, the best model offered by the brand UnlocX. It's not your typical gel blaster- it comes with a special modular design, allowing you to easily switch to different weapon modes: Rifle, Blaster, Assault, Pistol. This means you can customize it to suit your style and preference!
And the best part? It's super powerful, shooting gel balls with incredible speed and accuracy. If you're a competitive player looking for a top-notch product, the UnlocX's Modular Gel Blaster is the perfect choice for you! Get ready for some thrilling gel-blasting action!
PROS
Firing at a rate of 11 balls per second, the blaster can give you a significant edge in your battles.
The high muzzle velocity of this gel gun ensures impressive range and accuracy.
Due to the modular design, you may switch between different gun modes based on your preferences.
The large hopper holds a lot more gellets than most other spring-loaded magazines.
I love the blaster's futuristic look – it always helped me stand out from the rest.
CONS
You need to attach and detach the magazine carefully, otherwise it may wear out sooner.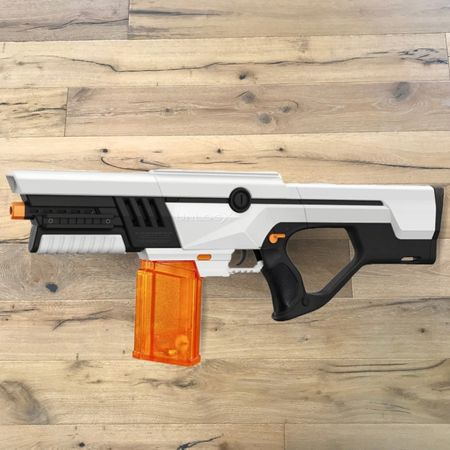 UnlocX Gel Blaster Rating
Coverage And Accuracy: 4.7/5
Shooting Power: 4.8/5
Design And Build Quality: 4.6/5
Ease Of Use: 4.9/5
Value For Money: 4.8/5
Design Of UnlocX Modular Gel Ball Blaster: What Sets It Apart?
Get ready for the coolest blasting experience ever! The UnlocX 4-in-1 Gel Blaster Gun stands out with its unique modular design. You can easily detach and switch parts like the barrel and butt stock, transforming it into a pistol, rifle, assault, or blaster! It's like having four awesome guns in one!
Here is a chart, explaining the length (breadth and height remaining the same) of the gun in different design modes-
| | |
| --- | --- |
| Design | Length |
| Pistol | 10.5 in / 26.6 cm |
| Blaster | 18.5 in / 46.9 cm |
| Assault | 21.7 in / 55.1 cm |
| Rifle | 29.7 in / 75.4 cm |
Not just that, it's not all about looks; the modular configuration offers you better ergonomics, making the Orbeez gun comfortable to hold and use. Plus, let's talk about its jaw-dropping appearance! The blaster gun's futuristic vibe gives it a sci-fi movie feel, and it's undeniably awe-inspiring.
Imagine being the envy of all your friends with this cool 4-in-1 blaster in your hands. Trust me, the first time I saw it, I was blown away by its stunning design. You can also be the coolest person on the block with this UnlocX 4-in-1 Gel Blaster!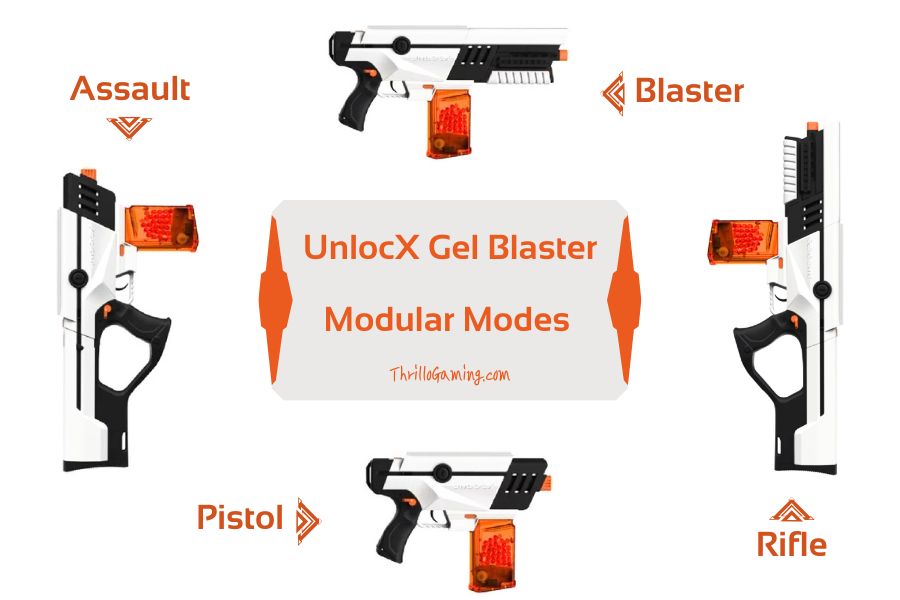 Performance Of UnlocX Blaster: My Experience
I know what you might be wondering – this blaster looks pretty nice, but how well does it actually perform? Well, in my experience, it definitely lives up to the expectations, and here is how-
Powerful Shooting Speed
The UnlocX modular gel blaster blew me away with its impressive speed! When I fired it, the gel beads shot out at a mind-blowing muzzle velocity of 200 feet per second (FPS). This means your shots will reach your opponents quickly and leave them stunned.
While some other blasters may have slightly higher speeds, its 200 FPS is more than enough for competitive matches and casual backyard games, ensuring you have the edge in every encounter.
Rapid Rate Of Fire
Get ready for a gellet storm! The UnlocX gel gun shoots an impressive 11 rounds per second (RPS), making it one of the most rapid-firing toy guns out there. It felt like I had a water hose filled with gellets on turbo mode!
I had loads of fun playing with this gel ball blaster and blasting everyone in my path with water beads – this is the kind of performance you need to dominate the field in an Orbeez challenge game. This high rate of fire made me the backyard champion, and my opponents were defeated in no time.
Four Blasting Modes
The UnlocX blaster has one shooting mode, but it's not ordinary – it's FULLY AUTOMATIC! This means I can shoot a continuous stream of gellets with just one press of the trigger.
Unlike conventional gel blaster guns, it does not have a dedicated semi-automatic mode, which can help you save ammo when you're running low. However, the 4 modular modes (Rifle, Blaster, Assault, Pistol) are fully automatic and incredibly fun!
Long Shooting Range
The UnlocX blaster has an impressive shooting range of 100 feet. With its high firing speed, my shots easily reached distant targets. Whether I was in close quarters or shooting from afar, I was confident my shots would hit the mark with accuracy and power.
At one point, one of my opponents even joked that the gel blaster was giving me unfair advantages, making me feel like a sharpshooter.
Moderate Magazine Capacity
With the UnlocX blaster's 700-round magazine, I never ran out of ammo during intense gel-blaster parties. Although this capacity is not very high, it is decent enough in most cases.
Once I filled up the magazine with gel balls, I could stay in the action for a long time without reloading. Besides, its clever design also kept my line of sight clear while aiming, giving me an advantage on the battlefield.
High Firing Accuracy
In my experience, the UnlocX gel blaster is impressively accurate. Even from a distance, my gellets hit the target with precision and accuracy. It felt like being a sniper, nailing my opponents with every shot.
While the blaster doesn't have an iron sight, the top groove helped me aim better. With practice, I became a pro, making my opponents think twice before challenging me- HAHA! The blaster's combination of speed, range, and accuracy made me feel like a champion.
Good Battery And Easy Charging Process
This UnlocX Orbeez gun is equipped with a powerful 1,800 mAh battery that keeps the gel-blasting action going for hours. On a full charge, I could play for around four hours straight! It's like having a never-ending fun.
The best part is the convenience of charging – the gel blaster gun comes with a handy USB cable. No need to worry about separate chargers; I could easily power it up using my phone adaptor or laptop through the USB port. It's hassle-free and ensures I'm always ready for epic adventures!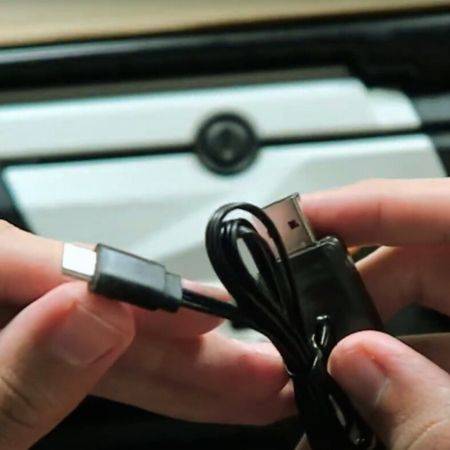 Safety And User-Friendliness
Safety first, that's the UnlocX way! I noticed the blaster had a smart safety switch, so no worries about accidental shots. Plus, they provided clear instructions on how to use and take care of the blaster safely.
What's even better? The water beads are non-toxic and harmless, so I could play worry-free. No need to stress about gellet mess! Whether it's indoor or outdoor play, this UnlocX gel ball blaster made sure I could have fun without any safety concerns. It's a blasting experience with peace of mind!
Price And Value For Money Of UnlocX 4-in-1 Gel Blaster
You can snag this blaster for a fantastic price, ranging from $79.99 to $89.99 at various stores, including the official store, Amazon, and Walmart. And let me tell you, it's worth every penny!
Why? Well, firstly, its top-notch performance puts it at the top of its game in competitive battles. You'll be a pro, leaving your opponents soaked with gellets and having endless fun. Secondly, the gel gun's unique modular design lets you wield four different guns in one! It's like having a whole armory at your fingertips!
Now, comparing it to other Orbeez gun brands like SplatRBall and Gel Blaster, which are priced between $70 and $99, the UnlocX blaster is an absolute steal! Considering its modular design and excellent performance, it's a deal you don't want to miss.
So, if you're looking for a bang for your buck, the UnlocX 4-in-1 Gel Blaster is the way to go!
The Minimum Age Requirements
UnlocX modular gel blaster gun is designed for kids, teens and adults aged 14 years and above, as recommended by the manufacturer. It's all about safety! While the gel beads are potentially harmless as long as the users wear safety goggles, the blaster's power might sting a bit for younger kids.
However, with adult supervision, kids around 12 years old can still enjoy some gellet fun. But watch out for local rules and laws in your area. Safety first, so let the adults embrace the gel-blasting excitement while the younger ones can join in under watchful eyes!
Specifications
| | |
| --- | --- |
| Brand | UnlocX |
| Model | 4-in-1 |
| Color | White, Black, Orange |
| Maximum Range | 100 feet |
| Muzzle Velocity | 200 FPS |
| Rate of Fire | 11 RPS |
| Shooting Modes | Rifle, Blaster, Assault, Pistol |
| Charging Cable | USB |
| Included Gellets | 7,000 (dry) |
| Additional Features | Safety glasses, 30 days return/exchange policy |
How Did I Test UnlocX 4-in-1 Modular Blaster?
Like most gel blaster, using this one from UnlocX is pretty easy to assemble and operate. After using it many times, I have figured out the correct ways to wield it. Here's a step-by-step guide in case you are unfamiliar with playing with this one.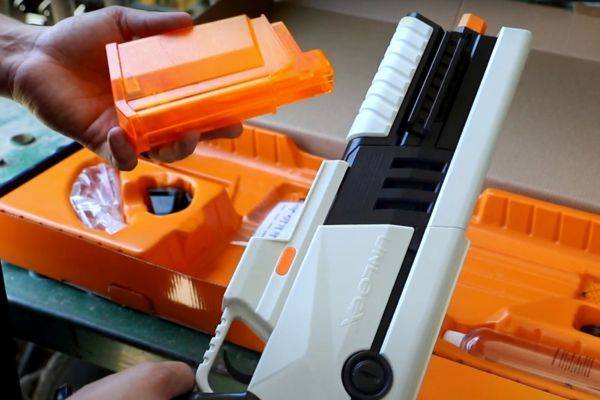 1. Unboxing UnlocX Modular Ball Gel Blaster
The packaging of this gel ball blaster is something I really love. As I opened the box, a big black paper sheet greeted me, covering the gun and its goodies. But wait, this wasn't just any paper – one side had a snazzy target for practice, while the other side showcased diagrams of the blaster's different modes and how to switch between them.
And the best thing? UnlocX didn't hold back on accessories! They had it all covered – a handy bottle for growing and storing gellets and a foldable funnel for pouring them easily into the magazine. Not to forget, the package even came with 10 packs of 700 gel beads each!
2. Preparing The Ammo And Loading The Blaster
Getting the ammo ready for my UnlocX Modular Gel Blaster was a piece of cake! I soaked the dehydrated Orbeez balls in a bowl of water, and guess what? It also came with a cool bottle for this! It took about 4 hours for the water beads to puff up to their full size.
Now, the fun part – loading the blaster! I used the foldable funnel to pour the hydrated gellets into the magazine. Super easy! And hey, there's this handy clip release button near the trigger. One press, and the magazine came off the gun like magic. After it was loaded, I just attached the mag back in place. Voila! I was all set for a new adventure!
In case you want to learn more, here is a detailed guide on how to load a gel blaster.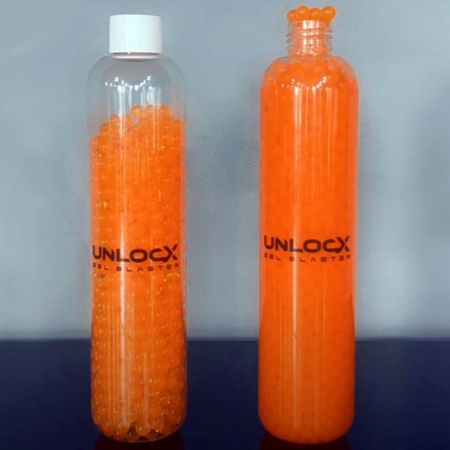 3. Choosing A Preferred Gun Mode
Now comes the fun part – choosing my preferred mode! As I mentioned earlier, UnlocX modular gel ball blaster has four cool options: pistol, rifle, assault, and blaster. I couldn't wait to try them all!
After some experimenting, I found my perfect match – the rifle mode! It felt super steady, and I loved supporting the barrel from below with one hand. It made me feel like Luke Skywalker from Star Wars! But hey, feel free to try them all and pick the one that suits you best.
4. Start Blasting And Enjoy
Now, it's time to blast and have a blast! I switched off the safety lock using the small orange knob on the blaster's side and set it to firing mode. Safety first – I made sure to wear my eye protection goggles before proceeding.
With the UnlocX modular blaster all set and my safety gear on, I started practicing with the target! It's power was impressive, and I felt in control as I sent water beads flying through the air. It was a wet and wild experience, and I couldn't help but enjoy every moment of it.
Once you get your hands on the UnlocX gel blaster gun, you will know how it feels! Here is a video-
Should You Buy UnlocX 4-in-1 Gel Blaster?
Absolutely! After using the UnlocX Modular Gel Blaster, I can confidently say it's totally worth it. It is a fantastic choice for enthusiasts of all ages. With its modular design, impressive performance, and great value for money, it offers endless fun and versatility. Whether you're a seasoned blaster fan or a newcomer, this gel blaster is sure to provide hours of excitement.
So, I hope this helps you decide whether or not to get the UnlocX 4-in-1 blaster. But if you prefer to explore more options without compromising performance, check out these alternatives.
Alternatives To UnlocX Modular Gel Blaster
Surge XL: In case you'd rather trade the UnlocX blaster's 4-in-1 design for better performance, go for Gel Blaster Surge XL. It boasts an adjustable muzzle velocity of 170 to 250 FPS and can shoot up to 12 rounds per second.
Starfire XL: You don't necessarily have to trade away the uniqueness altogether. Gel Blaster Starfire XL is almost the same as Surge XL in terms performance, but it comes with a special feature – it can shoot glow-in-the-dark gellets with a sci-fi design.
SplatRball SRB1200: Tired of having to refill between the matches? Drum mags are one of my favorite attachments in video games – they never seem to run out of ammo! Thankfully, this is the kind of magazine SRB1200 splatter ball gun packs with an ammo capacity of 1200 gel balls.
Frequently Asked Questions
Does the UnlocX 4-in-1 gel blaster hurt?
Leaving the barrel at 200 FPS, the gel beads do sting a bit – but just enough to make it fun. UnlocX 4-in-1 Modular gel blaster can be a little painful against exposed skin at close ranges, which is why I always recommend wearing full-length clothing during the matches.
Where should you play with an UnlocX modular gel blaster?
It's best to go outdoors or visit a dedicated gel blaster arena when playing with your UnlocX blaster – it will save you the hassle of cleaning up afterward. Places such as your backyard or parks should be fine; just make sure there aren't any people nearby who might accidentally get hit with stray gellets. Never shoot at people who are not participating or wearing safety glasses, it may get you into troubles.
How long does the UnlocX gel blaster take to charge?
This gel blaster gun charges pretty quickly – about an hour is all it takes to be fully charged. The battery lasts about 4 hours, which makes it perfect for tournaments and other extended game sessions.
Where can you buy UnlocX 4-in-1 gel blaster?
If there's a toy store selling blasters, you could definitely check if they have the 4-in-1 model from UnlocX. Else, you can always buy it online, either on the brand's official website or online marketplaces like Amazon or Walmart. I personally prefer to buy my gel ball blasters online as they often come with nice discounts.
What to do if your UnlocX Orbeez gun is not working?
In case your UnlocX gel blaster stops working, carry out basic troubleshooting, such as checking the battery level and whether it's charging properly. The battery seems to be fine; dismantle the gun carefully to check for blockages in the barrel or other problems such as wiring or motor issues. If you're not confident about opening it up or are unable to diagnose the issue, consider getting it repaired professionally. UnlocX also offers excellent customer service – you may be able to get the blaster replaced for free if it's covered by warranty.
| | |
| --- | --- |
| Review: | UnlocX 4-in-1 Modular Gel Blaster |
| Summary: | The UnlocX gel blaster is a game-changer, offering versatility with its modular design. It delivers impressive power, rapid fire, and precision. Affordable and user-friendly, it's perfect for all ages. UnlocX takes gel blasting to a whole new level! |
| Author: | Tavish Archer |
| Rating: | 4.8 (out of 5) |