Are you a fan of gel blasters or splatter guns, but frustrated by their occasional malfunctions? You're not alone. Even the most high-quality blasters can encounter common problems like jamming, misfiring, not charging, not loading or abnormal noise. Fortunately, many of these issues can be resolved with a bit of troubleshooting.
From basic maintenance to advanced repairs, we'll help you get your blaster back in top shape and ready to take on your next match. Whether you're a seasoned blaster user or a beginner, this guide will equip you with the knowledge you need to get the most out of your equipment. So grab your blaster, and let's get started!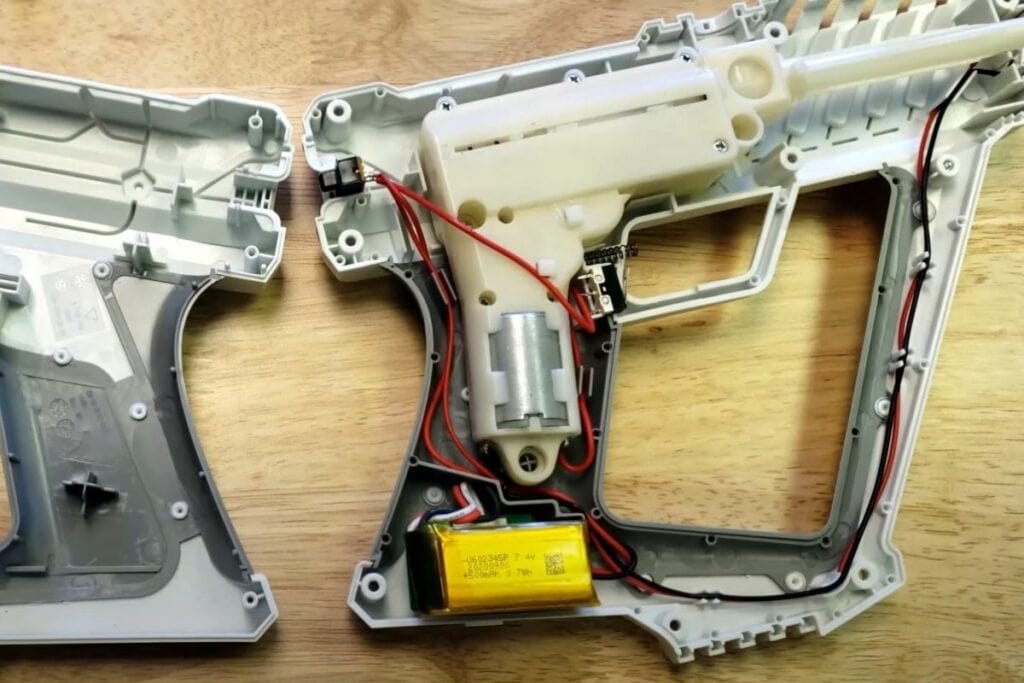 What To Do If Your Gel Blaster Is Not Charging?
Charging problems aren't too uncommon in toys that use rechargeable batteries. Especially as your gel blaster gun gets old and undergoes more wear and tear, you may have trouble charging it. Possible reasons why your gel blaster isn't charging include the following:
The battery doesn't work anymore. Use a spare battery to check if the problem persists.
A faulty charger. You may try using a different charger to see if that fixes the issue. If it does not, you just need a new charger.
Keeping the charger connected to the gel blaster overnight even after it is fully charged. This can cause some serious issues such as damaging the battery permanently. So, always remove the charger after the charging process is complete.
A technical issue in the gun hampering the charging process, resulting to heating up the battery and a fire hazard, which was a common problem in gel blaster surge 1.0 before they were recalled. If you find a similar problem in the newer versions, contact the manufacturer or your seller.
Gel Blaster Charger Flashing: The Solution
Gel blaster chargers use LEDs to indicate the gun's current charging state. Usually, a flashing light means that the battery is getting charged. When the battery is full, the light will turn to a solid red or green depending on the specific model. Here are some common reasons and solutions to this problem:
Low environmental temperature. The ideal temperature should be within 10°C and 30°C.
You did not charge the gel blaster battery for a long time or the battery is dead. Replacement of the battery is the only option here.
Electrical connection problem between the battery and charger. In this case, you have to repair your gel blaster with the help of a professional.
Why Is Splat R Ball Gun Battery Discharging Fast?
A fully charged gel blaster battery allows you to play for at least two to three hours. Some models even last four hours or more, as claimed by the manufacturers. As batteries get older, they start losing their ability to hold charge.
However, if your Splat R ball gun is new and its battery seems to run out of energy too often even after you follow the proper charging process, you must contact the manufacturer and replace it. There is no other option.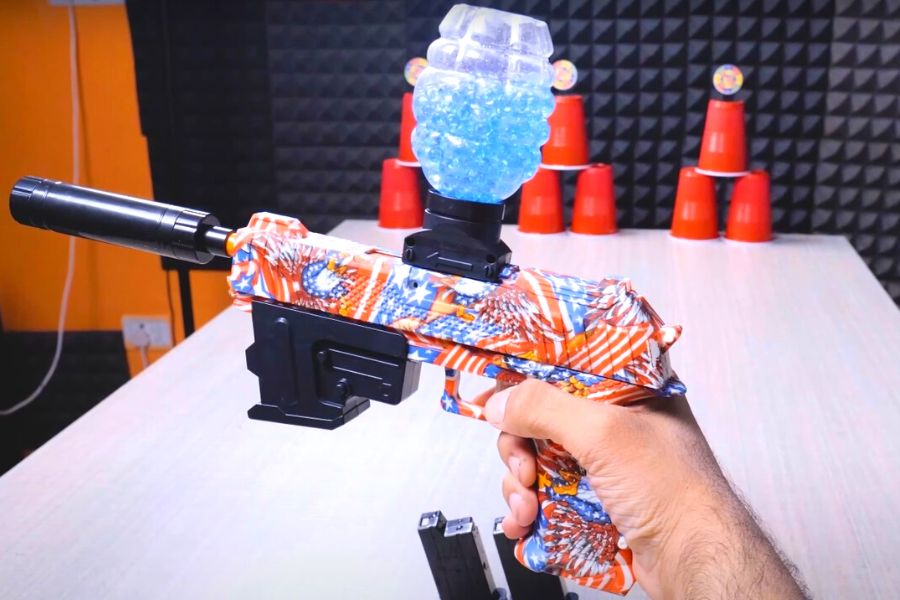 Why Are Gel Blaster Balls Breaking Down?
Although gel blaster balls are soft, they're supposed to retain their integrity at least until impact. If your gel beads are breaking down while leaving the gun, it could be due to different reasons.
You may have soaked the gel blaster balls for too long. They keep getting softer as they absorb water. Eventually, the friction in the gun's barrel or the impact from the piston would be enough to break them apart. Do not soak Orbeez balls for longer than six hours. Remember to keep the size between 6 and 8 mm.
Cheap gel blasters may have poor-quality components, especially plastic barrels, that can easily bend and cause the beads to break down. Taking the gel blaster to a store and replacing the barrel with a more durable one can help you.
The gap between the end of the barrel and the hop up/ramp might be too big. It would cause the gel beads to hit a sharp edge and burst.
One may also experience this common problem due to poor-quality gel balls. Next time, buy Orbeez from a different brand and see if the issue persists.
Gel Blaster Jamming : Causes & Solutions
Jamming is a common problem I've faced with my gel blasters. However, eventually, I began to understand why they get jammed and how to prevent it. Let's find out.
Dirt and debris: Pretty much any toy must be cleaned occasionally, but this is especially true for gel blasters. With dirt, moisture, and debris constantly entering the system, it's easy for grime to build up and clog the gun. To fix a blaster jammed with dirt, simply remove the barrel and wipe off the dirt using a soft cloth. You may dip a cotton swab in a cleaning solution and use it to clean the inside of the barrel.
Disintegrating Orbeez: You're more likely to experience frequent gel blaster jamming while using old gel beads. As they get older, they begin to turn brittle and can easily disintegrate inside the gun. This, in turn, fills up the blaster with debris and jams it. Using poor-quality Orbeez results in the same problem too.
Overhydrated gel beads: As I mentioned, you must be careful while hydrating the gel blaster balls. Soaking them in water for too long makes them prone to breaking and clogging the blaster. Besides, the gel beads can also jam the gun simply because they're too large for it.
Malfunctioning gearbox: A malfunctioning gearbox or a spring can cause the blaster to jam. If this is the case, the gel blaster may need to be repaired or replaced.
Improper loading of the gel balls: If the gel balls are not loaded correctly, they may get stuck in the barrel, causing the blaster to jam. Check the next section for it's solution.
Related Guide: Working Method Of Gel Blasters
What To Do If Gel Blaster Is Not Loading?
If your gel blaster is not loading properly, there could be a few reasons why. Here are some troubleshooting steps to follow:
Check the magazine: Make sure that the magazine loads correctly and that the gel balls are not too tightly packed together. If the magazine does not load correctly, the gel balls may not be able to feed properly into the blaster.
Check the hop up: The hop up attachment is responsible for adding spin to the gel balls as they are fired, which can improve their accuracy. If the hop up is not set correctly on your blaster, it can cause feeding issues. Try adjusting the hop up and see if that helps.
Check the tappet plate: The tappet plate is responsible for pushing the gel balls into the hop up chamber. If the tappet plate is broken or not functioning properly, it can cause feeding issues. Replace the tappet plate if necessary.
Check the motor: If the motor is not functioning properly, it can cause the gears to turn too slowly or not at all, which can prevent the gel balls from feeding properly. Check the motor and replace it if necessary.
If none of these troubleshooting steps solve the issue of improper loading, you may need to take your blaster to a professional technician for further inspection and repair. After it is fixed, follow the correct method of loading your gel blaster gun.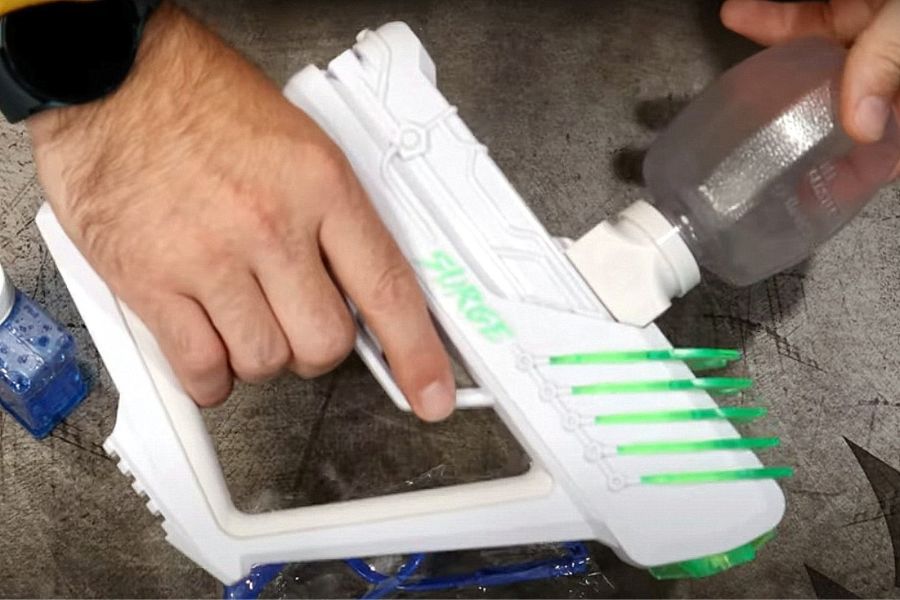 What Causes A Gel Blaster Loading But Not Shooting?
This is probably the problem you fear the most – your gel blaster is not shooting anymore. Depending on the reason, it could be an easy fix or require major repairs. Here's how you can troubleshoot a gel blaster that isn't shooting.
Battery problem: If the battery is not fully charged or is weak, it may not provide enough power to the blaster to shoot properly. Make sure to charge the battery or try using a different battery to see if that helps.
Gearbox malfunction: The gearbox is responsible for controlling the firing mechanism in the blaster. If the gearbox is not functioning properly, it can cause the blaster to shoot inconsistently or not at all. Check the gearbox and replace any damaged or worn parts as needed.
Check the barrel: If the barrel is dirty or clogged, it can affect the accuracy and range of the blaster. Clean the barrel with a cleaning rod and a soft cloth.
Low quality gel balls: If the gel balls are low quality or have been left out in the sun for too long, they may not shoot properly. Use high-quality gel balls and store them in a cool, dry place.
Wiring or motor issues: Problems in the electronic components, i.e., the motor and wiring, can also prevent a gel blaster from shooting. You'll have to replace a faulty motor entirely, while you can usually resolve wiring problems by fixing a broken connection.
Also Read: Splat R Ball Gun Not Shooting- The Fixes
Gel Blaster Shooting But Not Covering Enough Range
While the gel blaster range varies from model to model, the gel beads can usually reach a fairly decent distance of 30-80 feet. If your new toy gun isn't shooting as far as its advertised range, or you notice a sudden drop in your blaster's shooting distance, it's likely due to a faulty internal component.
A rusty, broken, or incorrectly positioned spring might be the reason. In fact, most of the time, a gel blaster starts firing weakly due to problems in the spring. A low battery, broken air-seal or T-piece can also significantly reduce the Orbeez gun's range and firing velocity.
Why Do Sometimes Splatter Guns Make Weird Noises?
Like any device with moving parts, a splatter gun might start making weird noises due to internal problems. In most cases, this is usually the result of stripped internal parts related to the gears. Here are some possible causes and their solutions:
Low battery: If the battery is low, it may not provide enough power to the motor, causing the splatter ball gun to make unusual noises. Try replacing or charging the battery to see if that helps.
Jammed gears: If the gears inside the gun are jammed or misaligned, they can cause the motor to make unusual noises. Disassemble the gun and check the gears to see if they need to be cleaned or replaced.
Loose parts: If any parts inside the gel blaster gun are loose or broken, they can cause rattling or clanging noises. Check all parts of the gun to make sure they are securely in place and replace any broken parts as needed.
Damaged motor: If the motor is damaged or worn, it can make unusual noises when it runs. Check the motor and replace it if necessary.
If you are unable to identify or fix the issue, it may be best to take your splatter gun to a professional technician for further inspection and repair.
Here is a video on diagnosing and troubleshooting gel blasters and splatter ball guns.
Be it loading problems or low firing power, a malfunctioning gel blaster can put a damper on the whole excitement of playing. Thankfully, you can fix many of the issues yourself, as I discussed above. Some common problems do require professional expertise to repair, such as faulty components.
The best way to avoid such issues is to invest in a good gel blaster gun in the first place. Don't go for cheap ones just to save some money – repairs, and upgrades will add up to the costs in the long run. Not only do poor-quality components tend to break easily, but they can also hinder the gun's performance.