Greetings, fellow Gel Blaster enthusiasts and trigger-happy adventurers!
Not too long ago, my neighbor's son Jake visited me with his brand new Gel Blaster Surge Gen 3. He was understandably excited about having his own blaster, and so was I to play with him.
Under the setting sun, we decided to have a quick party, filled with fun and laughter. "Let's see what your Surge can do!" I grinned, grabbing my own Surge Blaster. My little friend's face lit up, eager to find out. "I can't wait to see its power!" he replied with a big smile and put on the safety glasses.
Heartbeats racing, we knew this gel blaster gun duel would become a treasured memory in our adventures. In the end, a bright idea sparked in my mind- what about sharing our experience with Surge gel ball gun on ThrilloGaming with all the pros and cons that we found out?
So, lock and load, warriors, as we embark on this in-depth review of the Surge Gen 3 gel blaster. Prepare to witness the force that will shake the very foundations of this exhilarating toy gun!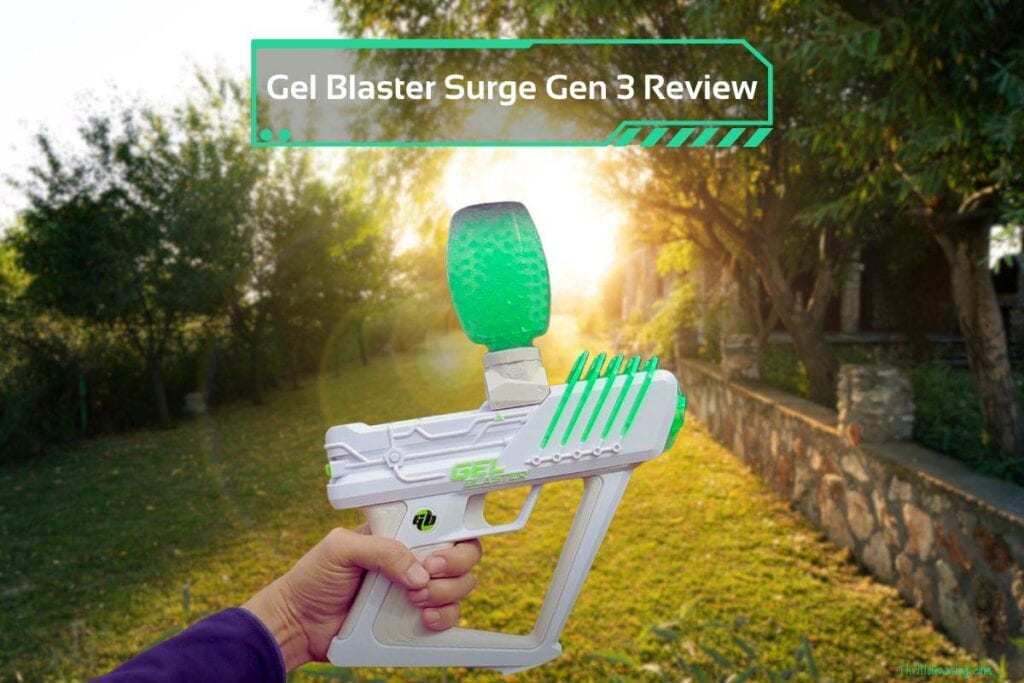 ThrilloGaming Verdict
In my epic adventures with the Gel Blaster Surge Gen 3, I discovered that it is an excellent value for its price, offering solid performance in various aspects, such as ergonomics, battery capacity, shooting range, speed, and accuracy. While it may not be the most powerful blaster on the market, it still impresses with its reliability and safety. I found it to be a comfortable and lightweight choice, tailored to my play style.
This blaster excels in both semi-auto and full-auto modes, allowing for precision shots within its shooting range. Whether you're a seasoned player or a newcomer, the Surge gun proves to be an enjoyable option for gelly ball parties with friends – one of the most popular gel blasters out there.
PROS
This lightweight and compact gel blaster is very easy to carry around and play with, especially for long periods.
Its excellent ergonomics add to the fun, allowing you to wield the blaster comfortably.
The adjustable muzzle velocity and a lower rate of fire make Surge Gen 3 perfect for newbies and kids.
With an effective range of 100 feet, the blaster is perfect for playing in backyards and fields.
Priced at under $60, this blaster is much more affordable than other popular models.
Thanks to the compact, pistol-style design, it's easy to move the blaster quickly while aiming.
There are lots of options to upgrade it.
CONS
With a lower muzzle velocity than the powerful gel blasters, this one isn't as great for hardcore and competitive players.
The shooting range and rate of fire in full-auto mode are slightly lower than other top Orbeez guns.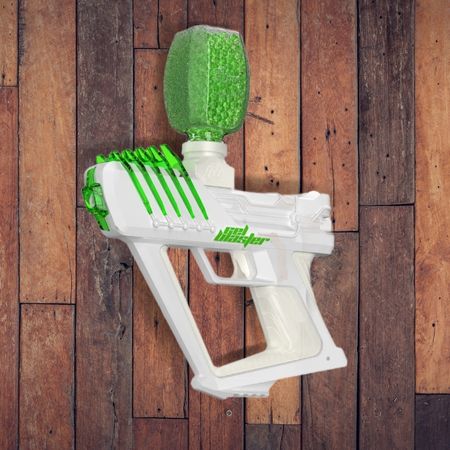 Gel Blaster Surge Gen 3 Rating
Coverage And Accuracy: 4.4/5
Shooting Power: 4.3/5
Design And Build Quality: 4.5/5
Ease Of Use: 4.6/5
Value For Money: 4.4/5
(Valid For Any Order, Use Coupon Code: ThrilloGaming)
Design Of Surge Gen 3: What Sets It Apart?
Step into the world of Surge Gen 3, a gel blaster I know like the back of my hand. When I held it for the first time, I was amazed by its design— a perfect mix of bright green and pure white that felt like a leap into the future. It was like holding a blaster from tomorrow!
And let me assure you, the build quality is top-notch. I've taken this blaster through many intense, action-packed gel-blasting battles, and it has never let me down. I've pushed it to its limits, but it stands strong, resilient, and ready for more. It's built to last- not like the garbage out there!
Now, let's talk about dimensions. Gel Blaster Surge Gen 3 is small, measuring 10.22 inches long, 10.1 inches tall, and 2.68 inches wide. Plus, it's super light at just 1.87 pounds. Trust me, it felt like an extension of my arm. Its lightweight nature makes it portable, so I can carry it wherever my gel-blasting adventures take me. Even kids like Jake can handle it with ease.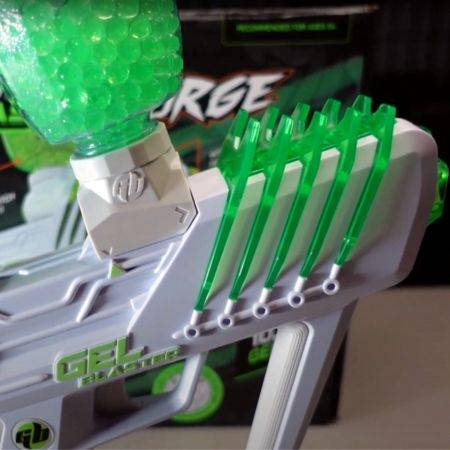 How Was The Performance Of Gel Blaster Surge?
Performance-wise, Surge Gen 3 isn't as powerful as the bigger models from Gel Blaster (like Surge XL or Starfire XL). However, with its exceptional firing rate, impressive accuracy, and smooth handling, the Surge Blaster surpassed my expectations. Here, I will delve into its overall performance to comprehensively assess this remarkable Orbeez gun.
Adjustable Shooting Speed
One of the standout features of this gel blaster pistol is its dual barrels, each with its own muzzle velocity – 90 FPS and 170 FPS. This versatility is useful if you're thinking of getting a blaster for a young player, as you can easily adjust the speed to a safer level.
Swapping between the barrels is a breeze, allowing you to tailor the blaster's performance to match the game's requirements. All you have to do is grab the barrel removal tool provided in the box, use it to remove the existing barrel, and fit the other.
The Shooting Modes
The Gel Blaster Surge Gen 3, like many others, has two shooting modes: semi-automatic (single shot) and full-automatic. You can find the green-colored switch at the back of the blaster to interchange between the modes.
In semi-automatic mode, when I pulled the trigger, it shot one gellet at a time. It felt realistic and saved ammo, but it also made the game a bit more challenging. I needed to focus on aiming and timing for each shot.
Switching to full-auto mode was so much fun. The Surge gel blaster unleashed a continuous stream of gellets raining down on opponents- all they could do was hide and run away, HAHA!! Holding the trigger down means relentless action, but be prepared for a faster ammo consumption rate.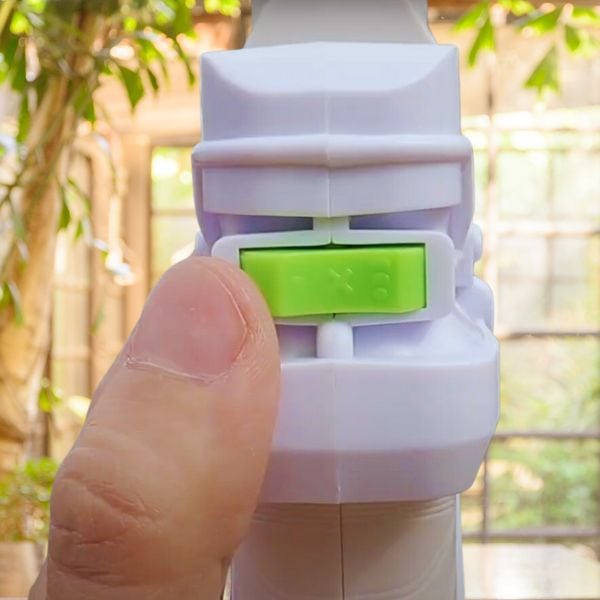 The High Rate Of Fire
In the world of gel blasters, the Surge Gen 3 stands tall as a true all-rounder suitable for players of all ages. Whether you're a kid, a teenager, or an adult, this gun's firing rate is just perfect.
With an impressive 10 rounds per second in full-auto mode, this third-generation gel ball blaster may not be the absolute fastest. But it offers a perfect balance, making it an ideal choice for both beginners and experienced players.
This blaster doesn't really waste a whole lot of ammo. I guess that's one of the upsides of having a relatively lower firing rate than other top blasters.
Long Shooting Range For a Small Blaster
As I put the Gel Blaster Gen 3 to the test, I wanted to see how far it could reach. With its interchangeable barrels, I opted for the white one and took aim. To my delight, the gel pellets sailed through the air with precision, hitting targets at a considerable distance of around 90-100 feet.
While there are longer-range models out there, the blaster showcased its reliability and proved to be a satisfying choice for mid-range battles. It's a well-rounded blaster that adds a touch of excitement to any gelly ball party.
High-Capacity Gravity-Fed Hopper
The Gel Blaster Surge comes equipped with a standard gravity-fed hopper, providing a high capacity of 800 gellets – more than enough for any game. This is particularly impressive for a compact pistol-style Orbeez gun. Filling the hopper with hydrated gellets and attaching it to the blaster was a breeze, allowing me to immerse myself in hours of fun.
Considering the 10 RPS firing rate in full-auto mode, the hopper gets empty if you blast non-stop for 8 minutes. But, that does not always happen. You have to move strategically and pause shooting several times when playing with it. In my experience, a fully loaded hopper lasted around 15-25 minutes, requiring 2-4 reloads during a single gaming session.
The Shooting Accuracy
One of the standout features that sets the Surge Blaster apart from other guns is its enhanced accuracy. Although the top hopper may slightly obstruct the line of sight, aiming with this gel pistol is remarkably quick and effortless. The ergonomic design allows for swift target acquisition, providing a more responsive shooting experience.
However, it's important to note that accuracy is best maintained within the blaster's effective range. Beyond that range, shots may become less precise. Nonetheless, for close to mid-range battles, the Gel Blaster Surge Gen 3 proved to be a reliable companion, offering superior aiming and a satisfying adventure.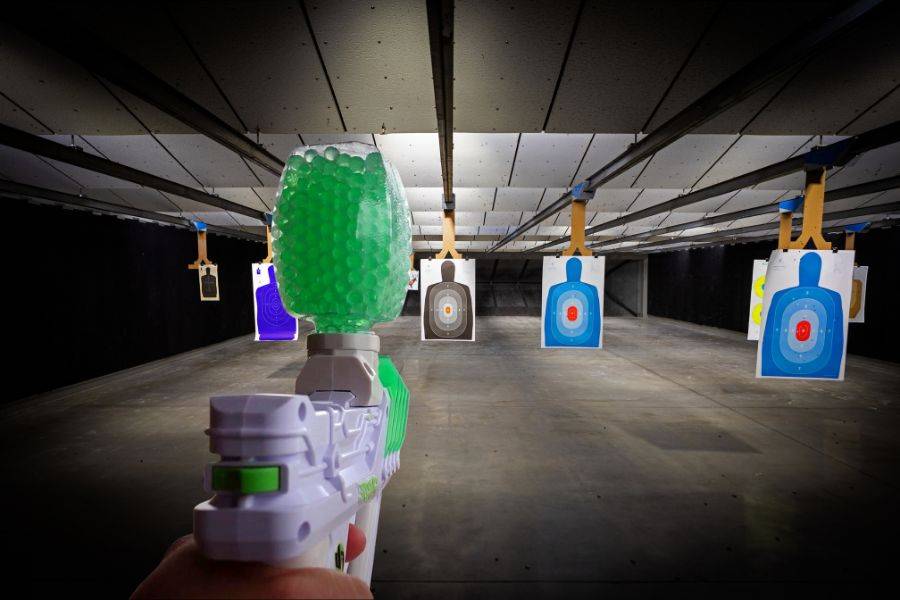 The Battery Life And Charging Facility
The rechargeable Lithium-ion battery is pretty powerful, offering an impressive four hours of playtime, which is more than sufficient. Typically, even the most action-packed gel blaster parties with my friends last for two to four hours at most. And so, the battery proved to be useful with a single charge.
With the USB-C fast charging feature, the battery quickly regains its power, going from 0% to 100% in just 45 minutes to 1 hour. This swift charging capability ensures minimal downtime and keeps the excitement going strong for extended gel-blasting fun!
Price And Affordability Of Gel Blaster Surge Gun
What I liked most about this gelly ball gun is its remarkable balance of price and features. I was amazed by how it offered top-notch capabilities without breaking the bank. Unlike the majority of high-quality gel blaster models that can range from $90 to $150, this little gem is surprisingly priced at just around $50 in most stores.
Sure, it may not match the power of my Surge XL or the SRB1200, but it more than compensates with enhanced portability, a budget-friendly cost, and a perfect fit for kids. Overall, Gel Blaster Surge Gen 3 offers pretty good value for money.
Minimum Age Requirements To Use Surge Gen 3
As an avid gel ball gun enthusiast, I must say the Surge gel gun is a great choice for young players. While most models require a minimum age of 14, this blaster opens up thrilling adventures for kids aged 9 and above.
Remember my little friend Jake, whom I mentioned earlier? It was his 9th birthday when his father brought him a Surge gel blaster. Its reduced muzzle velocity and firing rate prioritize safety and ensure a less intense experience, allowing our young warriors to enjoy while staying safe and pain-free!
Specifications
| | |
| --- | --- |
| Brand | Gel Blaster |
| Model | Surge Gen 3 |
| Color | White and Green |
| Maximum Range | 100 feet |
| Muzzle Velocity | 90-170 FPS |
| Rate of Fire | 1-10 RPS |
| Shooting Modes | Full and Semi-auto |
| Charging Cable | USB-C |
| Included Gellets | 10,000 (dry), 800 (pre-hydrated) |
| Additional Features | Built-in battery with indicator, safety glasses |
How Did I Test Surge Gen 3 Gel Blaster?
I have been using Gel Blaster Surge for several years, and now I know every ins and outs of it. To use it properly, you must learn how it works, which I have already figured out.
The Surge Gen 3 packs a motor that runs a piston back and forth rapidly to shoot gellets out of the barrel. A gravity-fed hopper at the top of the blaster acts as its magazine, storing the gel beads and feeding them automatically into the barrel every time a gellet exits it.
This gel ball pistol is pretty simple to use, but I'll give you a quick rundown of the correct process.
Step 1: Unboxing The Gel Blaster
I opened the package carefully and took the blaster out along with its accessories. As I noticed, these should include the following items:
The Surge gel blaster.
An 800-pellet hopper.
A pair of safety glasses.
A USB-C fast charging cable.
A pack of 10,000 gellets.
Before proceeding to the next step, I inspected everything to ensure there were no damages or missing items.
Step 2: Charging The Gel Ball Blaster
Like other recent models in the Surge series, the Gen 3 blaster also comes with a fast-charging USB-C cable. It makes charging pretty easy and convenient – not very different from charging your smartphone.
All I had to do was plug in the cable to a charger adaptor (not included in the box) and let the blaster power up until the battery indicator LED turned green.
Step 3: Hydrating Your Gellets
Gel Blaster Surge comes with 800 pre-hydrated gellets loaded in the hopper. But when they run out, you'll, of course, have to grow the dry gel beads available in the box- that's what happened with me. I simply opened up the pouch, took a bunch of beads, and soaked them in a bowl of water, making sure to submerge them properly.
The manufacturer recommends soaking these tiny water beads for at least two hours (decent enough), but I'd suggest doing it for around four hours to make them grow to their full size.
Step 4: Fill The Hopper And Equip It On The Surge Blaster
The next step would be to fill up the gel blaster hopper with the hydrated gel balls. While this is as simple as just pouring the ammo into it, I found that straining away all the excess water is a good practice. You definitely don't want any water trickling into the electrical components.
Now that the hopper is loaded, it's time to equip it with your Surge Blaster. Screw it into the feed neck first – this is the component through which the gel beads pass to enter the barrel. As I always recommended, turn the blaster upside down and slide the feed neck in position, securing it properly.
Please note that every time you finish up the ammo in the hopper, you have to unscrew it, fill in the gellets, and reattach it to the feed neck by following the same process.
Step 5: Adjusting The Muzzle Velocity
Like my Surge XL, the Gel Blaster Surge Gen 3 features adjustable muzzle velocity too. However, I found that it works a bit differently, and you can only choose specifically between two FPS modes rather than being able to dial it freely between the upper and lower limits.
It comes with two barrels – a white one for 170 FPS and an orange one for 90 FPS. I cross-checked the muzzle velocities with my chronograph device and found it pretty satisfactory. If you're playing with a kid and fear that the Orbeez blaster might sting too painfully, feel free to switch to the 90 FPS barrel by using the barrel removal tool.
Step 6: Choosing A Blasting Mode
Gel Blaster Surge comes with two blasting modes: semi-automatic and full-automatic. While the former shoots one gellet each time you pull the trigger, switching to full-auto allowed me to release a constant stream of 10 rounds per second. It shoots automatically at that rate as long as you keep the trigger pressed down.
Well, now that your blaster is ready and you've chosen a firing mode, it's time to have fun raining down gellets on your friends. Have a blast!
Here is the official video of the Surge Gen 3 blaster, explaining all the features:
Should You Buy Surge Gen 3?
Absolutely. Surge Generation 3 (Gen 3) is the latest version of the Gel Blaster Surge series. The first generation (Gen 1) failed due to quality issues and electrical problems, but the second generation (Gen 2) is pretty nice, solving those problems.
As for the Gen 3, it is more advanced and flaunts a stylish look similar to its powerful cousin Surge XL, offering exceptional ergonomics. With an adjustable muzzle velocity, this is also one of the safest options for younger kids- an absolute game-changer.
This budget-friendly gem packs a punch with its adjustable shooting speed, dual modes, and ample hopper capacity. It caters to players of all skill levels, delivering remarkable accuracy and reliability.
Whether you're new to gel blasting, a parent looking for a safe option for kids, or a seasoned enthusiast on a budget, the Surge gel ball gun exceeds expectations. Its blend of affordability and performance makes it a standout choice in the market, ensuring you get maximum fun without breaking the bank.
Alternatives To Gel Blaster Surge
Surge XL: Another popular model from Gel Blaster, this is just a bigger and more powerful version of the Surge Gen 3. As long as you're willing to shell out a bit more, this 250 FPS blaster is definitely worth getting.
Starfire XL: Gel Blaster Starfire XL is similar to the Surge XL Orbeez gun in its product design and performance but boasts an additional feature – a Starfire attachment. If you plan to play in dark or dimly lit environments, this blaster is a great alternative to Surge Gen 3.
Nerf Pro Gelfire: Nerf is a well-known brand by Hasbro when it comes to toy guns, and this stylish blaster performs quite well with a higher firing rate of 10 balls per second. Nerf Pro Gelfire gel blaster gun also features a detachable barrel and an extendable stock, which allow you to customize it to some extent.
Frequently Asked Questions
Does Gel Blaster Surge Gen 3 hurt?
The Surge Gen 3 gel blaster is specially designed for younger children and doesn't really hurt much, especially while using the orange barrel. However, it might still sting a little if the gellets hit naked skin from a close range. I highly recommend wearing safety glasses when playing with this Surge blaster.
Where should you play with the Surge gel blaster?
As long as there aren't any legal restrictions on the use and display of gel blasters in public spaces in your region, you're free to play with your Surge Gen3 with proper permissions. Dedicated arenas are the most fun to play at, but pretty much any outdoor area, like a field or backyard, should be fine. Just make sure not to hit any passersby, even by accident. As Surge Gen 3 is a replica gun, you must not use it to create fear or panic, because this is a criminal offense in some regions.
What type of gellets can you load with Surge Blaster?
Gel Blaster Surge uses gellets or gel balls that are made from a superabsorbent polymer material that expands and gains a gel-like formation when hydrated. I'd personally recommend getting branded gellets from the manufacturer since they're pretty high-quality, and the green ones match the blaster's design perfectly. You can also use grow-in-the-dark gel balls with this gun.
How long does Gel Blaster Surge Gen 3 take to charge?
Assuming the battery is completely drained, it will take about 45 minutes to 1 hour to fully charge. You'll notice the LED indicator turn green once the battery is full.
Where to buy Surge Gel Blaster?
Thanks to its popularity, this gel blaster is easily available at toy shops. You may also buy the blaster online (Official store, Amazon, Walmart, etc.) which would be even easier.
What accessories can you use with the Surge gel gun?
A Starfire Activator is one of the best accessories to install on a Gel Blaster Surge. This unique attachment from Gel Blaster uses UV light to activate glow-in-the-dark gellets. You could also attach a hop-up to increase the accuracy of this blaster.
What to do if Gel Blaster Surge Gen 3 is not shooting?
If your Surge blaster stops shooting, check if the battery still has any power left and try charging it. However, if the problem appears to be something else, you could try other troubleshooting measures like checking for clogs in the barrel or testing the wiring. Most of these issues can be fixed easily, but more serious ones, like a dead motor, might require you to get the blaster repaired professionally or discard it altogether.
| | |
| --- | --- |
| Review: | Gel Blaster Surge (Gen 3) |
| Summary: | The Gel Blaster Surge Gen 3 impresses with its affordability and versatility. With adjustable shooting speed, dual shooting modes, and a high-capacity hopper, it caters to players of all levels. While not the most powerful, its accuracy and reliability make it a standout choice in the market, especially for kids and newcomers. |
| Author: | Tavish Archer |
| Rating: | 4.4 (out of 5) |