"Holy smoke, I'm jealous!", Kieren exclaimed, his eyes locked onto the newest addition to my gel blaster collection – the Nerf Pro Gelfire Mythic. Can you blame him? I'm pretty sure if the roles were reversed, I'd be green with envy too. The Nerf Pro Gelfire is, without a doubt, one of the coolest-looking Orbeez guns out there, thanks to its unique design.
Without wasting a moment, we plunged into an epic Orby War to put my new gear to the ultimate test. And let me tell you, 'satisfaction' doesn't even begin to cover it. To my surprise, DESIGN, PERFORMANCE, and USER-FRIENDLINESS- it checked all the boxes.
Despite the Gelfire Mythic being less powerful than my other favorite blaster guns, I held my ground like a true champ. So, brace yourself – I'm about to spill the beans in this comprehensive review of Nerf Pro Gelfire, sharing all the juicy details you need to know.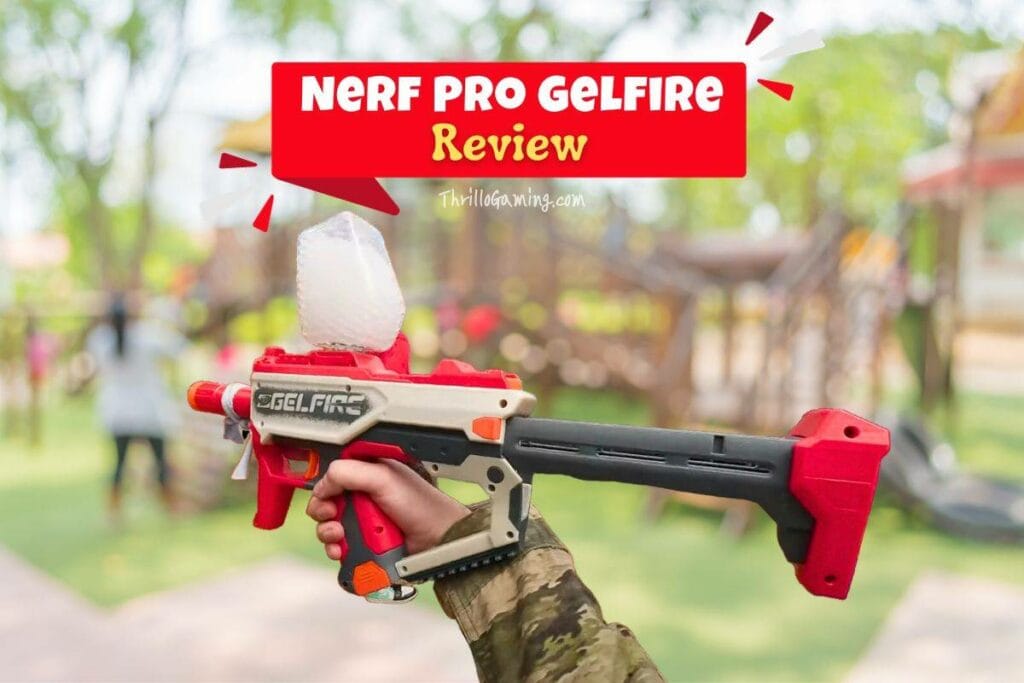 ThrilloGaming Verdict
In the world of gel blasters, the Nerf Pro Gelfire Mythic stands out as a unique and stylish choice for kids and adults alike. Despite its lower muzzle velocity compared to some competitors, this blaster impresses with its customizable design, quality, comfortable ergonomics, and high rate of fire.
Priced under $80, it offers good value for money, making it an attractive option for enthusiasts and collectors alike. While it may not be the most powerful, its overall package of design, performance, and user-friendliness makes it one of the best Orbeez guns for mid-range budgets.
PROS
The eye-catching design makes it outstanding among other blasters.
Gelfire Mythic carries some pretty cool features, like the removable barrel and the retractable stock.
You may customize the gun by adding your own attachments, thanks to the tactical rails.
The Nerf Pro Gelfire Mythic can shoot 10 rounds a second, which is pretty good.
Charging is pretty straightforward, using a USB-C cable.
The superb ergonomics ensure excellent stability and give you a subtle advantage.
CONS
Slightly lower speed and shooting range compared to other water beads guns.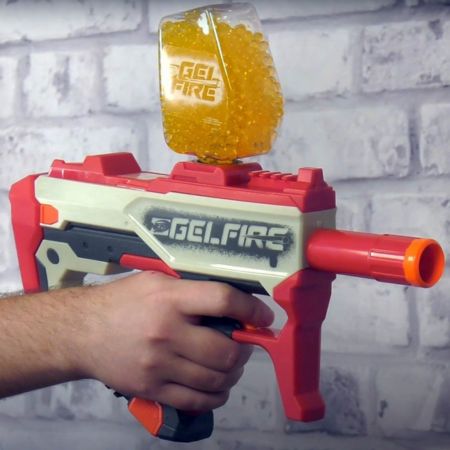 Nerf Pro Gelfire Mythic Rating
Coverage And Accuracy: 4.3/5
Shooting Power: 4.3/5
Design And Build Quality: 4.4/5
Ease Of Use: 4.5/5
Value For Money: 4.3/5
Design Of Nerf Pro Gelfire Mythic Gel Blaster
The Gelfire Mythic Blaster is a true head-turner in the world of gel blasters. Its design isn't just unique; it's practically an attention magnet. But it's not all about looks; this Orbeez gun is a dream to handle. The handgrip? Pure ergonomic bliss, ensuring you can keep playing comfortably for hours on end.
Now, what's really nifty is the flexibility it offers. You can extend the stock for added stability or keep it retracted for that sleek, compact feel. And that barrel? It's removable, so you can go full-on compact mode if that's your thing. This blaster adapts to your style, making it a top choice.
Speaking of style, I personally like to keep the barrel on and the rear stock fully extended, but hey, that's just me. The Gelfire Mythic gives you the power to make it your own.
Performance Of Nerf Pro Gel Fire Mythic
Honestly, I didn't set my performance expectations too high, given the Gelfire Mythic's initial muzzle velocity of below 150 FPS. It's not in the heavyweight category like the Gel Blaster Starfire XL or the SplatRball SRB1200 in terms of firepower. But here's the twist – it outperformed my expectations during the tests.
Surprisingly, despite the modest FPS, the blaster is surprisingly accurate for those close to mid-range skirmishes. The real star, though, was its rate of fire. In full-auto mode, it can unleash a jaw-dropping 10 shots per second. And if you're in the mood for a more strategic approach, switch to semi-automatic mode to conserve your precious gellets.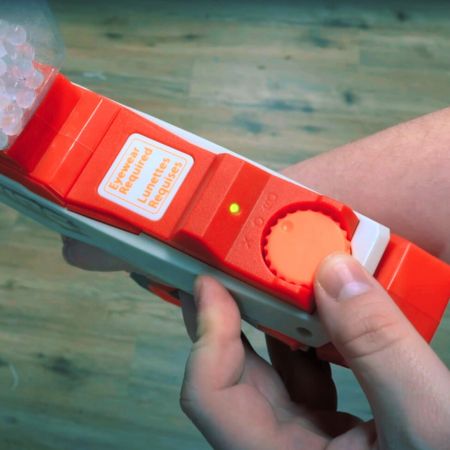 Now, let's talk capacity. The Nerf Gelfire Mythic boasts an 800 gellet hopper, right in line with the standard for top-fed hoppers. That means less time spent on tedious refills and more time in the heat of battle.
But there's a little hiccup – the Orbeez gun sports a 7.4v 500mAh rechargeable battery. It's not the most impressive when you consider that some cheaper blasters offer higher battery capacity. We managed about 1.5 hours of playtime, which should suffice for most missions. However, during extended gel blaster parties, it might just run out of ammo.
On a brighter note, it comes with USB-C charging, which is not only super convenient but also means you can bounce back into the action in no time. No one likes waiting around for a recharge, right?
Safety And User-Friendliness
I have to hand it to the Nerf Pro Gelfire Mythic – it's undeniably one of the safest and most beginner-friendly Orbeez guns in my collection. When it comes to child safety, very few gel blasters, like the Surge Gen 3 pistol, can hold a candle to the Mythic.
Now, you might think the relatively low muzzle velocity is a downside, but here's the flip side – it's a major plus for safety. The manufacturer suggests this blaster for ages 14 and up, but considering its safety features and donning goggles, 10-12-year-olds can join the fun under adult supervision.
But it's not just about safety; user-friendliness is where this Orbeez blaster really shines. The ergonomic design, combined with its customizability, is a game-changer.
The handgrip? Pure comfort. And that retractable stock? It's like having a tailor-made blaster. Even newcomers will find the hopper a breeze to handle – no fuss, no hassle.
Nerf Pro Gelfire Mythic: Price And Value For Money
I have to say, I felt pretty good about this purchase, especially when I snagged the Gelfire Mythic Orbeez Gun for just around $49. Now, if you were to head over to Hasbro's online store, you'd be looking at a $69.99 bill for this gel ball gun. But here's the scoop – I managed to save about $15 by snagging it from Amazon. A sweet deal, if you ask me.
The Nerf Pro Gelfire Mythic? It's like a treasure chest of value for your money. The unique design and cool features alone make it worth every dollar. And even though it might not be the most powerful blaster in terms of performance, it more than makes up for it with its customizability and ease of use.
Sure, it might not be the fastest or most powerful gel blaster on the block, but for the price, it's a steal.
Should You Buy Nerf Gelfire Mythic Orbeez Gun?
Nerf really hit the bullseye with this blaster, delivering a perfect blend of performance, practicality, and style. Overall, it's a top-notch choice for those in the market for a versatile mid-range Orbeez gun.
Now, let's be real – if you're a pro player hunting for the ultimate blaster to dominate highly competitive tournaments, there are pricier options out there that might better suit your needs. But for the rest of us, the Gelfire Mythic's relatively modest muzzle velocity won't be a deal-breaker, especially in those close to mid-range encounters.
And let me tell you, this gel gun spoils you with ergonomics. It's easily one of the most comfortable Orbeez guns I've ever wielded, making those extended gaming sessions a breeze. Trust me, good ergonomics can be a game-changer for your fingers. All in all, the Nerf Pro Gelfire Mythic is the definition of practical.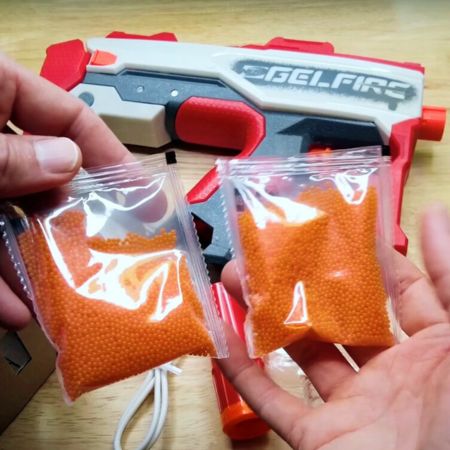 For enthusiasts like me who live and breathe gel blasters, the Gelfire Mythic is a must-have addition to your arsenal. It's simply too good to pass up. If you've been thinking about giving your collection a unique twist, this gem should be high on your list.
Now, here's a curveball – the Nerf Pro Gelfire X MrBeast blaster. It's part of Hasbro's collaboration with the popular YouTuber MrBeast and is based on the Gelfire Mythic. While it packs less than half the hopper capacity of the standard Mythic, this special edition Orbeez blaster shines with its sleek design. Plus, it's easier to aim with, thanks to its streamlined profile without a bulky hopper on top.
But if you're the kind who sticks with trusted brands that have stood the test of time, the Nerf Pro Gelfire Mythic is easily one of your top choices. While there are other reputable brands specializing in gel blasters, Nerf has been a reliable name in the toy gun world for years.
How Did I Test Nerf Pro Gel Ball Blaster?
Despite my trust in the Nerf brand, I couldn't help but have some reservations when I first got my hands on the Gelfire Mythic. My main concern? The relatively modest firepower. I questioned whether this Orbeez gun would hold its own in the heat of gel blaster battles. So, I decided to put it through extensive tests in my backyard, and here's how it all went down.
In this review of Nerf Pro Gelfire Mythic, testing the water beads gun's muzzle velocity was the easiest part. I turned to my Radarchron chronograph to measure the speed at which those gellets were exiting the barrel. While this device is primarily designed for paintball guns, it does a solid job with gel blasters too.
And while I was at it, I decided to put the gun's '8 balls per second' claim to the test. Happily, it lived up to the hype. I found it varying in the range of 6-8 rounds.
Next up, I wanted to see just how accurately the Gelfire Mythic could hit its mark. So, I set up an array of bottles and cans in my backyard, gradually increasing the distance as I took aim. Admittedly, I was hoping for a bit more when it came to the blaster's effective range, but given its <150 FPS muzzle velocity, I can't really fault it.
Frequently Asked Questions
Does Nerf Pro Gelfire Mythic hurt?
Thanks to its low muzzle velocity, the Nerf Pro Gelfire Mythic earns its stripes as one of the least painful Orbeez guns out there. Still, it's worth noting that taking a hit in an exposed area at close range can still deliver a bit of a sting.
Where should you play with Nerf Pro Gelfire?
The ideal spot to unleash your Gelfire – or any gel blaster, really – is a dedicated arena. But if that's not an option, a spacious backyard, garage, basement, lawn, or playground can also do the trick, as long as you ensure there's no one around who might accidentally find themselves in the line of fire.
What type of gel balls can be used with Gelfire Mythic?
When it comes to ammo for your Gelfire Mythic, you've got some flexibility. It can handle a variety of gel blaster ammo, as long as they're the right size. However, for optimum performance, it's a smart move to stick with gel balls from the same brand, in this case, Nerf. But don't fret if you want to explore – other well-known brands like Gel Blaster, Splat R Ball, and UnlocX also offer top-notch gellets that won't let you down.
How long does Nerf Pro Gelfire Mythic take to charge?
With USB-C charging at your disposal, the Gelfire Mythic won't keep you waiting around for long. It typically takes just a couple of hours to charge up fully, which is quite impressive considering the battery's modest 500 mAh capacity.
Where can you buy the Gelfire Mythic?
While Hasbro does stock all the Nerf Pro blasters on their official online store, it's worth exploring other options like Amazon or various e-commerce sites for potentially better prices. And if you're feeling adventurous, your local toy stores might have the Gelfire Mythic in stock, but chances are, you'll find some savings when you opt for the online route.
What to do if your Gelfire Mythic is not working?
For me, troubleshooting and fixing my blasters is a bit of a DIY adventure most of the time. It often turns out to be a simple jammed barrel or a minor wiring issue. However, before you dive into tinkering mode, it's a good idea to check if the battery is still holding a charge. And if your Orbeez gun is still within its warranty period, I'd strongly suggest considering a trip to the store or getting in touch with the manufacturer for a professional repair or replacement, rather than embarking on a DIY mission.
Suitable Alternatives To Nerf Gelfire Mythic
Splatrball SRB400-SUB: If you're in the market for a more potent splat gun within a similar price range, consider the SRB400-SUB from Splat R Ball. It boasts a muzzle velocity of 200 FPS and typically retails for $90. However, I managed to snag it for just $68 from Walmart's online store.
Nerf Gelfire Mythic MrBeast: As mentioned earlier, this Orbeez gun is a must-have for collectors who appreciate unique and special-edition toy guns. It offers the same performance as the Gelfire Mythic but prioritizes a stylish look over ammo capacity.
Gel Blaster Surge Gen 3: If you prefer a compact and user-friendly option, check out the Gel Blaster Surge Gen 3. Priced at an affordable $59.99, it's suitable for kids aged 9 years and older, making it a great choice for those seeking simplicity and convenience.
| | |
| --- | --- |
| Review: | Nerf Pro Gelfire Mythic Blaster |
| Summary: | The Nerf Pro Gelfire Mythic Blaster is a visually striking gel blaster with customizable features. Despite its lower power, it surprises with accuracy and rapid fire. It offers excellent value for its unique design, user-friendliness, and under $80 price tag. A must-have for enthusiasts and collectors. |
| Author: | Tavish Archer |
| Rating: | 4.4 (out of 5) |