"I wish I could get both of these," my friend Jeremy exclaimed, holding the UnlocX modular gel blaster and the SRB1200 SplatRBall gun in each hand, their sleek designs captivating him. As we set out to find the perfect blaster for him, I couldn't help but be intrigued myself – both the brands boasted impressive features.
"You better try out my own blasters – that way, you can decide which one suits you better," I suggested, welcoming him to explore the options at my home. Jeremy spent time getting a feel for both blasters and after careful consideration, he finally settled on the UnlocX blaster, swayed in part by my personal experiences with both guns.
If you find yourself in a similar dilemma, fret not. In this article, we embark on a journey to compare UnlocX vs SplatRBall, shedding light on the unique strengths and drawbacks of each. So, buckle up for a comprehensive rundown of what these exceptional Orbeez guns have to offer.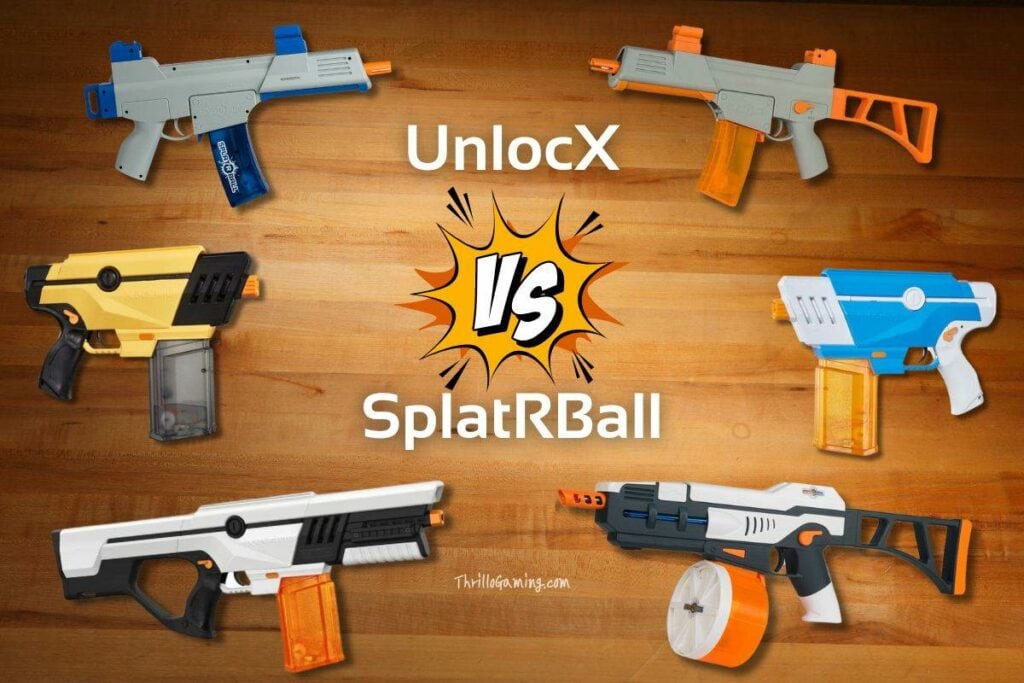 UnlocX Gel Blaster: What Sets It Apart?
The UnlocX blasters truly stand apart from the crowd, boasting a unique and stylish design that sets them apart from the rest. While they might not be as widely known as SplatRBall, they undeniably rank among the best gel blaster brands available.
The brand offers the world's first 4-in-1 blaster, highlighting its revolutionary modular design. It features detachable components for seamless switching between four distinctive modes- pistol, blaster, assault, and rifle. This means that you can get four types of gel guns within a single product.
One of the most remarkable aspects of UnlocX is that their budget-friendly gel ball blasters, such as the pistols, are almost at par with the large modular blaster in terms of performance. Their futuristic designs, with the bright and transparent magazines, give the blasters an eye-catching look.
Variants Of UnlocX Gel Blasters
Currently, this manufacturer offers three distinct models of gel blasters in the market, each catering to different preferences and playstyles:
1. Blaster Pistol V1
It is the first iteration in UnlocX's pistol series. Designed for compactness, ease of use, and maneuverability, this model is ideal for close-quarter combat situations. Despite its smaller size, Blaster Pistol V1 delivers impressive performance and accuracy, making it a reliable sidearm for any gel blaster enthusiast.
2. Blaster Pistol V2
Building on the success of the V1, the V2 gel blaster represents the next evolution in their pistol lineup. While retaining the compact and user-friendly features of its predecessor, the V2 boasts enhancements in terms of power, precision, and ergonomic design. It's a top choice for players seeking an upgraded pistol experience on the battlefield.
3. The 4-in-1 Modular Gel Blaster
The crown jewel of UnlocX's offerings is the 4-in-1 Modular Gel Blaster. This innovative toy gun redefines versatility by featuring multiple detachable components, allowing players to switch between four distinct modes seamlessly.
Whether you prefer long-range precision, rapid-fire action, or anything in between, this modular gel blaster adapts to your playstyle with ease. It is truly a unique and sought-after gem in the gel ball gun market. SplatRBall does not have any such blasters in its lineup.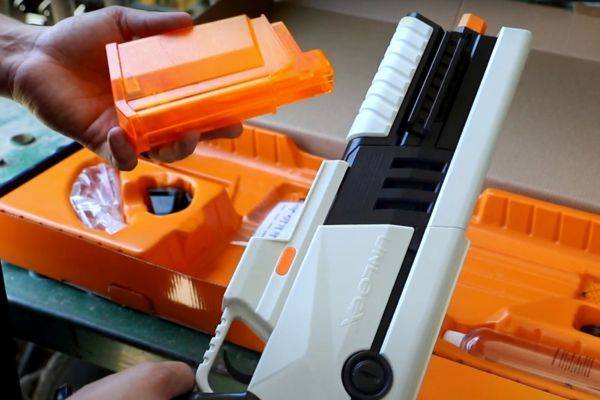 Advantages Of UnlocX Gel Blasters Over SplatRBall Guns
UnlocX offers two of the most powerful gel blaster pistols, with a muzzle velocity of 200 FPS.
With 700 rounds, the magazine capacity is significantly greater than standard bottom-fed magazines.
I find those blasters are much more stylish and futuristic-looking than SplatRBall guns.
The 4-in-1 Modular Blaster is pretty cool, allowing you to switch between pistol, rifle, blaster, and assault modes.
Even the cheaper models are very impressive in terms of performance.
Disadvantages Of UnlocX Gel Blasters
As those gel blasters don't come with sights, they are harder to aim with.
These Orbeez guns are slightly more expensive than SplatRBall guns, with the starting price being around $40 higher.
There's no semi-auto firing mode, making it hard to conserve ammo or stay hidden while taking sneaky shots at the opponents.
UnlocX offers a smaller range of gel blasters to choose from, with the only difference between the two pistols being their colors.
SplatRBall: The Real Brand Behind Splatter Ball Guns
Splatter ball guns were first manufactured by another popular brand – SplatRBall. In fact, blasters from this manufacturer have grown so popular that they are frequently referred to as Splat R Ball guns or Splat guns instead.
Recognizable by their vibrant orange or blue components complementing the grey or white bodies, splat ball guns are designed to resemble real weapons, giving them a more conventional appearance.
If you prefer realistic and practical designs over uniqueness and style, SplatRBall would likely appeal more to you than UnlocX. Splat guns also boast amazing ergonomics, as I've personally discovered over the years.
The Variants Of SplatRBall Guns
At present, SplatRBall offers four distinct splatter ball gun models, each catering to various preferences and needs:
1. SRB375 Mini
This is a compact and lightweight splatter blaster, easy to carry and handle during gameplay. Despite its small size, it delivers decent performance, making it an excellent choice for kids and teens who value agility and mobility.
2. SRB400
The SRB400 is a versatile splat gun with a balanced mix of power and accuracy. It's suitable for various combat scenarios, making it a popular and reliable option among splat gun enthusiasts of all age groups.
3. SRB400-SUB
A variant of the SRB400, the SRB400-SUB is designed to emulate the features of a submachine gun. It excels in rapid-fire action and close-quarter games, catering to players who prefer fast-paced engagements.
4. SRB1200
The SRB1200 is the most popular splatter ball gun of the SplatRBall lineup. It offers exceptional power and an extended range, making it a top choice for adult players who want to engage targets from a distance with precision.
Among these 4 models, the SRB1200 and SRB400-SUB models are so great that they are ranked among the best splatter ball guns. If you are looking for a blend of power, style, quality, and high speed, look no further!
As promised, I have finally written a detailed review of SplatRBall SRB1200 with pros, cons, and my first-hand experience.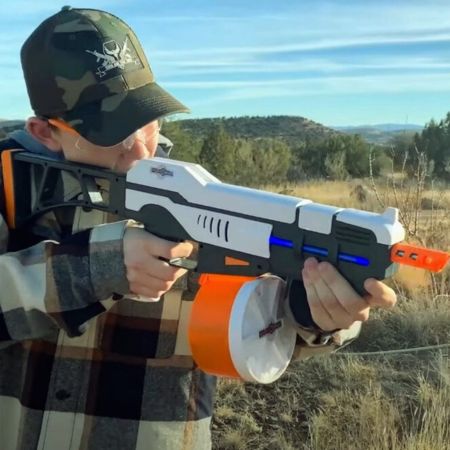 Benefits Of SplatRBall Over UnlocX
You may switch between semi-auto and full-auto firing modes as necessary.
The splat ball guns are much cheaper than UnlocX gel blaster guns, priced at $49 onwards.
Aiming is easier with a splat gun, thanks to the iron sights on top.
With a drum magazine large enough for 1200 splat balls, SRB1200 has a significantly higher magazine capacity than any other blaster.
All SplatRBall models besides SRB375-Mini are equipped with 1800 mAh batteries.
Except for SRB375-Mini, all Splat R Ball guns are really powerful.
Limitations Of SplatRBall Guns
Apart from SRB1200, all other splatter ball guns have relatively small magazines.
Most of the SplatRBall models have a lower fire rate than the UnlocX gel blasters.
SplatRBall's entry-level gun, i.e., the SRB375-MINI, isn't rather unimpressive with a 135 FPS muzzle velocity.
UnlocX Vs Splatrball Comparison
| Point Of Difference | UnlocX Gel Blasters | SplatRBall Guns |
| --- | --- | --- |
| Muzzle Velocity | 200 FPS | 135 FPS to 210 FPS |
| Rate Of Fire | 11 RPS | 7 to 11 RPS |
| Range | 100 ft | 50 to 100+ ft. |
| Material | High quality plastic | Semi and full-automatic |
| Shooting Modes | Full automatic | High-quality plastic |
| Battery | 7.4V 1200 mAh or 1800 mAh batteries with USB charging | 7.4V 500 mAh to 1800 mAh batteries with USB charging |
| Age Requirement | 14+ years | 14+ years |
| Magazine Capacity | 700 rounds | 375 to 1200 rounds |
| Accuracy | Decent accuracy, but doesn't have sights | Good accuracy with sights |
| Price | $34 to $120 | $40 to $110 |
Also Read: Gel Blaster Or SplatRBall: Which Is Better?
Differences Between SplatRBall And UnlocX: A Detailed Analysis
As you can see in the table above, both UnlocX and SplatRBall are great choices in their own ways. If you're still having a tough time choosing between the two, don't worry – here's a more detailed overview of what I found while testing the gel blasters.
1. Muzzle Velocity
First of all, I'd like to point out how all three UnlocX gel blasters have pretty much the same specifications as far as performance is concerned. The SplatRBall guns, however, vary quite a bit in their performance.
The same goes for their muzzle velocities – while most splat guns shoot with 135 FPS to 210 FPS speed depending on the model, the blasters all have a muzzle velocity of 200 FPS.
So, if you'd prefer a pistol-style gel gun without compromising performance, UnlocX Gel Blaster Pistol V1 or V2 would be a good choice. However, SplatRBall SRB1200 is the most powerful splatter gun overall, shooting the gel beads at 210 FPS.
2. Rate Of Fire
When it comes to smaller gel blaster guns, UnlocX is the clear winner in terms of firing rate. SplatRBall SRB1200 has the same rate of fire as theirs', i.e., 11 RPS (rounds per second), but the smaller splat guns don't fire as rapidly. The SRB375-Mini shoots at a maximum rate of 7 rounds per second, while SRB400 and SRB400-SUB can fire 8 rounds per second.
It may not matter a lot when playing casually, but having a high fire rate can make a huge difference if you're more of a hardcore competitive player. It not only helps you pin down your opponents using cover fire more effectively but also allows you to take them out before you get shot yourself.
3. Shooting Range
Once again, while SRB1200 can shoot as far as any UnlocX gel blaster, the smaller SplatRBall models have a shorter range. Any blaster can effectively hit targets at a distance of 100 feet, while the range of a splatter ball gun can vary from 50 feet to over 100 feet, depending on the model.
If you plan to play at large arenas or take part in competitive games, either of SRB1200 and SRB400, or the UnlocX 4-in-1 modular gel blaster would be a good pick in terms of shooting range.
4. Build Material And Design
Made from high-quality plastic, both UnlocX and SplatRball guns are pretty sturdy and durable. The ABS (Acrylonitrile Butadiene Styrene) material used in the SRB1200 makes it particularly damage-resistant – a good choice for intense gelly ball parties.
Speaking of their design, I should also mention that the UnlocX gel blasters carry a much more stylish and futuristic look. The 4-in-1 modular blaster has multiple detachable parts that can be equipped or removed to switch between four different gun styles.
5. Blasting Modes
Now, this is one of the factors that make SplatRBall guns a better and more efficient choice. With a splat gun, you can switch between semi-auto and full-auto modes. An UnlocX gel blaster, on the other hand, can only fire in the full-automatic mode.
While I'd definitely recommend getting a blaster with full-auto firing mode, I love the flexibility to stick to semi-automatic blasting mode when needed. It not only saves a lot of ammo but can also help you take quick single shots without potentially revealing your position right away. Firing in the fully automatic mode takes a lot of ammo and draws attention immediately.
6. Battery And Charging Facility
Generally speaking, the maximum battery power you can get in a gel blaster is 1800 mAh, which is enough for around 4 hours of playing. The top models offered by both UnlocX and SplatRball are similar in this regard and come equipped with 1800 mAh batteries. Even SRB400 and SRB400-SUB have the same battery capacity.
However, I was a bit disappointed with the SRB375-MINI splatter ball gun, which has a battery power of only 500 mAh. The pistols are better in this regard, powered by 1200 mAh batteries. Charging won't be an issue with either brand since both UnlocX and SplatRBall guns offer USB-C charging.
7. Age Requirements
Both brands have rated all their guns with a minimum age requirement of at least 14 years. So, in case you're buying the blaster for a younger kid, neither of the two would be a viable option. You can, however, get a Gel Blaster Surge or Starfire, rated for children 9 years and older.
8. Magazine Capacity
Now, only a handful of blasters in the market can beat the drum magazine that comes with SplatRBall's SRB1200 splat gun. With a capacity of over 1200 rounds, it's a perfect choice for intense and long gel sessions of splatter ball games. The UnlocX gel ball blasters, in contrast, have a magazine capacity of only 700 balls.
However, it's worth noting that the SRB1200 is the only SplatRBall gun with such remarkable ammo capacity. SRB400 and SRB400-SUB have much smaller magazines that can accommodate only 400 gel balls each, while SRB375-MINI has a magazine capacity of 375 rounds.
So, unless you're going for SRB1200, the UnlocX Orbeez blasters would be far better in terms of magazine size.
9. Shooting Accuracy
Accuracy won't be much of an issue with either of the options, as both SplatRBall and UnlocX guns are pretty powerful. The only exception is SRB375-MINI, which isn't as accurate at long ranges due to its relatively low muzzle velocity and effective range. However, a splatter ball gun is easier to aim since it comes with sights on top – a feature missing in most UnlocX gel blasters.
10. Price And Affordability
You'd notice a huge difference in the starting price of the two brands – the SRB375-MINI costs only $34, while the cheaper UnlocX models, i.e., the gel blaster pistols cost around $40-$59. However, that's completely justified if you compare the specs. The SRB375 is nowhere close to the pistol blasters in terms of performance, be it muzzle velocity, firing rate, range, or battery capacity.
The fact that the UnlocX blaster pistols are almost as powerful as SRB1200 and have the same firing rate actually ensures great value for money, considering they are slightly cheaper. However, the 4-in-1 gel blaster rifle is the costliest among them all, priced at around $80. But that is justified considering its unique modular design.
Here is a nice video by BarryDaCEO'S Nation, comparing UnlocX and SplatRBall blasters:
So, Which One Is Better For You?
And there you have it, fellow gel blaster enthusiasts! The showdown between UnlocX and SplatRBall has come to an exciting conclusion. Both brands offer their own set of advantages with their best Orbeez guns, leaving us with a tough decision to make.
For those with more budget and a hunger for supreme power, the SplatRBall SRB1200 splatter ball gun emerges as the undisputed champion, delivering exceptional value at just $60 on Amazon (The price on the manufacturer's site is higher). If you're on a budget but still crave reliable performance, the UnlocX pistols will satisfy your thirst for action without breaking the bank.
But wait, there's more!
For the daring and adventurous souls among us, the UnlocX 4-in-1 blaster beckons with its unique modular design- MY ALL-TIME FAVORITE. While it may require a bit more investment (an additional 10 bucks), its one-of-a-kind versatility makes it an exceptional choice for those seeking an extraordinary experience on the field.
So, whether you opt for the top-end SRB1200 Splat R Ball gun, the budget-friendly UnlocX pistols, or the 4-in-1 modular Orbeez gun, remember to delve into the finer details and choose the gun that speaks to your heart and meets your requirements.
Now, go forth and conquer your battles with pride and confidence. May your gel blaster adventures be filled with endless fun and memorable victories. Happy blasting!