As gel blaster guns continue to gain popularity among kids and adults alike, different brands are joining forces with popular YouTube influencers like David Dobrik and MrBeast. Not only did they get YouTubers to showcase their gel ball blasters on their channels, but the brands also released custom and limited-edition blasters over the collaborations.
I got my hands on a Nerf Pro Gelfire X MrBeast model myself not too long ago while hunting for the top gel blasters and evaluating them. It's not just Dobrik and Mr. Beast getting in on the action; other YouTubers like Luka Dončić and Lev Cameron has also joined the fun by partnering with gel blaster brands.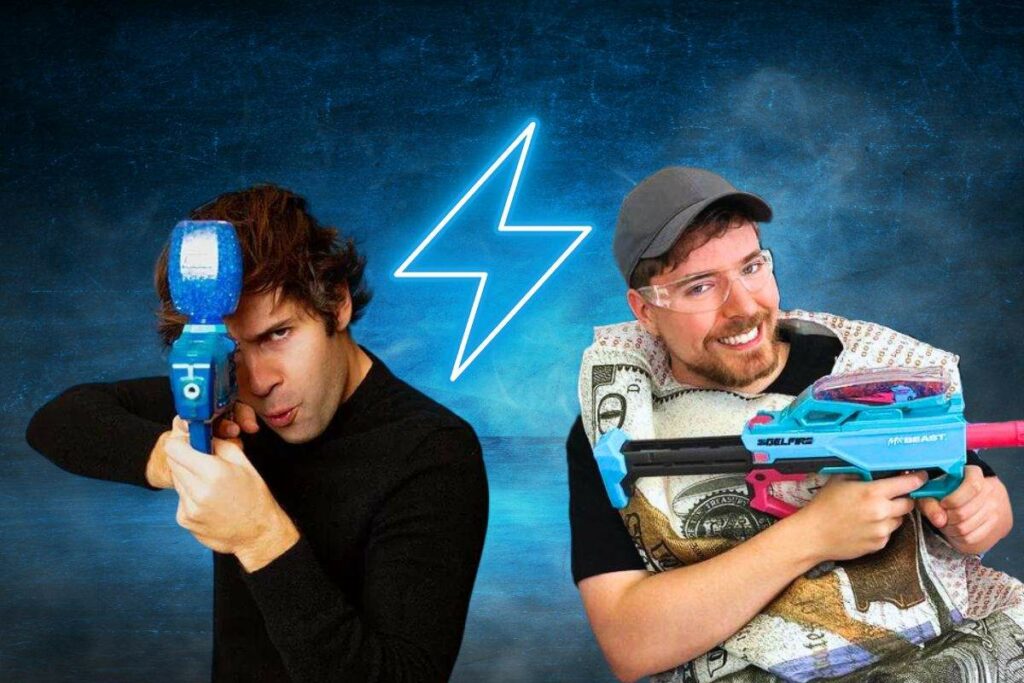 The Story Behind David Dobrik's Gel Blaster
A popular YouTuber and podcaster, David Dobrik is a Slovak influencer who first found fame on the video-sharing platform Vine. He later started his own YouTube Vlog in 2015 and went on to become one of the biggest names on the platform.
While Dobrik's YouTube channel went inactive for a few months, he has been active on Instagram, Snapchat, and TikTok. David seemed to be working on a business comeback later last year, with the mobbed opening of his L.A. pizza shop Doughbricks and his collaboration with Gel Blaster.
"I made a TikTok for Gel Blaster, and now they finally sent me a custom package," – he can be seen saying in an Instagram video where David revealed the deep blue special edition Gel Blaster Starfire he received.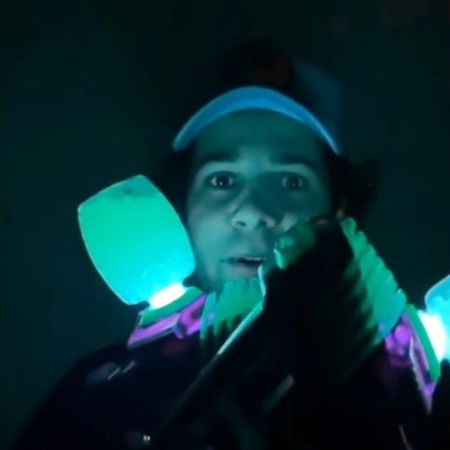 So, what's so special about the David Dobrik Gel Blaster?
Honestly, the only difference is the color – this special edition Starfire gel blaster would set you apart from the crowd with its unique look. It also comes with blue glow-in-the-dark gellets rather than the green ones you get with the regular Gel Blaster Starfire model.
While the price for the regular Starfire gel blaster costs $48, this special edition blaster costs $69.99 at Walmart and official Gel Blaster store. It's worth getting the David Dobrik edition if you'd prefer a more unique Orbeez gun or simply don't like the violet color.
Notably, Gel Blaster Starfire is a unique blaster that comes equipped with a Starfire activator, an attachment that activates glow-in-the-dark gel balls with U.V. light. When you load the hopper, the Starfire activator causes them to light up brightly, creating a unique experience.
MrBeast Nerf Gel Blaster: What Sets It Apart?
You've probably heard of MrBeast already, considering he has been the most subscribed YouTuber since December 2022. Known for his generous giveaways and massive charity works, he has earned a great deal of fame over the years.
MrBeast's tie-up with popular toy gun manufacturer Hasbro for their Nerf Pro Gelfire blaster resulted in launching a special edition of the model that deviated from the brand's usual white and orange/red color combination. Instead, the influencer edition is a mix of blue, pink, and black with blue and comes with pink gel beads.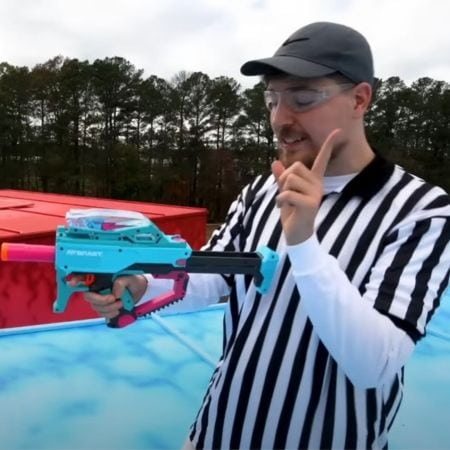 The Nerf Pro Gelfire X MrBeast edition stands out for its stylish and compact look, with a retractable rear stock and removable barrel. Back when I first tested this blaster, I was impressed by its ergonomic and stylish design. The grip was particularly comfortable and allowed me to play for hours without straining my fingers excessively.
The influencer edition is most likely a modification of the Nerf Pro Gelfire Mythic Blaster, considering the similarities. However, I should mention that the Nerf Pro Gelfire X MrBeast blaster comes with a much smaller capacity of 300 rounds compared to the 800-round hopper you get with a Gelfire Mythic. This is because it is much sleeker with a streamlined hopper to give the influencer edition a unique look.
Compared to Gel Blaster, Hasbro did a better job making the Gelfire X MrBeast blaster more unique, though it has a very low hopper capacity. Also, the David Dobrik gel blaster is available only at Walmart and the official Gel Blaster store. But you can get the Gelfire X MrBeast on all popular e-commerce platforms, including Amazon, Target, Walmart and others.
Here is a nice video by Mr eFEy comparing the MrBeast and David Dobrik gel blasters-
Other Influencers Collaborated With Gel Blaster Brands
Alongside the collaboration with Mr. Beast, Hasbro also entered a 2-year partnership with Dallas Maverick Star Luka Dončić. "Partnering with MrBeast and Luka to bring their iconic brands to Nerf has been incredibly rewarding, and we can't wait for fans to see these come to life," said Teresa Pearson, Hasbro's Vice President of Global Franchise Strategy & Brand Management.
Gel Blaster, on the other hand, also partnered with YouTube icon Lev Cameron to promote Gel Blaster Starfire. Besides being an influencer, Lev Cameron is also an actor and a dancer, particularly known for appearing on Dancing With The Stars: Junior and Little Big Shots.
Lev Cameron promoted the Gel Blaster Starfire on both Instagram and Facebook in a sponsored video that shows Lev pranking his girlfriend by breaking up her friendship with her best friend. With 2.5 million subscribers on YouTube and 1.5 million on Instagram, he surely brought Gel Blaster Starfire a lot of attention.
While neither of the two brands launched any influencer edition blasters for Lev Cameron or Luka Dončić yet, the strategic partnerships aided in the growing popularity of these fun toys.
The Epilogue: Closing Remarks
While Gel Blaster is undoubtedly the OG in the gel beads gun market, we can't afford to forget Nerf earned a great reputation with its foam dart guns in previous years. Considering the range of Orbeez guns the latter has come up with, the brand has heavily invested in capturing the gel blaster market.
Besides its glow-in-the-dark gellets and Starfire models, Gel Blaster also offers two of the most powerful gel guns– Surge XL and Starfire XL. The Nerf Pro series, on the other hand, is quite vast and offers a variety of unique and stylish guns. The designs range from shotguns and rifles to dual-wield pistols, giving you plenty of options to choose from.
I certainly hope that more such unique special editions of my favorite blasters will be launched in the coming years. It remains to be seen if more brands like SplatRBall are going to step up their marketing game by teaming up with influencers too.