As a laser tag player, I have spent countless hours playing with my friends, running around the darkened arena, and feeling like a real-life action hero. So when I heard about a new laser tag arena opening up in town, I was beyond excited to give it a try.
As I suited up with my vest and laser gun, I couldn't help but wonder – would my laser gun be compatible with the guns my friends were using? Are different laser tag sets compatible? It was a question that left me curious and intrigued.
In this blog post, I'll explore the topic of laser tag gun compatibility, discussing why it matters, and various issues. I will also provide recommendations for ensuring interoperability during laser tag games.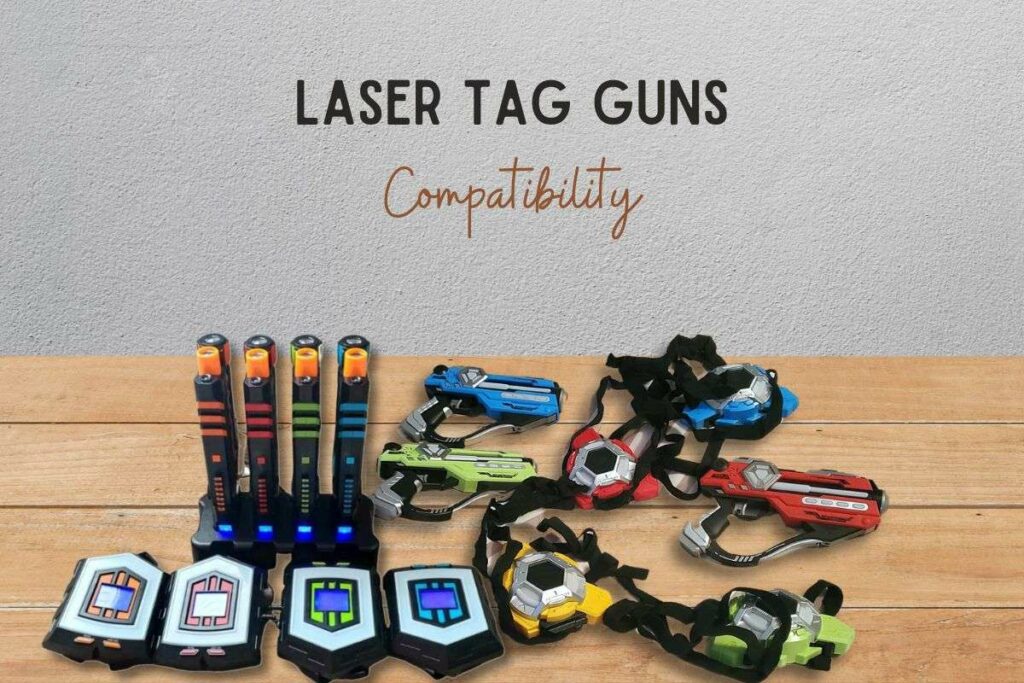 Why Compatibility Between Laser Tag Guns Matters?
As a professional player, I can tell you that compatibility between laser tag guns is one of the most crucial factors that can make or break your experience on the battlefield. Whether you're a casual player or a die-hard laser tag fanatic, it's important to understand why compatibility matters and how it affects your gameplay.
When you're playing laser tag, you want to be able to focus on the game, not the technology. The last thing you want is to be stuck with a gun that doesn't work properly or isn't compatible with the other guns in the game. This can cause confusion, frustration, and can quickly take the fun out of the game.
In addition to gameplay issues, incompatible laser tag sets can also create a divide among players. If some players have more advanced or powerful guns than others, it can create an unfair advantage that detracts from the competitive spirit of the game.
Interoperability is also essential for ensuring that everyone can participate in all of the different game modes and features. Some modes may require specific types of guns or sensors to function correctly. And incompatible guns can prevent players from fully enjoying the game and all its features.
Compatibility Between Different Manufacturers
Unfortunately, laser tag guns from different manufacturers are typically not compatible with each other due to the unique coding systems or frequencies used by each manufacturer.
Manufacturers like Squad Hero, Armogear and Kidzlane design their guns and sensors to communicate with each other using their own specific coding system. This means that if you have a gun from one manufacturer, it may not be able to interact with those from another brand. As a result, players with guns from different brands may not be able to compete, causing significant issues during gameplay.
For example, I own rechargeable and battery-operated laser tag sets from the brands Squad Hero and Armogear. When I arranged a laser tag party with my friends and tested these sets together, I found that they are not compatible with each other.
Compatibility issues between different manufacturers can be frustrating. If you're playing with a group of players who all have the same type of gun and someone shows up with a gun from a different manufacturer, it can throw off the balance of the game and create a disadvantage for some players.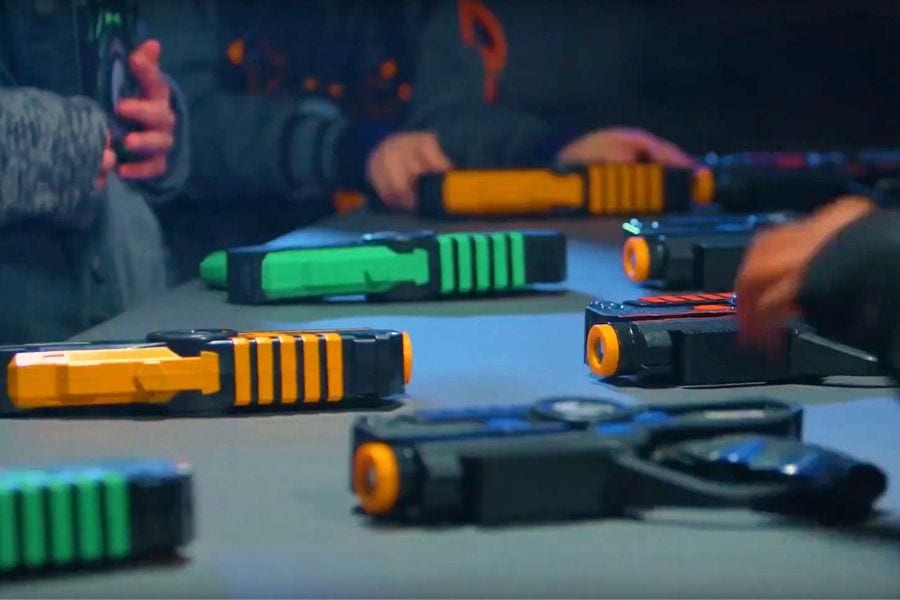 Compatibility Within The Same Manufacturer
Generally, different laser tag sets from the same brand are compatible with each other. Manufacturers use a consistent communication protocol between their laser tag guns and sensors to ensure inter-compatibility. They typically involves a specific coding system or frequency unique to each brand.
This means that if you have a laser tag gun from Squad Hero, you can confidently play with others who have guns from the same brand without worrying about compatibility issues. You can even mix and match different models from the same brand to create unique gameplay experiences. For example, when I tried the rechargeable and battery-operated laser tag sets from Armogear together, they worked like a charm and my friends were finally happy!
I would advise to double-check the compatibility of different models within the same brand before mixing and matching them during gameplay. As I experienced, some models may have slightly different features or settings that could affect gameplay and compatibility. But in general, different laser tag guns from the same brand will work together without any issues.
When checking compatibility specifications between two laser tag guns, consider the following:
Manufacturer Information: The first step is to look into who manufactured the laser tag guns. If the same company makes both, they should be synchronized.
Model Numbers: Compare the model numbers of the two laser tag weapons. Some manufacturers' models may be suitable with one another, while others may not.
Technical Specifications: The two laser tag guns' technical specifications, such as frequency, should be compared. Guns with comparable specs are more likely to be compatible with one another.
Customer Support: If there is any further doubt about compatibility, I recommend to contact the manufacturer for clarification. They may have a chart or be able to provide information on specific models that are suitable.
Compatibility Between Older And Newer Laser Tag Sets
Because of technological developments, modern laser tag guns are generally more compatible with a broader range of systems. However, synchronization might also be affected by the gun's manufacturer and model.
Older laser tag guns may feature proprietary technology that only works with systems manufactured by the same company. Or they may have limited compatibility with modern systems due to technological differences.
It is essential to check the specifications of the older and newer laser tag guns and to consult with a representative from the company if there is any doubt.
In some cases, older laser tag guns can be modified to work with newer systems, but this may void the warranty. So, I recommend to only attempt such modifications with proper technical expertise.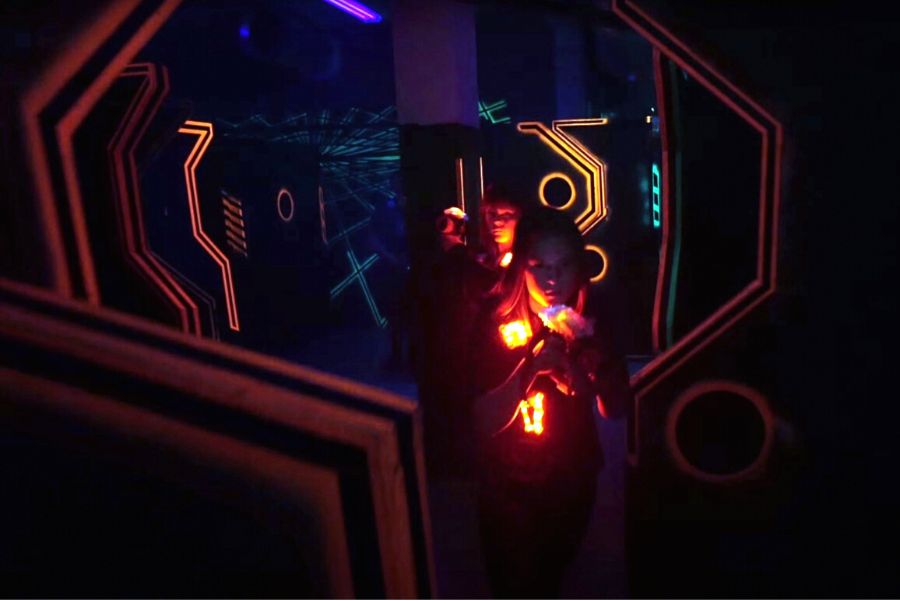 Suitability Of Laser Tag Systems: LTTO, LTX, and LTAR
LTTO, LTX, and LTAR are different types of laser tag systems used for gameplay. To understand if your laser tag sets will work together, it is crucial to know about these technologies.
LTTO (Laser Tag Tournament Organizer) is a software program designed specifically for organizing and running laser tag tournaments. The software allows organizers to manage teams, set up game schedules, track scores and statistics, and more. Incorporating other laser tag systems with LTTO generally avoids compatibility issues. If the laser tag guns and sensors are able to operate cohesively, they can effortlessly integrate with the LTTO software.
LTX (Laser Tag eXtreme) is a type of laser tag system that provides players with a more immersive and interactive experience. LTX systems typically feature advanced game modes and special effects, such as lighting and sound effects. These make gameplay more engaging and exciting. These systems work specifically with other LTX laser tag sets. As a result, LTX components are generally not compatible with components from other laser tag systems or manufacturers.
LTAR (Laser Tag Augmented Reality) system is relatively new and not yet widely adopted, but interoperability may be an issue in the future. Augmented reality technology is still developing. So it's possible that different manufacturers will use different technologies or coding systems that may not be compatible with each other. However, as the technology evolves, it's also possible that industry standards will emerge to ensure suitability between different LTAR systems.
As a laser tag player, I highly recommend to verify compatibility before purchasing or using any laser tag equipment with your old sets. Always choose the best quality laser tag sets from the same manufacturer to avoid any issues. Check the product's specifications and make sure that they will work seamlessly with other guns. By taking the time to ensure compatibility, you can avoid any unwanted problems and ensure that everyone can enjoy the game together.