Gear up, laser tag enthusiasts!
As a die-hard laser tag player and instructor at several facilities, I've had my fair share of electrifying battles in the neon-lit arenas. Today, let's dive into the world of the Armogear Laser Battle set.
Picture this: the thrill of chasing opponents through a maze of flashing lights, and the satisfaction of a perfectly executed ambush, all amplified by the cutting-edge technology packed into the rechargeable laser tag guns. Having tested various infrared sets in the field, I can confidently say that it has found the sweet spot between sleek aesthetics and mind-blowing features.
But here's the kicker – these bad boys aren't just for the arena. With their user-friendly design and straightforward operations, the Armogear laser tag sets are your ticket to bringing the excitement right into your HOME with the FAMILY.
Get ready for a review that goes beyond the surface, exploring why it might just be the game-changer you've been searching for!
ThrilloGaming Verdict
Dive into the laser tag universe with Armogear's stellar collection – a haven for both rookies and seasoned warriors alike! Among their lineup, the rechargeable laser tag set stands out as one of the best laser tag sets ever, blending sleek design with top-notch performance. Yet, the beauty lies in its versatility.
For those seeking budget-friendly options, there's a battery-operated set that, while lacking a few frills, packs a solid punch. Another gem in their arsenal? A duo featuring a mini laser tag pistol and a robotic spider, adding a whole new dimension to your battles.
Ergonomics take center stage with those laser tag sets – intelligently placed buttons ensure seamless adjustments on the fly. Comfort isn't compromised either. The vests are equally comfy, rounding out the ultimate gaming experience.
In summary, Armogear's laser battle sets aren't just gadgets; they're gateways to unforgettable gaming adventures. Whether you're curating your collection or searching for the perfect gift, rest assured – with this gear, you're on the winning team!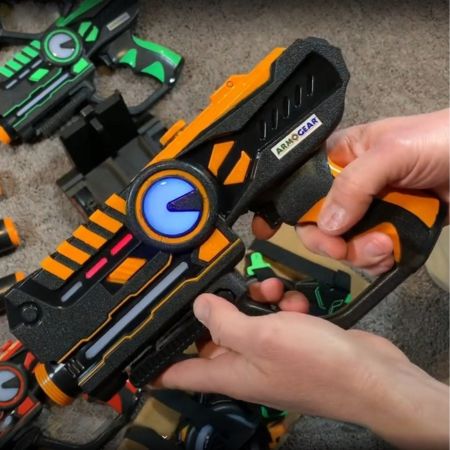 Armogear Laser Battle Set
Technology: 4.8/5
Shooting Range: 4.7/5
Battery Life: 4.7/5
Ease Of Use: 4.7/5
Fun Factor: 4.8/5
PROS
Say goodbye to the hassle of constantly swapping batteries with the Armogear Rechargeable Laser Tag set.
The "Warrior Bug" robotic spider is a captivating companion that effortlessly keeps kids engaged.
Dive into the action with the ability to switch between four dynamic weapon modes.
Immerse yourself in the experience with realistic sound effects, human voice prompts, and exhilarating tactile vibrations.
With an impressive range of up to 150 feet, these laser tag guns are tailor-made for epic battles in expansive arenas.
Versatility meets comfort with elastic belts on the laser tag vests, catering to players of all ages – from kids to adults. Get ready for an unforgettable gaming experience!
CONS
The laser tag vests do not have an IR receiver at the back, which means you can only shoot your opponents from the front to take them out.
The mini laser tag gun, while charming, carries a range limited to 15 feet. A tad shorter than other models, it still offers an intimate, up-close gaming experience.
Armogear Laser Tag Set Of 4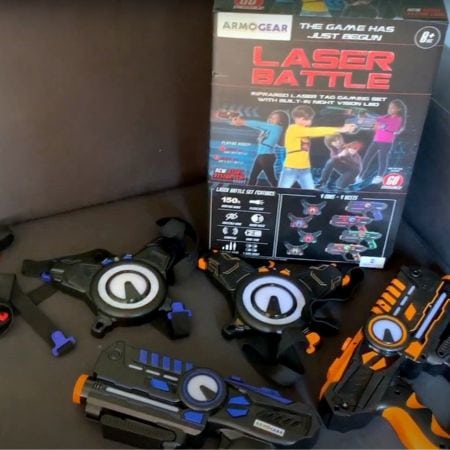 Key Features: Rechargeable set of four units with a 150-foot range, two sensor zones (on chest and gun), weapon modes (pistol, shotgun, machine gun, rocket), digital display for lives and battery, and four accuracy scopes with night vision flashlights.
View On Amazon
Armogear Laser Tag Set Of 2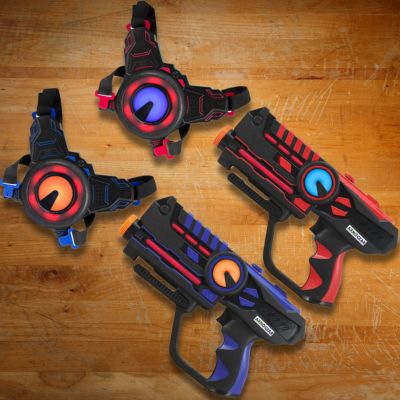 Key Features: Two sets of battery-operated laser tag guns and vests (12 AAA batteries are required); weapon modes: pistol, shotgun, machine gun, and rocket; four color selections for two teams, digital display on guns and vests.
View On Amazon
Laser Tag Gun with Spider Set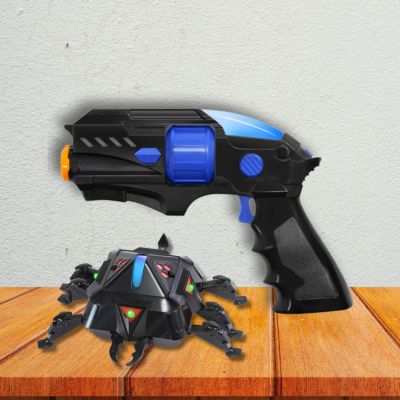 Key Features: 15 feet shooting distance, ideal companion for kids, 6 AAA batteries are required, 4 team modes, team indicators, 3 difficulty levels, excellent option to play indoors, easy to use and almost maintenance-free, great value for money.
View On Amazon
Design And Ergonomics
Alright, let's talk about these laser tag guns. No kidding, they're like the superheroes of the gaming world. Armogear didn't just slap some tech together; they crafted these bad boys with style and ergonomics. I mean, seriously, they look so cool that you'll feel like a sci-fi hero just strapping them on.
And the functionality? Don't even get me started. LED and digital displays on the vests, showing scores and lives? Genius move. Playing with these guns is as smooth as butter. Need to light up the room?
Flashlight, check. Running low on ammo? Reload without breaking a sweat. Wanna go NINJA? Invisibility mode engaged. All of this, right in the middle of an intense laser tag party.
Now, let me share how these guns feel in my hands. It's like they were custom-made for an experienced player like me. The grip is on point and that trigger guard? Big and comfy. No cramped fingers here. And get this, the under-barrel reloader isn't just for show; it's my stability buddy. I hold it like a boss for that extra precision shot.
And hey, remember that robotic spider? It's not just some gimmick. It's like a gaming fantasy turned real. Trust me, it's straight out of the coolest video game you've ever played. Armogear didn't just stop at guns and vests; they threw in a robotic spider for endless fun. Now that's what I call a game-changer!
Performance Of Armogear Laser Tag
Diving into the real deal for hardcore laser tag enthusiasts, these guns don't just meet expectations; they blow them away when it comes to performance.
Shooting Range And Accuracy
Stepping into the territory that truly matters for laser tag players like me – the shooting range. If you relish covering your squad from a strategic vantage point, the remarkable 150 ft. shooting range of the two PvP-only sets is a game-changer.
This feature is why my Armogear set is a staple, especially in my spacious basement arena and even outdoors. While there are plenty of cover structures to sneak behind and get close, we can also take long-range potshots if we get a clear line of sight.
However, I found that the gun in the Warrior Bug set only has a range of 15 ft. While it's a bit disappointing- it makes perfect sense, considering that it would otherwise be too easy to take out the bug, which might make the game boring. Besides, a 15ft range is still enough for playing indoors.
Now, let's talk precision – all these laser tag guns bring solid accuracy to the table, but the rechargeable set steps it up a notch. Credit goes to its accuracy enhancement scopes, ensuring those IR beams stay right on target. If you fancy an upgrade for the other guns, you're in luck – you can purchase these scopes separately.
Battery And Charging
My Armogear rechargeable laser tag guns pack enough charge for two to three hours of non-stop gameplay – usually more than enough. The same holds true for other guns by Armogear, but here's the catch: you'll be swapping out AAA batteries once they run dry.
Opting for a rechargeable laser tag set means no more shelling out for new batteries or juggling separate charging routines. Plus, the set includes a handy charging dock that can power up all four guns and vests simultaneously.
Weapon Modes
Among the three Armogear laser tag sets I mentioned earlier, two allow you toggle between four weapon modes: pistol, shotgun, machine gun, and rocket. The catch? The bigger the firepower, the more lives it zaps per shot, but with a compromise on ammo capacity. Reload stats vary too – 1, 5, 9, or 12 shots, depending on your weapon mode.
It's a cool feature, and I've got a soft spot for the machine gun mode, though I enjoy mixing other modes. And guess what? The mini guns in the spider set keep it straightforward with no extra weapon modes.
Light, Vibration, And Sound Effects
I'm absolutely hooked on the immersive vibes created by these laser tag sets – the sound effects are nothing short of realistic and crystal clear. For newcomers, especially the little ones, the human voice prompts are a game-changer.
The target on the vest also vibrates strongly when I'm tagged, making it impossible not to notice. The combo of sound effects and vibrations together helps me keep up with the game even when I'm focused entirely on tagging the opponent.
Now, let's talk about the LED lights – they're not just there for show; they serve a purpose. In all gun and vest sets, these lights come with clear indicators of your team color, avoiding any confusion in the heat of battle. The vests take it up a notch with segmented circles of LED lights, essentially acting as health bars, reminiscent of video games.
Next, let's dissect the displays – an area where the Armogear rechargeable laser battle set takes the lead. It boasts a digital score display right on the vest unit, adding a tech-savvy touch to the experience. In contrast, the other two sets skip the displays, relying solely on LED indicators and voice prompts for their output.
But here's the kicker – when the lights go out, you can toggle on invisibility mode. Lights off, stealth on. It's the perfect strategy to sneak up on your opponents and catch them off guard. Lights, vibrations, and sound effects together craft an immersive playing experience that's hard to beat.
Number Of Players And Teams
All three Armogear laser battle sets bring flexibility to the table by letting you switch between four different team colors during play. Now, here's the breakdown: my rechargeable laser tag set is a powerhouse of four guns, the Warrior Bug set packs a single gun, and the other set includes two guns.
The silver lining? You can expand your arsenal by adding more guns from the same brand for epic team games and laser tag parties.
There's a cool feature in the robotic spider set – you can assign a team color to the bug or let it roam as a Rogue. Picture this: kids battling it out with a robotic bug by their side or racing to be the first to conquer their opponent's bug. It's a futuristic twist, and the kids absolutely love it.
Here's the surprise – there's no cap on the total number of players who can join the fun simultaneously. Bringing together my friends' Armogear sets with mine, we orchestrated an unforgettable laser tag birthday party for my sister Sarah. With a grand total of eight toy guns, the kids unleashed pure joy and had an unforgettable experience.
Special Features
Next, let's dive into the cool tech stuff. Beyond the invisibility mode I've already highlighted, the manufacturer takes it up a notch by introducing night-vision flashlights. Both of these features aren't just gimmicks; they're game-changers, providing a unique and thrilling experience, especially in low-light conditions.
Here's the play-by-play of one of my favorite tactics: flipping on invisibility mode. Lights out, stealth on. It's my go-to move for sneaking up on opponents, catching them off guard. The night vision flashlight, however, is an effective countermeasure, offering you improved visibility in a dark arena.
Outdoor/Indoor Compatibility
Now, let's find the ideal battlegrounds for these sets. The Armogear laser tag set featuring the Robotic Spider set is tailor-made for indoor missions due to its guns' limited range. Plus, it's crucial to keep the robotic sidekick safe from potential outdoor hazards.
On the flip side, the other two sets – the rechargeable set and the battery-operated sets of 2 and 4 – are ideal for both outdoors and indoors. Whether it's your home, lawn, backyard, or a designated laser tag arena in the basement or even your living room, these sets are ready to bring fun to the family.
Also Read: How To Play Laser Tag At Home?
Accessories For Armogear
Let's talk extras – what you get in the package depends on the model. The rechargeable laser tag gun pack, which I tried out, pleasantly surprised me. It not only came with a charging dock but also threw in accuracy enhancement scopes, adding a nice touch to the experience.
But, that's not all! Let's dial up the cool factor – the spider laser tag set steps into the arena with what might just be the most attractive accessory ever: the robotic spider. While it's crafted for kids, who says I wouldn't want to spice things up with a laser tag duel against a slick robot every once in a while?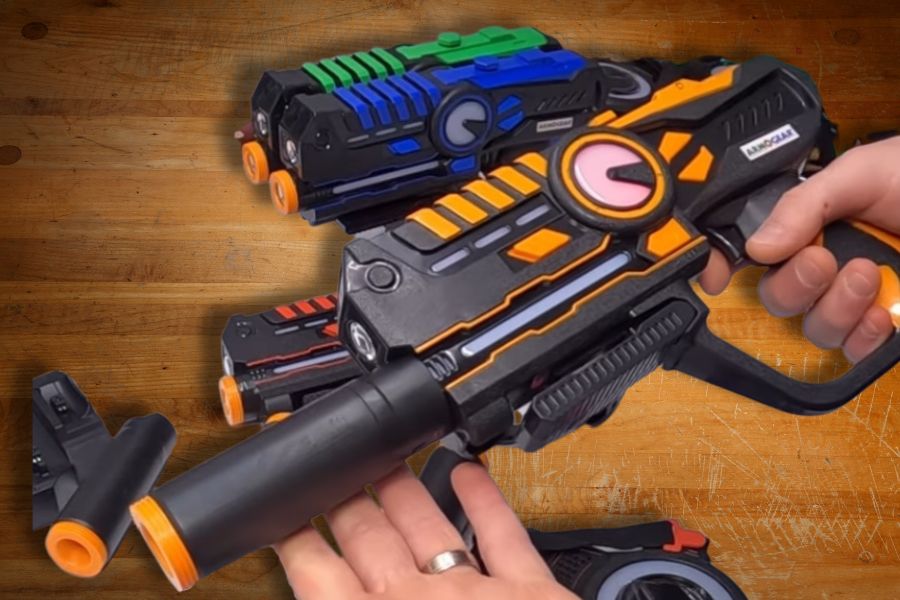 Safety And User-friendliness
No matter which Armogear laser tag set you choose, safety remains a top priority. Laser tag is renowned for its protection, particularly among recreational sports involving toy guns. The infrared light used in these guns is entirely harmless, ensuring no risk even if there's an accidental shot to the eye.
Now, talking user-friendliness, the rechargeable laser tag blasters again take the lead. The convenience of not having to swap out batteries and the ability to plug both guns and vests into the charging dock make this set notably hassle-free. The addition of digital displays on the vest units enhances ease of use, providing a clear score-tracking experience.
Price And Value For Money
Having put these infrared laser tag guns to the test, I can confidently say they offer excellent value for the price. The set of 4 rechargeable guns comes in at just under $150, and the battery-operated ones were priced at around $45 per pair the last time I checked.
Wait, there's more! Let's talk about the Warrior Bug + mini laser tag gun package – it's a steal at a little over $30, offering fantastic value. If you're in the market solely for a set of guns without the robotic spider, the Mini Battle pack (set of 4) is available for less than $45, making it a budget-friendly yet thrilling option.
Should You Buy Armogear Laser Tag?
When it comes to Armogear laser tag guns, finding the perfect set is all about matching your preferences. Through my experiences, I've come to trust the consistent quality and durability of the guns and vests, putting any worries about reliability to rest.
Here comes the cream of the crop – the rechargeable laser tag set. This is truly the go-to choice for those who want the ultimate experience. For a dedicated player like me, the convenience brought by the charging dock is a game-changer. Juggling rechargeable AAA batteries and a compatible charger for multiple guns would have been a logistical nightmare.
However, for those on a tighter budget, the battery-operated laser tag set by Armogear steps up admirably. Yes, you'll need to keep an eye on those batteries, swapping and charging them regularly, but the affordable price tag still offers fantastic value for money. Both models maintain similar ergonomic designs, ensuring a comfortable playing experience no matter which you choose.
Oh, the robotic spider + mini laser tag gun combo? While it might not be my top recommendation for intense battles with others, it shines as a fantastic gift, especially for kids aged under 10.
It's a perfect choice, particularly if you're unsure whether they have friends to join in the laser tag fun. Even though it doesn't replicate the thrill of battling real players, kids can still enjoy a great time taking on the robotic spider.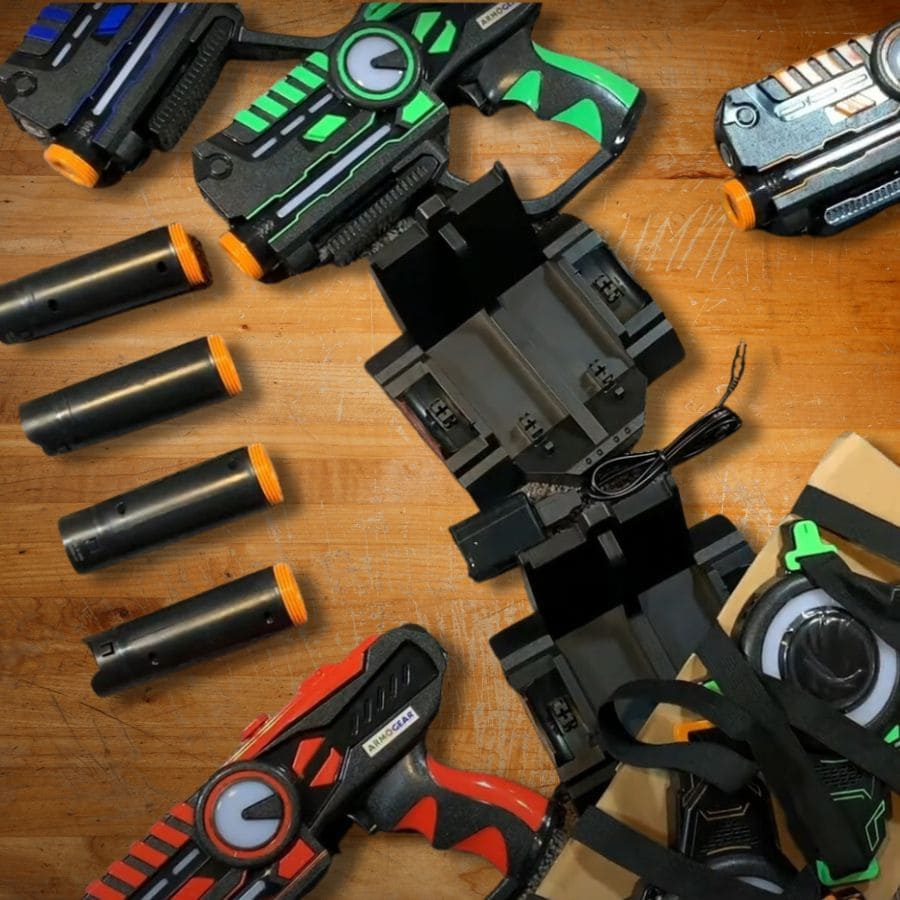 How I Tested These Laser Tag Guns?
If you're curious about how I assessed the laser tag guns, it's a straightforward process. In fact, you can try out various blasters yourself with these simple steps.
1. Unboxing The Armogear Laser Tag Set
The thrill of unboxing a fresh laser tag set is an experience that never gets old for me. It's at this moment that I truly get to immerse myself in my new set, moving beyond just glimpses from photos. Ensure you carefully inspect all the accessories within the box and, if any components seem unfamiliar, refer to the user manual for clarification.
2. Assembling And Turning On The Gear
While laser tag guns generally don't require intricate assembly, you might find yourself attaching scopes and other accessories. Setting up the Armogear rechargeable laser tag set was a breeze for me; however, with the battery-operated ones, your first task is to insert the batteries.
Remember, the box typically doesn't include the batteries – you'll need to purchase them separately. Once the batteries are securely in place, power up all the guns and vests to ensure they're in optimal working condition.
3. Checking The Features
One of my initial steps upon activating a new laser tag set involves exploring the various weapon modes, team colors, and additional features like reloading, flashlight, invisibility mode, and more. This hands-on approach allows me to grasp the functionality of each feature and assess their accessibility during gameplay.
4. Performance Testing
Evaluating the performance of a laser tag gun is an uncomplicated process for me, primarily focusing on user-friendliness and advanced features.
My typical testing method for Armogear involved setting up a vest as a target and shooting from varying distances, gradually increasing the challenge.
As for battery performance, the most reliable test is to engage in a full-fledged laser tag game and gauge how long the batteries endure.
Watch this official video to get a visualization of how it looks and feels like when held in hands:
Top Alternatives To Armogear Laser Tag
Squad Hero Laser Tag: While a wee bit pricier, this infrared laser tag set from Squad Hero stands as a credible alternative to the rechargeable Armogear set. Similar to the latter, it boasts a charging dock and digital displays. Notably, it goes the extra mile with a third IR receiver at the back of the vests, enhancing gameplay dynamics.
Kidzlane Laser Tag Set: If you're aiming for budget-friendly options and don't mind opting for a battery-operated laser tag set, consider this offering from Kidzlane. This set flaunts some of the most stylish guns in my experience.
LaserX Laser Tag Set: For those yearning for a futuristic aesthetic, the set of two from LaserX is a visual treat. The Uzi-style design not only looks sleek but also ensures excellent ergonomics for an immersive playing experience.
| | |
| --- | --- |
| Review: | Armogear Laser Tag Set |
| Summary: | Armogear's Laser Battle set is a game-changer, blending sleek design with top-notch performance. Versatile for arenas or family fun at home, the ergonomic design, various weapon modes, and immersive features contribute to its stellar 4.7/5 rating. Despite minor drawbacks, the Armogear Laser Battle set delivers unforgettable adventures and excellent value for money. |
| Author: | Tavish Archer |
| Rating: | 4.7 (out of 5) |