"Do you think a gel blaster party would be a good idea?" Jeremy asked. "Yeah, why not? He has told me quite a few times that he'd like to try gel blasting someday", Erik replied.
We were helping Erik plan a birthday party for his nephew Ryan, who'd be visiting him next week. We all knew that Ryan was fond of outdoor recreational activities, so a gel blaster bash sounded like something he'd love.
"Do you think we could somehow make it special? Any idea? I don't know…maybe a themed party with gel blasters?" Jeremy asked. "He's a huge Star Wars fan!", Erik's face lit up. "Perfect! We could do a Star Wars-themed party. It also suits our game perfectly", I replied.
And that was it, we threw Ryan an Epic gel blaster birthday party. Ultimately, we had a blast, throwing around dialogues from the Star Wars movies as we pretended to battle it out between the dark side and the light side!
So, buckle up my friends, I will share all the details to arrange a gelly ball party, including creative ideas, equipment needed, cost, and more!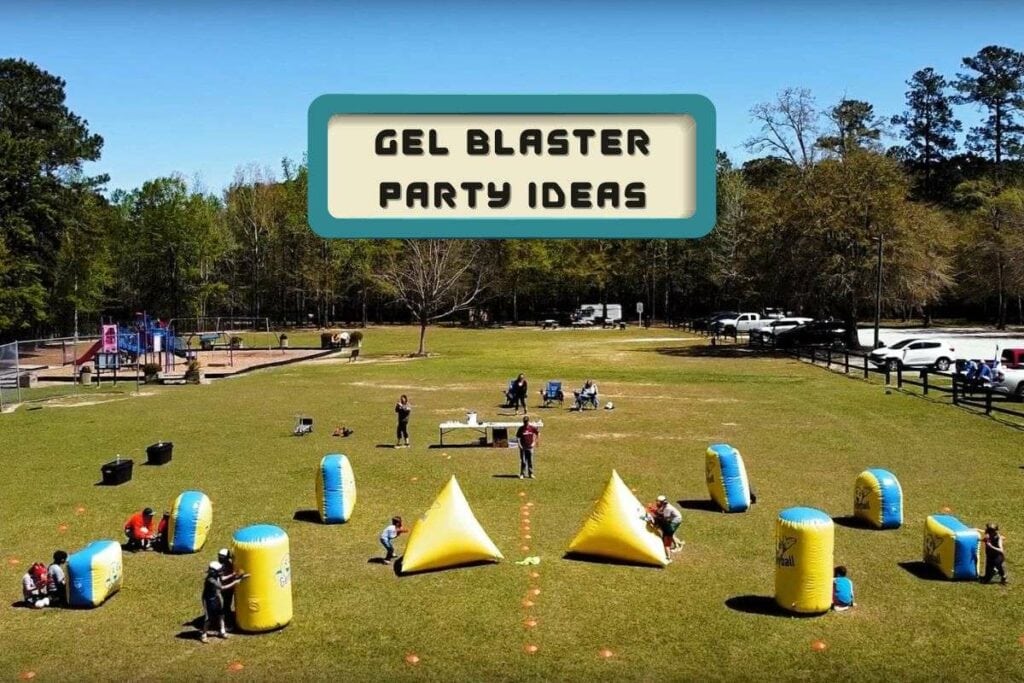 What Do You Need To Arrange A Gel Blaster Party?
You don't really need a lot of stuff to arrange a gel blaster party, besides the essential gear, of course. Here's a quick rundown of everything you'll be needing:
Gel Blaster Guns: First of all, get enough blasters for everyone, and arrange a spare one if possible. You'd also want to make sure that all the guns are more or less equally powerful for the sake of fairness. You may like to check my top recommendations for gel blasters and choose the ones you prefer.
Plenty Of Gellets: While it's a no-brainer that you'd have to prepare the ammo by hydrating gel balls beforehand, don't forget that you'd need plenty of them. It's easy to underestimate how quickly you can spend away all the ammo during a party with gel blaster guns. As a thumb rule, for an hour of game, a player needs 5000 to 15000 gellets, depending on the rate of fire.
Eye Protection: If you've played with gel blasters before, you're likely aware of the need for eye protection already. Without fail, get enough protective glasses so that no one has to play without safety goggles.
Snacks And Drinks: While a gel blaster birthday bash is incredibly fun, it can also be quite exhausting. Don't forget to stock up on snacks and energy drinks, especially for the kids (if any).
Theme-Based Stuff: If you throw a themed splat gun party, you're going to need some costumes and other miscellaneous gear to reflect the theme. For example, we used some Star Wars-themed cardboard structures to decorate the backyard.
How To Arrange A Gel Blaster Party? A Step-By-Step Guide
Arranging a gel blaster party isn't much of a hassle once you get everything ready. You can either do it at home or in an arena, though the latter is usually more fun and convenient for most.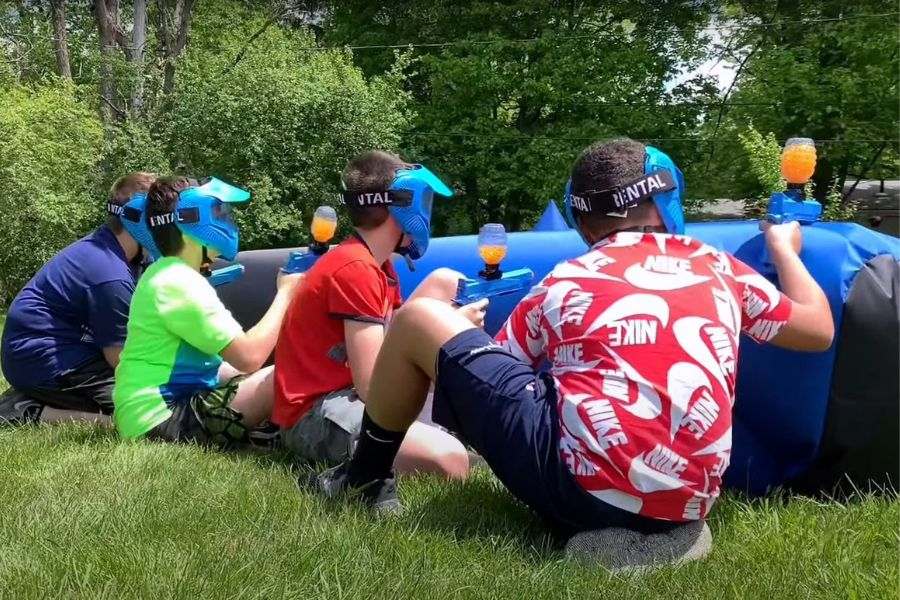 A. Throwing A Gel Blaster Birthday Party At Home
Arranging the party at home is a viable option only if you have a sizeable backyard or a similarly large space for it. Gel blaster battles in small spaces can quickly get boring since they would lack heavily on the strategic and tactical aspects.
Step1: Preparing The Field
Now, assuming that you have adequate space at home (backyard, garden, field, basement, etc.) for a gel blaster party, you'd want to add some features like cover structures, decorations, and temporary walls. It's no fun if everyone can just shoot straight at their opponents from across the field.
If you have a theme in mind, feel free to decorate the field they way you wish.
Step 2: Arranging The Gear
Arranging gel blasters can be a bit of a hassle unless everyone or most of the players already have their own blasters. You could try to rent the gel blasters from a nearby arena, though. Getting the ammo is easy – just buy the best gellets online and hydrate them in a large bucket.
Likewise, also provide protective glasses for every participants. Since we were following a Star Wars theme, those dressing up as stormtroopers wore full-size facemasks anyway.
Step 3: Preparing Food And Drinks
Food and drinks aren't a problem when playing at home – you may prepare something homemade, buy some snacks and drinks, or do a bit of both. Remember to keep the energy drinks handy for those getting thirsty during the intense gel blaster battles.
Step 4: Invite Participants
Create a guest list and send out invitations to friends, family, or other enthusiasts who might be interested in attending the Orbeez gun party. Provide them with the necessary details like date, time, location, and any specific instructions or requirements.
Step 5: Plan Game Modes
Determine different game modes and scenarios for the party. This could include team-based games like capture the flag, deathmatch, or objective-based missions. Create a schedule and communicate the game rules to participants beforehand.
Step 6: Brief Participants
Before starting the gel blaster games, conduct a safety briefing to remind participants of the rules, guidelines, and safety measures. Explain the game modes, objectives, and any special considerations. Answer any questions participants may have.
Step 7: Supervise And Monitor
During the gelly ball party, actively supervise the gameplay and ensure that participants are following the safety rules. Address any concerns or issues promptly and make adjustments if needed. Be prepared to handle any problems that may arise.
Step 8: Wrap Up And Clean Up
Once the gel blaster games are complete, thank the participants for attending and summarize the day's events. Organize a short debriefing to gather feedback and suggestions for future parties. Clean up the venue, dispose of any waste, and ensure everything is left in good condition.
That's pretty much it – have fun blasting each other with gel beads for as long as you like. If you're doing a theme-based splat gun party, let everyone know beforehand in case anybody wants to wear a specific costume or outfit.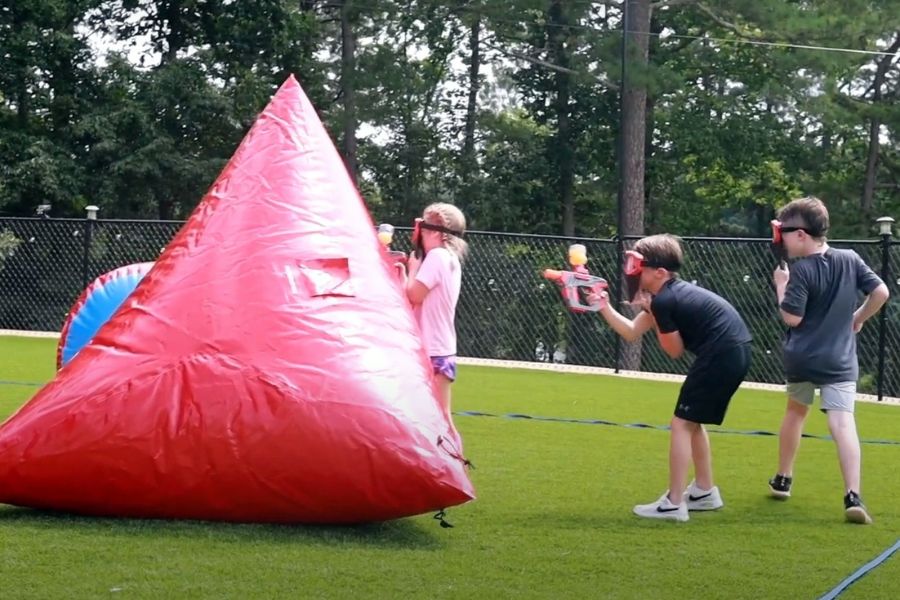 B. Arranging A Splat Gun Party At An Arena
Dedicated arenas are usually the best choice since they are designed specifically for gel blaster games. Some facilities are even themed, which would save you the hassle of coming up with one (unless you want a specific theme, of course). Here's what you need to do.
Step 1: Find An Arena
Firstly, look for a gel blaster arena near you that suits your needs. Most of them are usually large enough for gel blaster parties but still ask them how many people are allowed at a time to be sure.
If there are multiple such arenas near you, make sure to compare the prices, arena sizes, and features before you choose.
Step 2: Book An Arena And Hammer Down The Details
You always have the option to book the arena on the spot, but it would be best to make your booking in advance to guarantee its availability. Also, some gel blaster arenas offer special booking packages for birthdays and other parties.
Before you book, make sure to discuss all the necessary details and any specific requirements that you may have. Not all arenas allow decorations, so if you plan to decorate the space for the birthday party, ask them beforehand to make sure it's okay.
Step 3: Arrange Food And Beverages
This, too, is something you need to discuss while booking the arena. Large arenas specifically offering gel blaster birthday party packages might have their own F&B arrangements. In case you'd like to bring your own snacks and drinks, check if the arena would allow it.
You need not worry about blasters and ammo – they'd be provided by the arena. However, those who have their own gel blasters are free to bring those along if they wish.
Once you have booked the arena and figured out the details, all you have to do is show up on the respective date and time. The manager will take care of the rest.
How Much Does It Cost For A Gel Blaster Bash?
The costs associated with a gel ball party can vary quite a bit, depending on a number of factors. Booking a gel blaster arena would naturally incur some additional costs compared to hosting the gathering at home.
1. Arrangement Costs
On average, gel blaster party packages cost $200 to $400 per hour for groups of around 10 people. The per-hour and per-head costs may go down if you book the arena for more people and longer periods.
Hence, the ultimate booking cost would depend on how many people you have for the gel blaster bash and how long you book the arena. But, if you arrange the party at your home, the cost will decrease.
In our case, the arrangement cost was $182 for 6 persons, excluding the gel blaster guns and refreshments.
2. Equipment Cost
You need not worry about equipment when playing at an arena since all the gear is provided and accounted for in the booking fees already. However, if you decide to host the gelly ball party at home and not everyone has a blaster, you can rent some blasters for around $10 each.
Alternatively, you can buy new gel blasters that can cost around $30-$100 each.
3. Food And Beverages
Of course, the cost of food and beverages in the party depends entirely upon you. As for us, we arranged fruit juices, energy drinks, hamburgers, hot dogs, barbecue and potato chips for a cost of $38 per person.
Please note that these figures are approximate and can vary depending on your specific choices, location, and any additional expenses. It's always a good idea to create a detailed budget based on your specific circumstances and preferences.
4. Additional Costs
Besides these, consider any additional expenses that might be involved. For instance, we had to shell out a bit extra (around $200) on the themed props and accessories. Add up all these costs to get a better estimate of how much a gel blaster party is going to cost you.
What Is The Recommended Age For A Gel Ball Party?
Honestly, gel blasters are fun for kids and adults alike. Children aged 9 years and above can usually play safely with gel blasters, though some of the powerful models come with a higher minimum age requirement.
Nevertheless, with adequate adult guidance and precautions, children below the specified age can also delight in a gel ball gathering. It is entirely up to the parents and event planners to ensure their safety and well-being.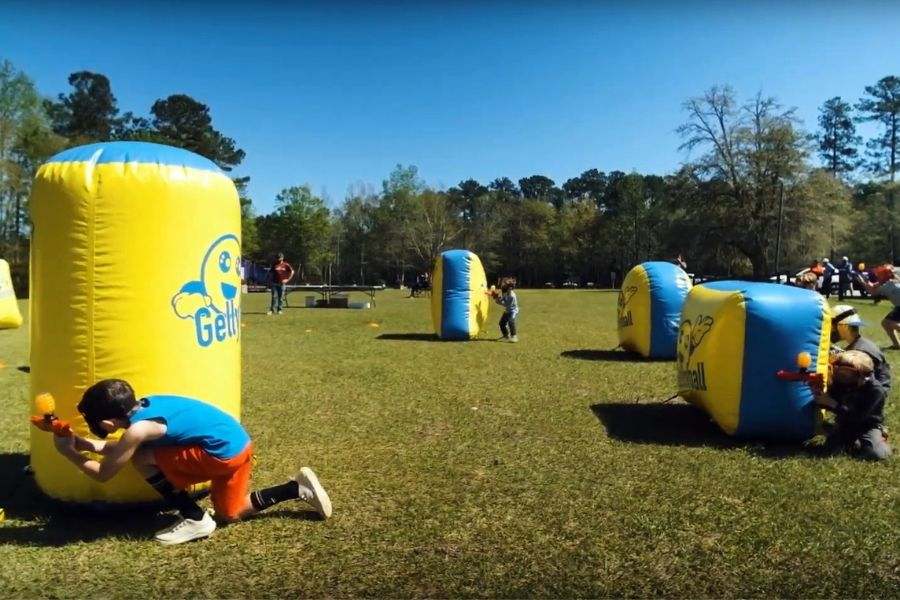 How Many Players Can Play In A Gelly Ball Party?
Gel Blaster parties are most enjoyable with at least 4-10 players, if not more. This is why a lot of gel blaster arenas offer awesome gelly ball party packages starting from 10 players. Depending on the size of the arena, you can even have 24 or more players in total.
For smaller-scale gel blaster parties, you can have as few as 4-6 players. This can work well for more intimate gatherings or for those who prefer a smaller group setting. With a smaller number of players, you can engage in strategic gameplay and offer more individual attention.
Medium-sized gel blaster parties can typically accommodate around 10-20 players. This range provides a good balance between having enough participants to create exciting team dynamics and ensuring that everyone has enough room to move and play comfortably.
Larger gelly blaster parties can include 20 or more players, depending on the available space and equipment. This can create a lively and energetic atmosphere, particularly for game modes that involve multiple teams or large-scale scenarios.
How Long Should Be A Party With Gel Blasters?
In my opinion, a gel blaster gun party should last anywhere between 2 to 4 hours. Especially if there are kids playing, longer than two hours might prove to be too exhausting. Our gel blaster extravaganza for Ryan's birthday lasted three hours.
However, the duration of such a party can vary depending on various factors such as the number of players, the game modes being played, and the preferences of the participants.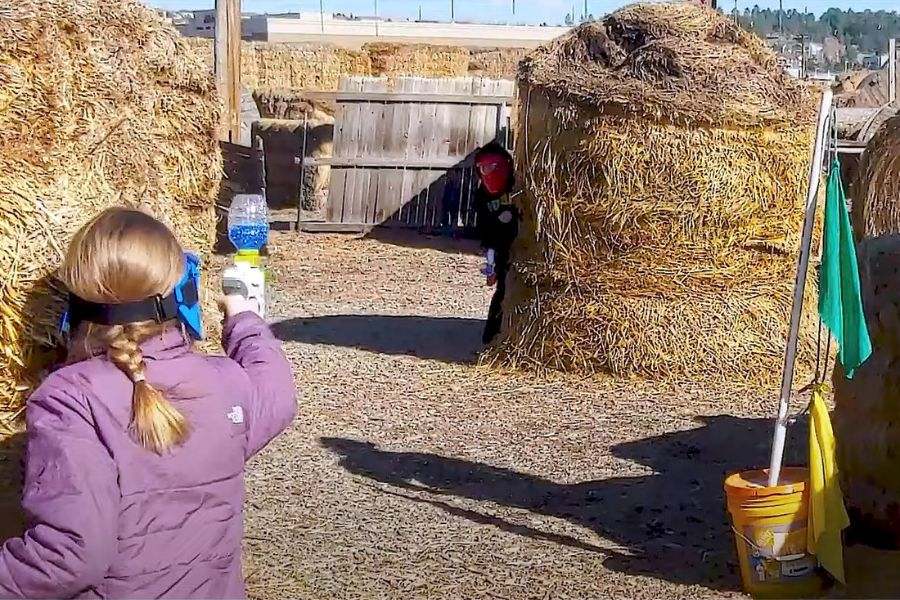 Creative Ideas To Make Your Gel Blaster Party Memorable
So, how do you make your Orbeez blaster party particularly memorable? Especially if you go gel-blasting often, a regular session of games might feel too mundane for such an event. Here are a few ideas to make it special.
1. Choose A Theme
As I described already, our Star Wars-themed gel blaster birthday party was extremely fun – I don't think I'll ever forget it. You don't necessarily have to stick to our choice – you can always pick a theme of your preference. If the gel blaster bash is for kids, remember to choose a theme that children would love.
Here are some more theme ideas for an epic gel blaster party-
Military/ Combat Theme
Zombie Apocalypse Theme
Action Movie Theme
Sci-Fi/ Futuristic Theme
Western/Cowboy Theme
Espionage/ Secret Agent Theme
Fantasy/ Adventure Theme
2. Plan Multiple Game Modes
Playing the same game mode throughout the duration of the party might become boring. Plan multiple game modes like team deathmatch, capture the flag, protect the VIP, etc., and rotate them to keep things interesting. You could even get creative and come up with your own game modes.
3. Arrange For Rewards
Consider arranging for a few rewards across different categories, such as MVP, top kill scorer, most flag captures, etc. Especially if the splatter ball gun party is for kids, rewards will incentivize them to participate more actively and come up with different tactics.
4. Use Team-specific Gear And Outfit
You may plan beforehand to get both teams to wear a specific style or colors to distinguish them from each other. Even the gear could play a part in this aspect.
In our gel blaster birthday party, for example, the Light Side team used green gellets while the Dark Side had red ones, just like the lightsabers!
Conclusion: Final Thoughts
I personally feel that a gel blaster party is an amazing way to celebrate a birthday. These modern toy guns are suitable for pretty much any age group above two years, and the soft water beads are easy to clean up afterward.
So, if you're thinking of throwing a party with gel blasters, it's definitely a good idea. If you decide to play at an arena, check out all the nearby ones and explore all your options to get the best bang for your buck.
Feel free to get as creative as you wish with the theme and game modes, especially if you decide to play at home. By prioritizing safety, finding a suitable venue, and planning exciting games, you can create an unforgettable event.
It's time to embrace the gel blaster revolution and arrange a party like no other!