Grumbling with frustration, my buddy Jeremy slumped down beside me, holding the gel blaster tightly in his hand. "Seriously, I need to switch to a better gel ball ammo," he exclaimed, exasperated, and for good reason.
The gel balls he had picked up from the new hobby store in the neighborhood was a complete disaster. It was nothing but soft pellets that jammed his blaster every few shots or disintegrated into a gelatinous mess before leaving the barrel.
I knew that Jeremy's aspirations of winning the upcoming gel blasting tournament at our local arena hinged on his choice of ammo. "You can't go into battle with subpar gel balls, my friend," I advised him. "If you want to bring home the trophy, you need the very best ammo for your gel blaster."
Determined to help him achieve victory, I set out on a mission to scour the market for superior gel balls compatible with gel blasters, splat guns and Orbeez guns. In the process, we tested 7, 7.5, and 8 mm gel balls from 26 brands and sorted the top 8 of 2023 in this post. So, hold your breath and find out!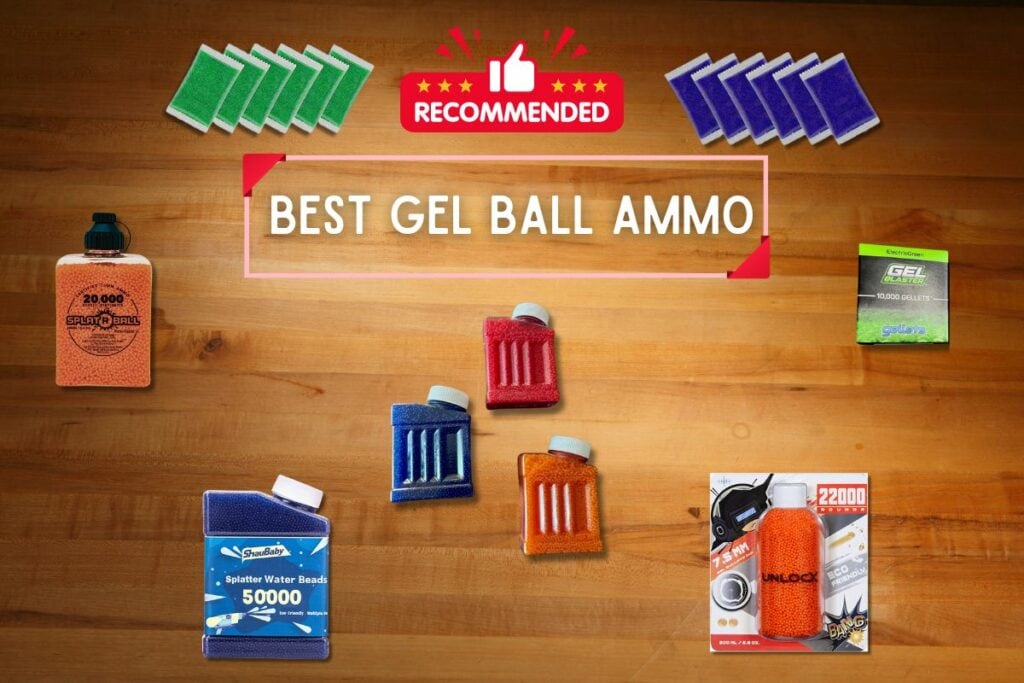 8 Best Gel Ball Ammo Packs (2023)
1. Gel Blaster Gellets Refill Ammo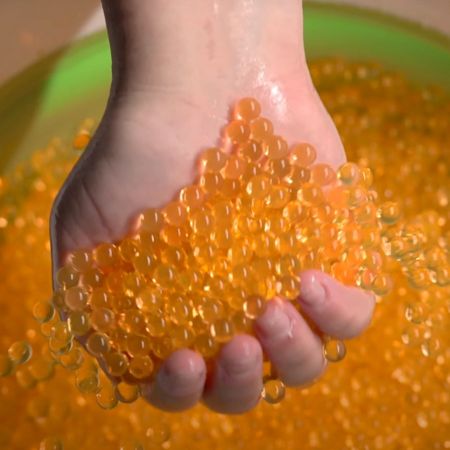 As an experienced player, I've tried countless types of ammo, but there's one brand that I keep coming back to: Gel Blaster. Their bright green gellets are my go-to choice, and I believe they're the best option for anyone looking for top-notch branded gel blaster ammo.
What I love about these gellets is how they perfectly match the striking green design elements of Gel Blaster's popular Surge and Starfire blasters. And if you're feeling adventurous, you can switch things up with their blue or orange variants. The green and orange balls are most recommended.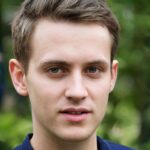 "In terms of performance, I never encountered these 7-8 mm gel balls to case jam or burst inside the gel blaster. Every ball was perfectly round and worked flawlessly with my Gel Blaster Surge Gen 3, Surge XL, and Starfire XL. I also tested this ammo with other manufacturers like SplatRball, Anstoy, Tansar, and found no problem."
For gamers and sci-fi aficionados like myself, the colored gel balls are an absolute thrill to use. Firing these orbs out of a Gel Blaster Surge makes me feel like I'm battling it out in an intergalactic game, shooting bursts of energy at my opponents. Trust me, having the right ammo for accurate and long shots is an experience unlike any other in the gel blasting world.
SPECIFICATIONS
| | |
| --- | --- |
| Number of packs | 10 / 5 / 2 |
| Gellets per pack | 10,000 (approx.) |
| Total gel ammo | 1,00,000 for 10 packs (approx.) |
| Color | Electric green, blue, orange |
| Material | Super-absorbent polymer (SAP) |
| Hydrated size | 7-8 mm |
| Growing time | 2+ hours |
| Our Rating | 4.7/5 |
PROS
These gel beads grow quite fast and can reach an adequate size in just about 2 hours.
The bright color of the gel balls adds to the fun.
I love the toughness of these gel beads – they don't break apart inside the blaster.
You may choose between 10-pack, 5-pack, and 2-pack options depending on your requirements.
CONS
The blue balls didn't perform as good as the green and orange balls.
Get Off Any Order, Using Coupon Code: ThrilloGaming
2. UnlocX 7.5 mm Gel Ball Ammo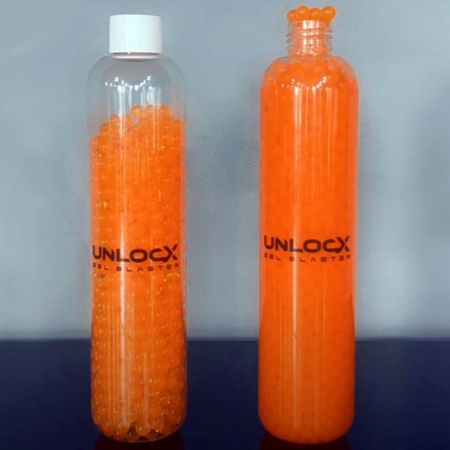 Being a gel blaster enthusiast, I'm always on the lookout for the latest and best ammo to enhance my blasting experience. Recently, I had the pleasure of trying out another type of gel blaster balls that truly blew me away. The moment I laid eyes on these vibrant orange gel balls, I knew they were something special.
It's no surprise that this 7.5 mm ammo comes from one of the top gel blaster companies, as their attention to detail and commitment to quality is evident in every aspect of this product. From the sleek packaging to the high-impact hardness of the material, everything about these gellets screams premium.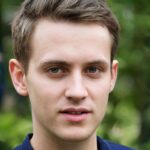 "But I didn't stop there. To truly put these biodegradable gel balls to the test, I tried them out on a variety of gel blasters from different brands. And let me tell you, the results were nothing short of impressive. The size was perfect, and the gellets expanded to their full size in just four hours, as expected."
But what really caught my eye was the packaging. Rather than the standard packets that most gel beads come in, these gel balls are conveniently packaged in bottles. And not just any bottles – each one contains a whopping 22,000 gellets! That's more than double the amount of most gel bead packets, making these bottles an excellent value for any gel blaster enthusiast in 2023.
Overall, I highly recommend giving these 7.5 mm gel blaster balls a try. With their bright orange color, high-impact toughness, and convenient packaging, they're truly a standout product in the world of gel blasting. So why settle for mediocre ammo when you can elevate your blasting experience with these top-notch gel balls?
SPECIFICATIONS
| | |
| --- | --- |
| Number of packs | 6 / 4 / 1 |
| Gellets per pack | 22,000 (approx.) |
| Total gel ammo | 1,32,000 for 6 packs (approx.) |
| Color | Orange |
| Material | Super-absorbent polymer (SAP) |
| Hydrated size | 7.5 mm |
| Growing time | 4 hours |
| Our Rating | 4.6/5 |
PROS
These gellets are compatible with most gel blasters and splat guns.
The bottled packaging not only looks great, but it's a lot more convenient than packets.
I love the bright orange color of the Orbeez gun ammo.
The gel beads are quite tough and don't break apart even when used in high-FPS gel blasters.
CONS
Available only in orange color.
3. SplatRball 7.5 mm Splat Gun Ammo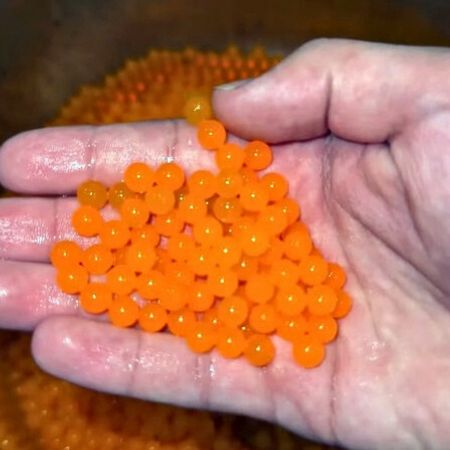 This 7.5 mm gel ball ammo come from a reputable splat gun brand, but it's also specially designed to work exclusively with SplatRball guns. According to the manufacturer, using any other type of Orbeez ball could potentially damage your blaster and void its warranty. So, if you're the proud owner of an SRB1200, SRB400-SUB, SRB400, or SRB 375 Mini, this is the ammo I'd highly recommend.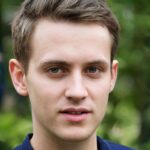 "And let me tell you folks, using this ammo with a splat ball gun was an experience like no other. The gellets were slightly harder than other gel balls, which resulted in a noticeable improvement in performance. These 7.5 mm water beads expanded to their full size in just four hours and could also be used with other types of gel blasters, splatter ball guns and Orbeez guns."
Now, here's where things get interesting. When I initially planned to try out these gel balls, I had to postpone it to the following week due to some home urgency. But I had already soaked the splat balls and worried if they would be wasted! Fortunately, I was pleasantly surprised to discover that I could easily dry them up a few hours later without any issues.
Overall, if you're a competitive gel blaster player, I highly recommend giving the 7.5 mm splatter ball gun ammo pack a try. With its exceptional performance and compatibility with SplatRball guns, it's a game-changer in the world of real-life shooting games.
SPECIFICATIONS
| | |
| --- | --- |
| Number of packs | 1 |
| Gellets per pack | 20,000 (approx.) |
| Total gel ammo | 20,000 for 1 pack (approx.) |
| Color | Orange |
| Material | Super-absorbent polymer (SAP) |
| Hydrated size | 7.5 mm |
| Growing time | 4 hours |
| Our Rating | 4.6/5 |
PROS
These are high-quality gellets from one of the best brands out there.
I found these gel balls to be compatible with all the gel blasters I used to test them.
The deep orange color looks great.
These gellets are slightly hardened to improve accuracy and range of the splat gun.
CONS
Just like the UnlocX gellets, it has only one color option.
4. Uxsio Glow in The Dark Gel Ball Ammo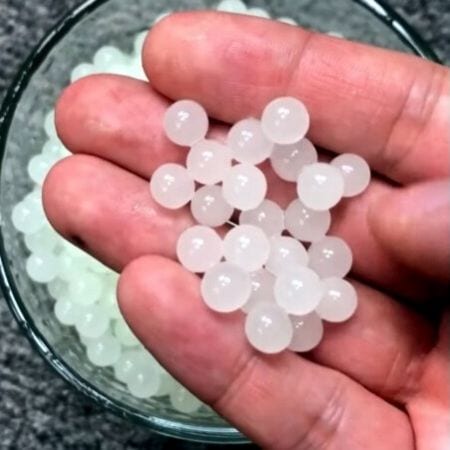 Prepare to be amazed by the extraordinary world of gel blasting, where even the ammo itself can shine with starlight! I recently had the pleasure of trying out a unique type of gel blaster ammo that added a mesmerizing twist to my blasting adventures.
These 7-8 mm gel balls, in addition to their superabsorbent polymer composition, contain a special ingredient that sets them apart from the ordinary. They have the ability to absorb light from external sources, resulting in a spectacular glow-in-the-dark effect.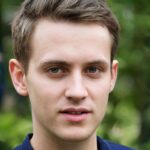 "If you're like me and instantly fell in love with the glow-in-the-dark gellets, I have a recommendation that will take your gel blasting experience to the next level. Consider investing in a Starfire Activator, an attachment for the blaster to make the ammo glow. Trust me, it's a game-changer. Not only is it incredibly convenient, but it also speeds up the activation process significantly."
Imagine the thrill of engaging in a gel blasting session where your shots light up the darkness, leaving trails of glowing gel balls in their wake. It adds an enchanting and unique element to your gameplay, ensuring you stand out from the crowd and immerse yourself in a truly magical experience.
So, fellow gel blaster enthusiasts, embrace the radiant glow of these special ammo and discover a whole new world of excitement. Let your shots shine brightly, and let the 7-8 mm glow-in-the-dark gellets be your signature mark on the battlefield. With their illuminating presence, your gel blasting adventures will reach new heights of creativity and wonder.
SPECIFICATIONS
| | |
| --- | --- |
| Number of packs | 2 |
| Gellets per pack | 10,000 (approx.) |
| Total gel ammo | 20,000 for 2 packs (approx.) |
| Color | Glow in the dark |
| Material | Super-absorbent polymer (SAP) |
| Hydrated size | 7-8 mm |
| Growing time | 4 hours |
| Our Rating | 4.4/5 |
PROS
The glow-in-the-dark effect delivers a unique and thrilling experience.
You can get these gel blaster ammo in three different colors, as well as a multicolor mixed pack.
Growing to a size between 7 to 8 mm, these water beads work with almost every gel blaster.
CONS
Slightly costlier than the previous gellets.
5. Jwshop 7.5 mm Hardened Gel Balls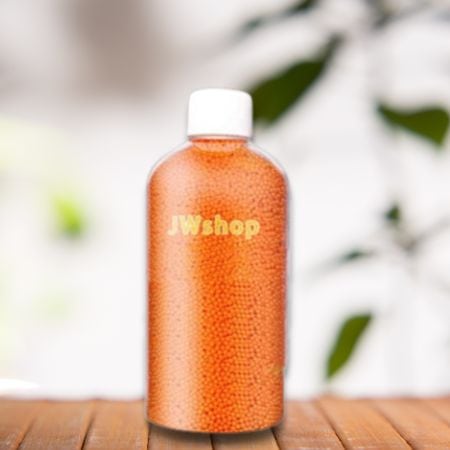 Prepare to be blown away by the remarkable attention to detail and convenience that this 7.5 mm gel blaster ammo brings to the table. If you're someone who values even the smallest aspects, such as number of gellets in a pack, then you're in for a treat with it.
Let's face it, storing gellets in packets can be a bit of a hassle once they've been opened. But fear not! The creators of this exceptional product have heard our cries for convenience. These gel beads come in not one, but two bottles, each containing a whopping 50,000 gellets (total around 1,00,000 gel balls). Just imagine the ease of access and organization that comes with bottled packaging.
Now, let's talk about performance. These ammunition are particularly hardest, which means they pack a slightly stronger punch in longer range. But here's the exciting part: that extra strength translates into greater accuracy and faster flight due to reduced air resistance. Get ready to dominate the battlefield with pinpoint precision and astonishing speed.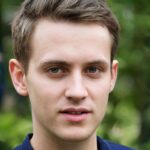 "Refilling your blaster's hopper with these hardened gel ammo is a breeze, thanks to the included collapsible funnel. Say goodbye to messy spills and time-consuming refills. Whether you have a gravity-fed hopper or a spring-loaded magazine, this splat gun ammo works flawlessly in both, as I discovered during my rigorous tests."
Now, I must address the elephant in the room. While this brand may not have the same level of reputation as some others in the market, they have certainly gone above and beyond to address the minor inconveniences that gel blaster enthusiasts like us face. They have carefully crafted this hardened gel balls that caters to the needs of powerful gel blasters, ensuring that balls do not break inside the guns.
To prepare these water beads for battle, all you need is a soaking time of two to four hours. They'll expand to a perfect size of 7.5 mm, ready to unleash their full potential. So, gear up and prepare to unleash the power of the hardest gel ball ammo. Your opponents won't know what hit them!
SPECIFICATIONS
| | |
| --- | --- |
| Number of packs | 2 |
| Gellets per pack | 50,000 (approx.) |
| Total gel ammo | 1,00,000 for 2 packs (approx.) |
| Color | Orange |
| Material | Super-absorbent polymer (hardened) |
| Hydrated size | 7.5mm ± 0.3mm |
| Growing time | 2-4 hours |
| Our Rating | 4.4/5 |
PROS
The bottles ensure easy and convenient storage.
Thanks to the bottles, keeping your eco-friendly gel balls dry wouldn't be an issue either.
You may use these gellets in most gel blasters.
These hardened gellets offer slightly better performance.
The collapsible funnel is easy to carry and helps avoid spilling the balls as you pour them.
CONS
These gellets are available in only one color – orange.
6. Uxsio 7.5 mm Gel Blaster Ammo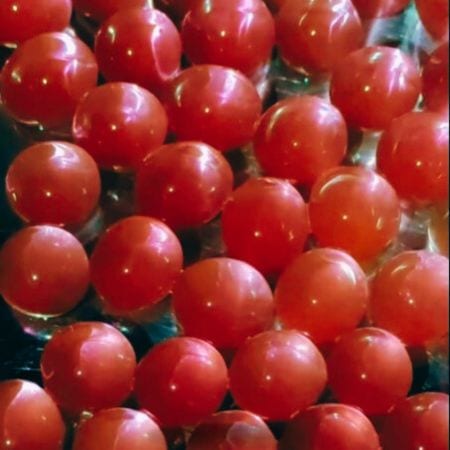 Let me introduce you to a rarity in the gel blaster world – red gel blaster ammo! While green and orange dominate the scene, finding a vibrant red option can be quite a challenge. However, I've stumbled upon a gem that perfectly complements Nerf gel blasters, as well as any other red gel blaster you may own.
But that's not all! These 7.5 mm gellets don't just come in red; they offer a range of colors to suit every taste. You can find them in blue and green, as well as an exciting "rainbow" package that combines red, orange, blue, and green gel balls. Imagine the joy of shooting multicolored gellets, adding a burst of excitement to your gel blasting adventures.
Speaking of which, if you're looking for the best budget-friendly gel blaster ammo to engage younger players, I highly recommend the rainbow package. The combination of vibrant colors creates a visually captivating experience, making it a perfect choice for children and those young at heart. Shooting these multicolored gel balls is an absolute blast!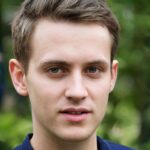 "Now, let's talk about preparation. These 7.5 mm Orbeez gun ammo require a soaking time of at least four hours to reach their full potential. However, I must admit that I experimented a bit and found that using warm water can expedite the process without compromising their performance."
Embrace the rarity of red gel blaster ammo, revel in the joy of shooting multicolored gellets, and let your imagination run wild as you engage in gel blasting battles like never before. These gel blaster balls are here to add that extra touch of excitement and uniqueness to your gel blasting arsenal.
SPECIFICATIONS
| | |
| --- | --- |
| Number of packs | 12 / 6 |
| Gellets per pack | 10,000 (approx.) |
| Total gel ammo | 1,20,000 for 12 packs (approx.) |
| Color | Red, green, blue, purple, rainbow, glow in the dark |
| Material | Super-absorbent polymer (SAP) |
| Hydrated size | 7-8 mm |
| Growing time | 2-5 hours |
| Our Rating | 4.3/5 |
PROS
You may choose from different variants, including a multicolor package of gellets.
The multicolored gel beads also double as decorations or craft material.
Growing to 7-8 mm, these gellets are compatible with most blasters, splat guns and Orbeez guns.
Budget-friendly price compared to the quantity of balls.
CONS
Those are not hardened.
7. Tansar Gel Blaster Balls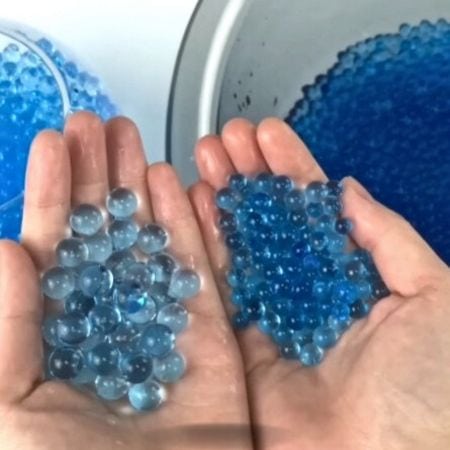 Prepare to be pleasantly surprised by this incredible gel blaster ammo set that will take your gel blasting experience to new heights! Imagine not just one, but a whopping twelve packs of 10,000 biodegradable gel balls each. That's right, this 12-pack set is perfect for gearing up for an action-packed weekend of gel blaster battles or even a thrilling tournament. With this abundance of gellets at your disposal, you'll never run out of ammo.
Now, dive into the growing process. Like most gel blaster ammo, these gellets require two to five hours to reach their full size, which ranges from 7 to 8 mm. Prepare yourself for a barrage of gel projectiles that are ready to pack a punch and leave your opponents in awe.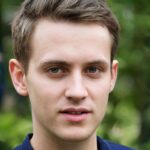 "Variety is the spice of life, and that's exactly what this Orbeez gun ammo set offers. You can choose from a range of vibrant colors, including blue, green, purple, red, and orange. However, it's worth noting that the orange variant may come with a slightly higher price tag due to its special characteristics."
One of the things I love most about biodegradable gel blaster ammo is its affordability, and this set is no exception. Offering excellent value for your money, it is an even more enticing choice. With its abundant quantity, affordability, and an array of color options, it's a formidable choice for gel blaster enthusiasts like us.
So, gear up, load your blasters, and get ready to unleash a barrage of 7-8 mm gel balls that will make your opponents quiver with awe. This 12-pack set is the ultimate companion for your gel blasting adventures, ensuring that you're always well-prepared for the next battle.
SPECIFICATIONS
| | |
| --- | --- |
| Number of packs | 12 |
| Gellets per pack | 10,000 (approx.) |
| Total gel ammo | 1,20,000 for 12 packs (approx.) |
| Color | Tiffany blue, green, purple, red |
| Material | Super-absorbent polymer (SAP) |
| Hydrated size | 7-8 mm |
| Growing time | 2-5 hours |
| Our Rating | 4.2/5 |
PROS
You may choose from five different colors or even mix gellets of different colors to make it more fun.
These are among the cheapest gel blaster ammo I found under $20.
The gel beads are compatible with most blasters.
CONS
During the tests, these gel beads caused my blasters to jam a couple of times.
8. Orwine Multicolor Gel Balls For Orbeez Guns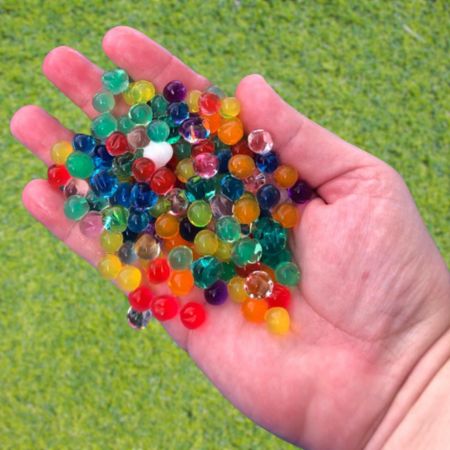 Get ready to embark on an extraordinary gel blasting journey with an ammo set that defies all expectations. If 120,000 gellets aren't enough to satisfy your insatiable appetite for gel blaster battles, then brace yourself for this awe-inspiring 20-pack set containing a whopping 200,000 pieces of 7.5 mm gellets. It's a gel ball extravaganza!
But here's the best part – you don't have to settle for a specific color option. This gel blaster ammo set offers unparalleled variety. It includes five packs of green and orange gel balls each, perfect for those who prefer a vibrant single-color experience. And for those seeking a kaleidoscope of gellet goodness, there are ten packs of multicolored gel beads.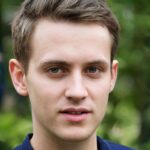 "Playing with these gellets truly awakened the inner child in me. Blasting around with these colorful water beads was an absolute blast! The sheer joy and vibrancy they bring to your gel blasting adventures are beyond compare. Plus, their vivid hues make them equally perfect for decorative and relaxation purposes. The possibilities are endless!"
However, I must address a significant issue that emerged during my testing. Although these gellets are supposed to expand to a size of 7 to 8 mm, not all of them lived up to that expectation. Even after soaking the multicolored gel ball ammo for a generous five hours, some gellets remained small. Those non-uniform gel balls were unsuitable for use in a gel blaster without the risk of causing jams. It's an unfortunate drawback that needs to be taken into consideration.
While the issue of size inconsistency may dampen the experience slightly, the sheer abundance of gellets in this set guarantees that you'll have ample ammunition to keep the excitement going. So, unleash your imagination, immerse yourself in the vibrancy of these gellets, and let the gel blasting adventure begin!
SPECIFICATIONS
| | |
| --- | --- |
| Number of packs | 20 |
| Gellets per pack | 10,000 (approx.) |
| Total gel ammo | 2,00,000 for 20 packs (approx.) |
| Color | Orange, green, multicolor |
| Material | Super-absorbent polymer (SAP) |
| Hydrated size | 7.5 mm |
| Growing time | 4+ hours |
| Our Rating | 4.1/5 |
PROS
The colorful gel beads are pretty fun to use.
The gel beads work with most blasters and splatter ball guns.
You may repurpose the gellets for art and decoration, thanks to the multiple colors.
CONS
Although the overall quality is not as good as the previous picks, it is still one of the top choices for its value for money.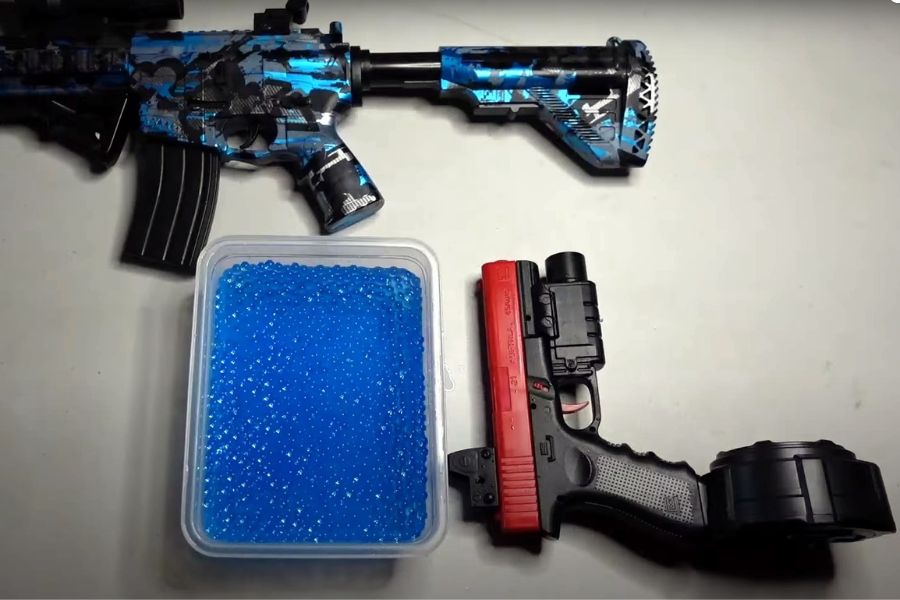 How To Choose The Best Gel Balls For Your Gel Blaster?
While you don't need to be ridiculously picky about your gel blaster ammo, the gel beads you load into your guns can make a difference in your gameplay experience. In addition to ensuring the smooth functioning of your blaster, you'd also want the best performance possible. With that said, let's check out the factors I took into consideration while shortlisting these gel blaster balls.
Size
First and foremost, you'd want to make sure that the ammo you get for your blaster are of the right size. Most gel guns are designed to use 7-8 mm gel balls, and the gellets I handpicked for the above list are of the right size and compatible.
Within the mentioned range, 7.5 mm gel ammo are most suitable will all gel blasters, Orbeez guns and splatter ball guns. Do not use ordinary Orbeez balls as they do not have uniform sizes and shapes. Larger gellets can potentially jam and damage your blaster. On the other hand, undersized beads can scatter around and ruin your playing experience just as quickly.
Also Read: Can You Use Ordinary Orbeez In Gel Blaster Guns?
Hardness
Next up, you must make sure that the gellets aren't too soft. Especially when using a high-FPS gel blaster like Surge XL or Starfire XL, softer water beads might break inside the barrel. Regular gel beads such as the ones from Gel Blaster, Splat R ball, and UnlocX offer just the right amount of toughness for most blasters. However, you may consider getting hardened gellets (such as the one at No. 6) in case regular ammo are too soft for your gun.
Hardened gel beads are also more fun to use since they hit harder and reach a greater distance. However, keep in mind that these gellets sting more and can be a bit painful when shot from close range. The hardest gel balls are good for competitive games in large arenas, but I'd personally stick to regular ones for friendly short-range games.
Sometimes players opt for harder gel balls, and there are reports that some of them attempted freezing the hydrated balls and shooting casually. However, it can hurt a lot more than you imagine. Even your gel blaster can get damaged internally. So, I highly recommend never to freeze gel balls.
Quality
As with any product, you shouldn't compromise on quality when buying ammo for your gel blasters. I always prefer gel beads that are consistent in their shape, size, and color. They should have just the right texture and be free from any defects or irregularities. Water beads of subpar quality are often alluring due to their cheap prices, but they might potentially result in a jammed blaster or affect the overall performance.
Type
Of course, regular orbeez gun ammo work just fine. If you're looking for a way to ramp up the fun, though, you might want to get some glow-in-the-dark gellets instead. Trust me, even though these gellets cost a few dollars more, they're worth your money. Blasting your targets with luminous gel ball ammo in a dimly lit arena offers a whole different level of thrill.
Another kind of gel ball that you might want to get is hardened gellets. As I mentioned, the hardest gel gun ammo offers better performance and might be a good choice in competitive games.
Number Of Balls Per Pack
Most gel ball brands sell gel blaster ammo in packs of 10K ammo each, usually in sets of two or more packs. There are, of course, a few exceptions – such as the hardened bottled gellets I mentioned earlier. When comparing two similarly priced products that include the same number of packs, check if the number of balls per pack is the same in both cases.
I personally prefer gellets that come in packs of 10K, 5K, or fewer since they are easier to store once I've opened the packets. The ones that come with proper storage containers are a different story, of course. Though the bottled gel balls I tested had 1,00,000 gellets distributed into only two bottles, I didn't really mind since the bottles provided the means for dry and hassle-free storage.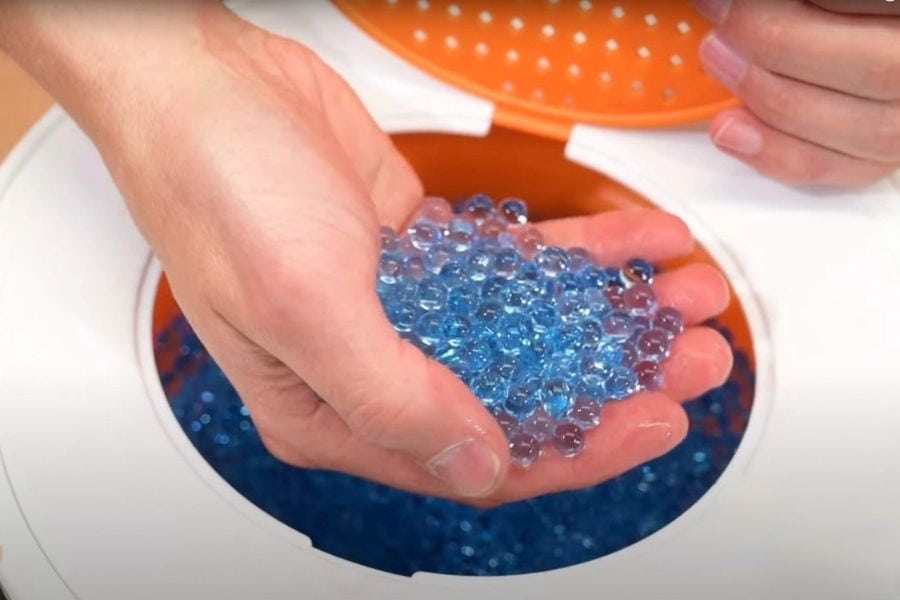 Price
Though gel balls never really burn a hole in your pocket, pricing is still a relevant factor. Consider the price (under $10, $20 or $30) regarding the number of gellets you'd be getting to ensure you get good value for your money. Don't compromise on quality, though. Personally, I'd rather spend a couple of dollars more to get water beads from a brand I trust than one I never heard of.
Color
While the color of your gel blaster ammo doesn't really affect your performance, it's still a part of the playing experience. As you may have noticed, gellets from brands like Gel Blaser, Splat R Ball, Uxsio, and UnlocX are of a similar color scheme (orange, green, blue, etc.) as their blasters. It may be a small detail, but the visual consistency really enhances the overall playing experience. However, a mix of multicolored gel beads might be a better choice for kids.
Buying the best gel balls in 2023 isn't rocket science – you can simply stick to the well-known brands if you aren't sure. Generally, I prefer to use gellets from the same manufacturer as the gel blaster if possible since those gellets are specifically made for the brand's blasters.
However, in case that isn't a viable option or you simply wish to try out something different, there's no harm in experimenting. Glow-in-the-dark splat balls are definitely worth a try if you plan to play in the dark. Just be careful to avoid poor-quality ammo that might damage your blaster.
Related Posts: