Stepping into the world of paintball is like venturing into an explosion of color and excitement. As someone who's been a part of the scene for years, I've seen its popularity surge, especially among the youth.
But amidst the thrill and paint-splattered battles, there's a question that consistently crops up: what's the deal with age limits? In short, the answer is 8 to 18 years, depending on the location and type of setup. But, it's just the tip of the iceberg; there's more!
So, buckle up as we uncover the details of paintball age requirements. Whether you're an eager enthusiast looking to pick up the marker or a parent wondering if your child is ready for this new adventure, you're in. Let's quench your curiosity and unveil how old you have to be to participate.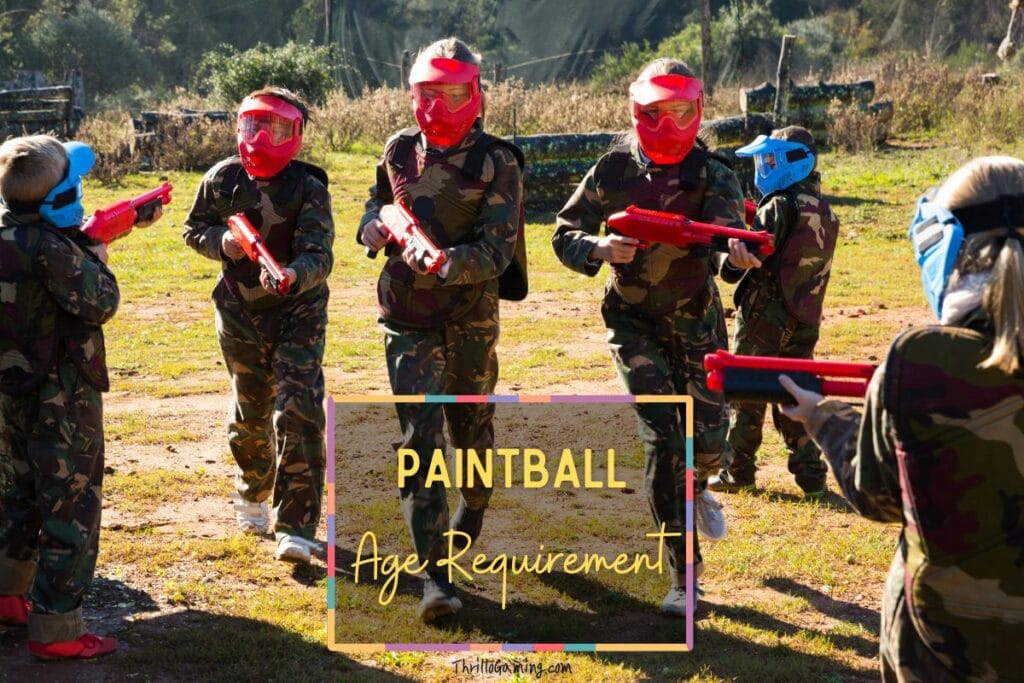 How Old Do You Have To Be To Play Paintball?
When it comes to the age for paintballing in the United States, things vary from state to state. Some states have no set regulations, while others do.
For instance, over in California, there aren't any specific age rules for joining the paintball excitement. But if we hop over to places like Texas and Florida, you've got to be at least 12 years old to jump into the action. Now, cross over to Pennsylvania and Virginia, and the magic number becomes 10 years. And if you are in Illinois, you can start embracing the thrill from as early as 8 years old.
It's important to note that these rules apply to commercial arenas and parks. To be on the safe side, it's always a wise move to reach out to the specific facility and get the lowdown on any restrictions they might have.
Now, for the parents in the room, here's a critical factor: your child's maturity level. It's a pivotal aspect to consider before granting access to paintball. It can demand a fair bit physically and emotionally, just like any other sport.
Therefore, ensuring your child can handle the equipment and follow safety guidelines is paramount. Additionally, if your child is under 18, supervision during playtime is a must. After all, it's about both having fun and staying safe.
Also Read: Legal Status of Paintball Guns: Dos & Don'ts
Is There A Kids' Version Of Paintball With Lower Age Requirements?
Imagine a twist on the classic game that's tailor-made for the younger crowd – that's LOW-IMPACT PAINTBALL.
This version uses smaller paint-filled pellets that cruise at a slower speed and deliver a gentler impact, perfect for the little warriors out there. In fact, at many commercial fields and facilities, kids as young as 8 can leap into this paintball adventure.
Another option is JT SplatMaster. It shoots biodegradable, non-toxic paintballs that wash away with water. Shooting at 110-140 feet per second, these spring-loaded devices are perfect for ages 6 and up. It's beginner-friendly, progressing from target practice to obstacle courses and, eventually, player battles. The gelatin shell ensures impact without pain, akin to a light rubber band snap.
It's wise to keep in mind that some places might require a waiver signed by the parent or guardian for the younger players, or they might set a slightly higher age limit. Even though low-impact paintball and JT Splatmasters prioritizes safety, it's still essential to ensure that your child can play by the game's rules and guidelines.
Here is chart for age limits in different paintball game setups:
| | |
| --- | --- |
| Game | Minimum Age* |
| Paintball (traditional) | 10-18 years |
| Low-impact paintball | 8 years |
| JT SplatMaster | 6 years |
*This can vary in different locations. It is always wise to check for any local laws or rules.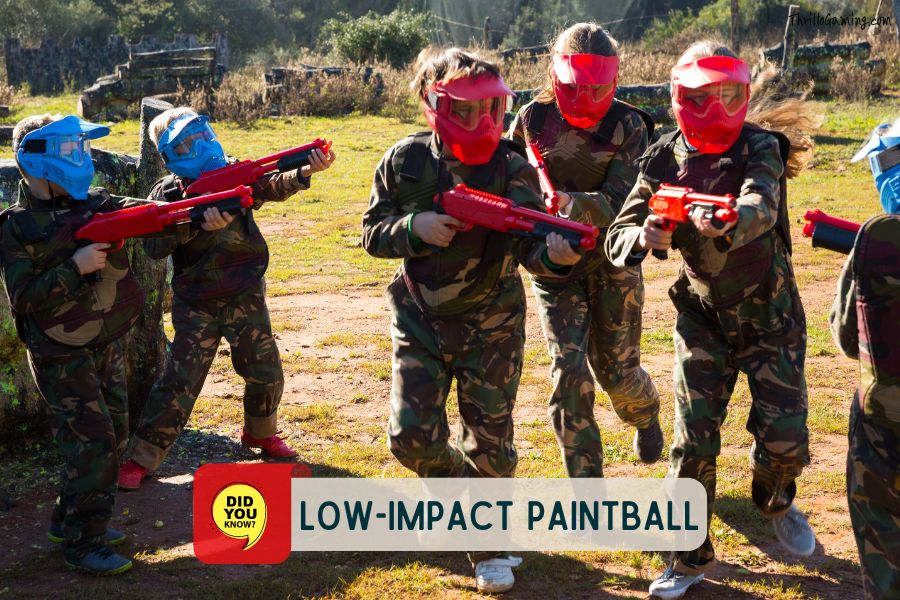 Paintball Tips For Beginners
First and foremost, let's engrave this in our minds: paintball is a sport that thrives on safety, given it's played under proper rules and supervision. Most places take safety to heart, having stringent guidelines in place to ensure everyone's well-being.
Before you dive into the world of paintball fun, acquaint yourself with the minimum age requirement of the venue. For an extra layer of certainty regarding safety precautions, it's a smart move to consult the referees or those in charge.
Once you're certain that your child is all set to go, securing the right gear becomes paramount. That translates to a marker, goggles, and a full-face mask. And let's not forget the golden rule of checking that everything functions correctly and fits snugly.
Here's a nugget of wisdom: ensure your young enthusiast is fueled up and properly hydrated before the match begins. Paintball isn't just fun – it's a workout, demanding energy and stamina to win the game. Oh, and don't overlook the importance of packing spare clothes and weather-appropriate essentials for the post-game wind-down.
Last but certainly not least, instill in your child the values of good sportsmanship and respect for others. In the game of paintball, being a team player, enjoying the experience, and treating fellow participants kindly are equally crucial as acing the game itself.
In my observations, this sport is a source of immense joy for individuals of all ages. The key lies in playing safely, abiding by the rules, and staying vigilant. Armed with these insights, you can ensure your child has a blast while staying secure on the vibrant canvas of the paintball field.